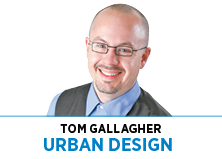 Recently, cities such as Buffalo, Hartford and Cincinnati have made news for eliminating minimum parking requirements in certain areas of downtown or altogether. We're ahead of the game in that regard, because the Mile Square in Indy has no minimum parking requirements and never has.
That might come as a surprise considering how much of the Mile Square is dedicated to parking. Between surface lots, single-use garages and on-street spaces, nearly 25 percent of all the land area in the district is parking.
Is storage of a tool we use less than a couple of hours a day, on average, for an activity we don't even enjoy that much, worth such dedication of space? Imagine surrendering a quarter of your house to stowing the lawn mower.
Yet, readily available, contiguous parking—more than livability, experience or aesthetic—is the strongest influence on the physical form development takes here. As the Mile Square clearly attests, municipally mandated parking facilities are not the sole driver in determining the amount of parking developers include in their projects. Instead, it is the common perception of neighbors, commercial tenants and lenders, that project viability is contingent on this tail wagging the dog.
Without a doubt, parking is a meaningful component of development. Even organizations like the Mortgage Bankers Association, though, believe our cities are overparked. The report it released earlier this year summarizing parking inventories of five representative U.S. cities "reveals an investment in parking that is out of balance with the current demand for parking in almost all cases, and even less in tune with what appears to be declining future demand."
Unfortunately, codified parking minimums are based on standard conventions and guesswork rather than observational studies like these. We think there isn't enough parking when we don't quickly find a spot within eyeshot of the destination. Nevertheless, as more data comes in, there is clearer evidence that cities are often overparked by as much as 30 percent. The most recent parking study completed in 2015 for Downtown Indy observed that, during regular high-demand times, supply exceeded demand by 46 percent in the Mass Ave area and by 35 percent in Market East.
Excess parking takes a toll on cities like ours. Because urban parking garages are expensive to build (about $20,000 per parking space is a generally accepted rule-of-thumb) with nearly zero return on investment, much of the funding loaned to developers through tax-increment financing districts goes to paying for them rather than improved public spaces or longer-lasting, more sustainable buildings.
Beyond the loss of commercial development potential, there is a loss of tax revenue as well because parking facilities are generally assessed at a lower value than otherwise developed properties.
What our downtown needs is more walkability, not more parking. Walkability is a defining measure of livability, one that is far more than a distance equation. To become pedestrians, people must have a modicum of desire to walk. In other words, ample sidewalks full of urban life are essential.
With that in mind, more concerning than the land area parking occupies is the amount of street frontage it claims. Added all together, Mile Square parking lots and garages account for nearly 6.4 miles of frontage even after offsetting the retail spaces at the base of some. Imagine walking along a Meridian Street with nothing next to you on both sides but parking garages and surface lots from Fall Creek to South Street.
These facilities degrade the walking experience by creating gaps in the urban fabric and conflict points with pedestrians. Stretches like Illinois Street from New York to Vermont seem particularly glaring. Lined with parking lots and parking garages—the lowest value use of the real estate—the block discourages street-level activity. Those who work in the area are forgiven for limiting their social involvement and civic engagement in downtown.
Certainly, we have made great strides since the 1950s, when the Mile Square lost so much of its character and vigor to parking. As we continue to compete with other cities for the best and the brightest, we must decide if we want to be characterized by parking or by lively urban places.
Cars are not going away, but resilient, livable and economically vital cities are choosing to be less defined by them, a topic I will take up next month when I discuss the benefits of leaving the car behind more often.•
__________
Gallagher is a principal and urban designer with Ratio and a professor-in-practice of urban design at Ball State University. Send correspondence to TGallagher@ratiodesign.com.
Please enable JavaScript to view this content.