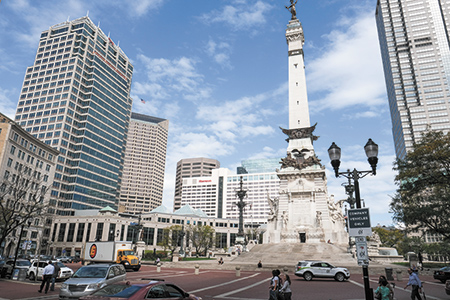 Monument Circle isn't living up to its potential.
That's been the years-long refrain of downtown leaders, who point to the aging brick pavers surrounding the Soldiers and Sailors Monument, the lack of coordinated event planning, and more recently, concerns about safety.
Little visible progress has occurred in decades, despite a proposal in 2014 by then-Mayor Greg Ballard's administration to spend $60 million to reconstruct the circle and its four spokes, a plan that would have upgraded infrastructure and made the area more pedestrian- and visitor-friendly.
The city never found funding for that project, and a consultant involved says plans eventually "petered out" as a result.
"Monument Circle is kind of hanging out now," said Christopher Schultz, transportation group manager for CHA Consulting Inc., the Albany, New York-based firm that worked with the city on the plan. "It's not really being pushed forward. It kind of sits there right now in that state. It's not that it won't ever happen, but it won't happen until the city finds the funding."
Meanwhile, the city continues to invest in basic maintenance. It has an annual $250,000 contract with Indiana Reclamation and Excavating Inc. to repair the bricks and concrete. And Department of Public Works crews clean up trash and replace or care for trees as needed.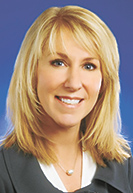 Seiwert
"There are Band-Aid approaches whenever a fix is needed," said Sherry Seiwert, president of the not-for-profit Downtown Indy Inc. "At some point in time, there has to be a unified decision made—the business community, city leaders and folks that really care about and love Monument Circle coming together [and saying] it's a priority."
Seiwert said the shortcomings aren't just aesthetic. She said Monument Circle lacks a coordinated process to plan events and communicate with all the Circle's commercial tenants and visitors about things like traffic-pattern shifts and street closures.
Unlike Georgia Street and Canal Walk, two public spaces that the city contracts with Downtown Indy to manage, no one markets the Monument as event space or serves as a logistics manager, Seiwert said.
"There is revenue being left on the table," she said. "There's a fee if you want to rent Georgia Street, a fee if you want to rent the canal. There are appropriate street closures. There is security. There's somebody on-site as issues occur. All of those things add up to a space people want to come to. Right now, we're starting to see a decline."
Increasingly, a concern is safety. A proposal to create a downtown economic improvement district by assessing a fee on downtown property owners, which in June failed in the City-County Council, would have generated funding for increased police patrols and to help get the homeless off the streets and into treatment or housing.
Seiwert said that while the downtown EID would have served the entire Mile Square, "there were several elements" that would have helped Monument Circle.
Anthem Inc.'s decision to vacate its Monument Circle headquarters at the end of the year should raise the stakes on making Monument Circle improvements, Seiwert said. The insurance giant is relocating executive staff to its L. Ben Lytle Center on Virginia Avenue.
"The condition of Monument Circle will, I'm sure, play a role in being able to attract a high-level tenant," Seiwert said. "We have to keep Monument Circle at a high standard in order to attract additional private investment."
Plotting upgrades
While downtown boosters wait for the city to pull the trigger on a broad Monument Circle upgrade, they're encouraged by two smaller initiatives that would give a boost to the area.
The first—a proposal from Downtown Indy and the Indiana War Memorials Commission to create a daily, patriotic light show on the Circle—is a finalist for funding from the Lilly Endowment's "Strengthening Indianapolis Through Arts and Cultural Innovation" grant program. The endowment says grant awards are expected to be announced in December.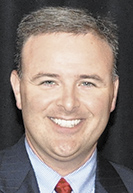 Parker
The second is rebuilding and upgrading two blocks of brick-paved Market Street, between Pennsylvania and Alabama streets. The first phase, focusing on the eastern block, which is flanked by the City-County Building and the City Market—will be funded by a $5 million federal grant. Construction is expected to begin in 2020.
Meanwhile, the Department of Public Works is continuing to design a major Monument Circle renewal project, Director Dan Parker said. He said the city "will have to find an innovative way" to pay for whatever is done.
"We're still looking at a major expense," Parker said. "We did not include that in our capital plan because it would have consumed a good portion. But we're going to seek out other funding opportunities."
Downtown advocates hope the Market Street project, just a block east of the Circle, will create momentum for a Circle overhaul. The city soon will go to the Indianapolis Historic Preservation Commission to present Market Street concepts.
The city's vision includes creating a wider pedestrian area on both sides of the street, including building a promenade. The plan includes "increased landscaping, better lighting, and benches for people to sit outside," said Cynthia Bowen of Rundell Ernstberger Associates, who is deputy project manager for the Market Street project. CHA Consulting Inc. is also involved.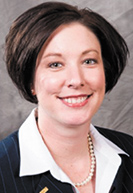 Bowen
Downtown Indy said it was not appropriate to comment on the light-show proposal while it's seeking funding. It is not clear how much money Downtown Indy is seeking, though the endowment intends to award a total of $25 million to all recipients.
Parker submitted a letter advocating for the plan, writing that the city was "pleased to hear of remarkable lighting updates for the Monument and the creation of a lighting, sound and staging platform for arts organizations to activate with performances and programming for the public."
The letter states that if the endowment funds the project, the city would "entertain entering into a memorandum of understanding with [Downtown Indy] to be the official managers of event space in partnership with the city of Indianapolis."
But it's not clear how the city would pay Downtown Indy for that service. Parker said he is interested in having a group such as Downtown Indy take on managing Monument Circle. But, he added, "before I can issue an RFP I've got to have a way to pay for whatever it is I offer them to do."
Crumbling infrastructure
Time is of the essence to launch a broad Monument Circle upgrade plan, Bowen said, noting that its infrastructure continues to decline. The bed the bricks sit on as well as the utilities underneath it are between 80 and 100 years old.
"Every year we go, that infrastructure is going to continue to crumble and the city is still going to have to pay more dollars to keep it fixed," she said.
"It becomes a safety concern for people walking down the street," she said. "It's still very much needed."
Asked whether the city would lobby the Indiana General Assembly for Monument Circle funding, Hogsett's deputy chief of staff, Taylor Schaffer, said the city is having productive and ongoing conver-sations with state lawmakers.
Ideas for how to improve the area have circulated for years.
In 2011, the city, in partnership with the Central Indiana Community Foundation and Downtown Indy, announced the Monument Circle Idea Competition. The group of finalists for the competition hailed from across the world.
Christopher Short of Indianapolis' Haus|The Architecture Studio, whose design for Monument Circle included mobile canopy structures that could be deployed in a variety of circumstances, said he believed the plans fizzled out because "it was during the recession."
Short still would like to see Monument Circle improved, but he said that overall, the city is investing its limited transportation infrastructure dollars wisely.
"I think it's a great vision," Short said, "but I'm not sure it's more important than other things the city is doing."•
Please enable JavaScript to view this content.