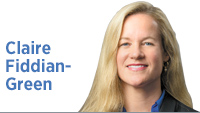 Indiana's 2018 ISTEP results are undeniably distressing: For the third year in a row, only half of third through eighth graders and one-third of 10th graders earned a passing score on both the math and English language arts sections of the statewide exam. Even worse, the gaps between the ISTEP scores of our state's most vulnerable students and their peers have widened. For example, the gap between low-income and more affluent students was 31 percentage points, and the gap between black and white students was 33 percentage points.
These achievement gaps, and ISTEP results overall, spell trouble for Indiana's economic vitality. Our state can't prosper if our children aren't demonstrating the knowledge and skills necessary to succeed in a global economy. The results also show that we must do much more to prepare and support Hoosier teachers in their efforts to help all students thrive.
It's tempting to dismiss the ISTEP results and hope that ILEARN, which will soon replace ISTEP as the new state exam, will paint a rosier academic picture. But that's likely only wishful thinking, because the state test—regardless of its name—aligns with the more rigorous math and English language arts standards adopted by Indiana in 2014. A primary reason these standards were raised was because Indiana Commission for Higher Education data showed that too many Hoosier students were graduating with high school diplomas unprepared for college-level coursework.
Higher academic standards are good for Indiana, because they establish realistic expectations for what high school graduates should know when they enroll in post-secondary education or enter the workforce. But rigorous standards alone are not the answer when it comes to improving student performance.
A new study from national education policy organization TNTP sheds some light on Indiana's challenges and offers some solutions. TNTP found that many students across the U.S. graduate from high school unprepared for college or careers. A primary culprit? Students are often assigned schoolwork that falls below grade-level expectations. This is particularly true for low-income students and other vulnerable student populations.
This means that students may earn As and Bs without actually meeting grade-level expectations. Even more troubling, some families are misled by a false sense of how well their students are doing. A low level of rigor on classroom assignments can translate into poor performance on standardized tests designed to measure mastery of grade-level content, the inability to meet college admissions criteria, and a mismatch between a graduate's skillset and what employers look for when filling entry-level jobs.
TNTP concludes that the solution to what they refer to as the "opportunity myth"—the difference between how well students think they're being prepared versus what they're actually learning—starts in the classroom. Two recommendations stand out.
First, schools should ensure that classroom assignments in every grade and for every student align with rigorous academic standards, and that teachers receive the necessary training and other resources to support strong alignment. Second, teacher-preparation programs must ensure that teacher candidates are learning how to develop and teach engaging lessons reflecting these higher standards.
The latest ISTEP results make it abundantly clear that we aren't meeting the needs of Indiana's students, especially those who are most vulnerable. The results also show we aren't doing enough to help Hoosier teachers succeed. We have a moral and an economic imperative to ensure that every Indiana student is well-prepared for life after high school. Let's work together to support our teachers in accomplishing this goal—and to help Indiana flourish.•
Click here for more Forefront columns.
__________
Fiddian-Green is president and CEO of the Richard M. Fairbanks Foundation and a former adviser to then-Gov. Mike Pence on education issues. Send comments to [email protected]
Please enable JavaScript to view this content.