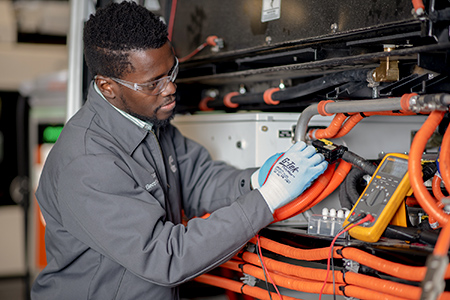 Columbus-based Cummins Inc. is doing a bit of a juggling act these days—staking its claim in the new realm of electric vehicles while keeping its legacy diesel business humming.
It's a tricky feat because so much is still unknown about the future of electric vehicles in the commercial-vehicle market Cummins serves, and it will likely be a decade or more before electrification is viable for certain markets, notably long-haul heavy Class 8 trucks.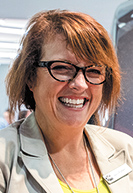 Furber
The list of unknowns is significant: How quickly might the new technology be adopted? Which competitors will emerge as market leaders? When could Cummins start making money from electric powertrains? And what will its business model be for a technology that is in many ways radically different from diesel engines?
Still, the 99-year-old diesel-engine powerhouse says it can't afford to sit on the sidelines while these questions are sorted out.
"We're very much about powertrain of choice—the right technology for the right application," said Julie Furber, who directs Cummins' electrification business. "Electrification is not 'there' to be a silver bullet for everything—yet."
The company expects to invest $500 million by 2020 in electric powertrain research, development and acquisitions. It will launch its first all-electric powertrains next year for school bus and transit bus fleets, with an extended-range electric powertrain to be introduced in 2020.
The focus is initially on buses because their fixed routes and opportunities to return to a depot for charging make them a good candidate for electrification. The municipalities that run bus fleets might also prioritize environmental concerns when making purchasing decisions, giving electric vehicles an edge over diesel. And some state and local governments have issued environmental mandates pushing fleets toward low- and no-emissions vehicles.
"It's definitely, politically, a hot topic at the moment," Furber said. "That's a unique factor for this electrification market."
Cummins also sees a range of other potential electric applications soon, including delivery trucks and construction machinery. And some of its customers are testing—or will soon deploy—all-electric vehicles.
Linebarger
For several months, Canadian company Purolator has been testing Cummins technology in an all-electric delivery truck. School bus maker Bluebird is road testing a handful of Cummins-powered electric buses. The Canadian city of Laval, Quebec, is testing a transit bus that Cummins retrofitted with electric technology, and California-based bus maker Gillig plans to use Cummins technology in its electric buses that go into testing next year.
"We're trying to basically ensure that customers—original equipment manufacturer customers and end-user customers that are thinking about using electrification products—think that Cummins is a good supplier for them," Chairman and CEO Tom Linebarger told analysts during an Oct. 30 earnings call.
The company says it has "hundreds" of employees working on electrification, some added through corporate acquisitions in Oregon, England and California, and others at existing operations in Indianapolis and China.
"We're still adding [employees] right now, and we plan to add others next year," Furber said. Cummins doesn't have a geographic headquarters for this division, but most of the leadership in this area is based in Columbus, she said.
Cloudy future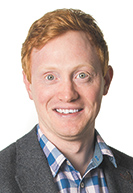 Hayfield
Industry observers say Cummins is generally on the right track with its approach to electrification. But they also note that industry-wide uncertainty about the subject makes predictions difficult.
Cummins is "moving pretty quickly," said Alastair Hayfield, research director of England-based research firm Interact Analysis. "They are creating a pretty coherent path for customers who want to move to hybrids or electrification."
Since announcing in June 2017 that it was entering the electrification market, Cummins has made three significant acquisitions and formed a number of partnerships to beef up its capabilities.
This year, Cummins has also shown off its electrification options at a number of trade shows around the globe.
"They are pushing these products pretty heavily and showing what they can do, and they seem to be well-received," Hayfield said.
Cummins showcased an off-highway electric powertrain concept in April at Intermat, a construction and infrastructure trade show held in Paris every three years. The company sent members of its senior leadership team to the event, Hayfield said, signaling the company's level of commitment to electrification.
Despite that commitment, Cummins is not rushing headlong into electrification at the expense of diesel.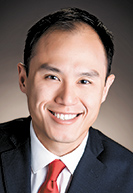 Lee
"For Cummins, our goal is not necessarily to be first, but to be the best at the right time when we enter a market," spokeswoman Katie Zarich told IBJ in an e-mail.
"They're tucking in the small pieces … but they're not making any outsized bets. They're not taking any outsized risks," said Roger Lee, a senior research analyst at Columbus-based Kirr Marbach & Co. LLC.
In August 2017, Cummins debuted a demo of a fully electric heavy truck, Aeos, with a 100-mile charging range. But Furber said it will probably be at least a decade before battery technology and charging infrastructure have advanced to the point that electric applications make sense for long-haul semis. Right now, the battery power needed to deliver a long-distance charging range is so heavy as to be prohibitive.
In contrast, competitor Tesla says it's working on an electric truck with a charging range of 300 to 500 miles. When Tesla debuted its semi-truck last November, it said the vehicle would be for sale in late 2019. (Since that announcement, a number of outsiders, including electric-truck competitor Daimler, have questioned the viability of Tesla's plans.)
The difference between Cummins and Tesla, Lee said, is in the expectations of each company's shareholders.
"If you look at why Tesla has been so competitive in the electric car market, it's because their shareholders don't care about profitability. They care about growing that market," Lee said.
Cummins executives must "answer to shareholders who care about profitability," he said.
Taking a conservative approach to electrification might be a smart strategy for Cummins, Lee said, because diesel technology is likely to be around for many years.
Still in its infancy
Tesla is far from Cummins' only competitor in electrification. There are also a host of startups and new-to-the-U.S. competitors like BYD, a Chinese company that is huge in that country's electric bus market but is just getting a foothold in the United States. Its first U.S. customers include IndyGo, which ordered BYD electric buses for its new Red Line project.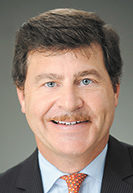 Tiss
And some of Cummins' own customers—equipment manufacturers—are also potential competitors.
Some of those customers who now use Cummins diesel engines might, for instance, decide to develop their own electric powertrains.
"I think they're all looking at how they do electrification right now," Furber said.
Analyst Joel Tiss, of BMO Capital Markets said that, while Cummins is "probably a little bit behind" on electric technology, that's not necessarily a negative.
Cummins has a loyal and established customer base, he said, which is a huge advantage its startup rivals lack. So when it comes to electrification, he said, "Cummins can be what they call a fast follower."
Tiss also said electric technology might not catch on as expected.

He drew a parallel to the craze several years ago for liquified natural gas, which was predicted at the time to be the next big thing for fueling commercial fleets. Today, he said, a tiny portion of U.S. trucks run on the fuel.
Even if electrification does catch on, the business case for the technology is uncertain. "Who knows how profitable it's going to be?" Tiss said.
Doyle Sumrall, managing director of the work-truck industry's trade association, NTEA, said Cummins' entry into electrification is a signal the technology has legs.
"They're doing it because they believe the industry needs it, the fleets want it," Sumrall said. "People are starting to make the decision, 'OK, here's a valid business case for this and we're deploying it.'"
But he couldn't predict when the technology might be widely adopted. "Boy, that's a great question," Sumrall said with a laugh.
NTEA believes widespread adoption will happen around 2030 or 2035, Sumrall said, but that depends on many variables, including the cost of the technology and environmental legislation that could hasten the spread of low- or no-emissions vehicles.
"It's a pretty complex world," he said.
In fact, Cummins hasn't figured out what its own business model will be for electric powertrains.
As a rule of thumb, electric vehicles cost more to acquire, but their operational costs are lower because the vehicles don't consume fuel and don't need maintenance as frequently. That will require a new business model for Cummins—in 2017, 27 percent of its $20.4 billion in revenue came from parts and service.
"We've not set a long-term business model yet" around electrification, Furber said. The plan will need to take into account factors like electric powertrain adoption rates, how often vehicles will need service, and whether batteries will be recycled or repurposed.
Regardless of what the future holds, Tiss said, Cummins is doing a good job keeping multiple balls in the air.
"In the end, when you weigh up all the uncertainty and the complications," he said, "I think you have to come back to the conclusion that Cummins is doing a pretty unbelievable job in balancing all of these things with what they already do."•
Please enable JavaScript to view this content.