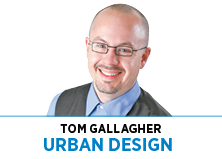 Pontevedra, a city of about 80,000 in northern Spain, is one of the latest cities getting attention for its efforts to reduce the outsized presence of cars in its urban core. Now, 20 years after the city center was pedestrianized and streets within the adjoining urban areas were designed to calm vehicular speeds to 20 mph, Pontevedra is seeing predicable results, including eliminating deaths in traffic accidents and a 70 percent reduction in CO2 emissions. Less foreseeable is that Pontevedra has seen population and business growth while other cities in the region have suffered losses during Spain's prolonged economic woes.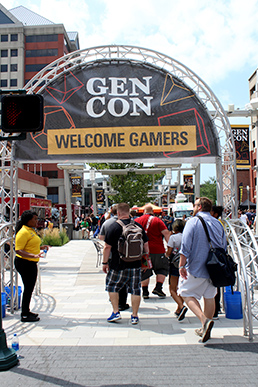 Georgia Street became a three-block pedestrian promenade right before Indianapolis hosted the Super Bowl in 2012. (IBJ file photo)
Cities that have made deep commitments to increasing the importance of transportation options that move at 15 mph or less—walking and biking, specifically—are also among the most livable in the world. Brussels and Munich have dedicated the most area of any cities to car-free zones. Oslo plans to be car-free by 2019, Hamburg by 2030. In Copenhagen, car culture was so dominant in the 1970s that it's unimaginable the city's biking and walking culture are its identity today.
While much of this activity is happening in Europe, the issues aren't unique to that continent. What these cities and those like them have been able to do is take advantage of the opportunity found uniquely in outdoor public spaces, the "social capital stack." By creating places that combine, or stack, social infrastructure, traditional and green infrastructure and economic development, the same investment provides a multitude of intertwined benefits far beyond its stated purpose.
Monument Circle, Georgia Street and the Cultural Trail are all local examples that we can learn from and improve upon. More than just facilitating movement, walkable urban places benefit our health, safety and security.
As cities like ours struggle to reach carbon-reduction goals, increase resiliency and offer economic and social vitality, walkable places provide meaningful opportunities.
The most recent data, including that from the EPA, shows that CO2 emissions from cars affect the climate as much as emissions from energy production activities. Most of the focus of sustainability efforts has been on the reduction of energy consumption by buildings, but it turns out we could make a huge difference at significantly less cost if we would just provide the facilities to walk or ride a bike more often. A study by Project Drawdown, a global coalition dedicated to climate-change solutions, suggests that, "by 2050, if even just 7 percent more trips were made by bike and foot, we could avoid around 5 gigatons of carbon emissions."
An often-overlooked aspect of resiliency is our willingness to help one another during a crisis. Building a strong sense of community is perhaps even more important than building strong levees. As Smart Growth America points out, walkable urban places are important to social equity, offering people ages 8 to 80 access to work, play, goods and services. Beyond this, though, the Center for Active Design notes in its Assembly Civic Engagement Survey that well-maintained, reasonably apportioned and verdant public spaces increase civic pride and engagement, along with increased satisfaction with public officials and police.
Street-level commercial activity, particularly retail and restaurants, remains a key ingredient in active and vital urban places even as online commerce grows. The success of these places is dependent on a walkable urban environment of a scale and pace that people find enjoyable.
For the sake of our future, Indy is sorely in need of more and better walkable urban environments—not just downtown, but throughout the city. Happily, there are places here, both existing and on the near horizon, that might be ripe for car-free pedestrianization. It will take work, commitment and a critical mass of people, but with the right social capital stack, the return will be far greater than the investment.•
__________
Gallagher is a principal and urban designer with Ratio and a professor-in-practice of urban design at Ball State University. Send correspondence to TGallagher@ratiodesign.com.
Please enable JavaScript to view this content.