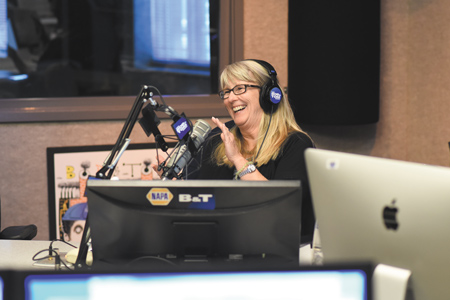 The local radio market is getting a little gray around its ears.
Depending on whom you listen to, that can be a good thing—or bad.
The five stations with the highest market share in the Indianapolis market last month count people 45 or older as a considerable part of their audiences.
Two of them—WJJK-FM 104.5 and WFBQ-FM 94.7, both classic-rock stations—attract large numbers of middle-age and older men.
Two others—country crooner WFMS-FM 95.5 and adult-contemporary station WYXB-FM 105.7—attract a considerable number of middle-age and older women.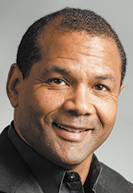 Bryant
The station with the fifth-highest market share—WIBC-FM 93.1—draws mostly middle-age and older listeners with its news/talk format.
Those five stations account for nearly 40 percent of all radio listening in the central Indiana market, according to Nielsen Media Research.
Three years ago, those five stations accounted for 24 percent of all listening.
Two more stations—WKLU-FM 101.9, a Christian station, and public station WFYI-FM 90.1—that are in the market's top 11 also attract large numbers from the 45-plus demographic.
That's not to say those stations don't draw some younger listeners. But a major chunk of their audience—in many cases, well over half—is closer to retirement than to starting careers.
As younger generations move away from radio to digital options—streaming music services and podcasts—the slice of the pie the older audience represents is expanding. As it does, station programmers are faced with a tricky dilemma.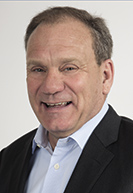 Kesler
"The older audience has been a very loyal audience for radio," said Bruce Bryant, president of locally based Promotus Advertising. "As a result, the stations that cater to them are growing in market share. That shift has opened some eyes and even raised some eyebrows."
And it raises this key question: Do radio programmers cater to the trend—and play to the older audience—or do they fight it by trying to lure younger listeners away from Spotify, Pandora and other services?
In part, it depends on the station's market position and the audience its advertisers want.
"Stations need to strategically determine their place in the market and not waste resources pursuing the wrong demographic for their advertisers," said John Kesler, a longtime radio executive who is now chief operating officer of "The Bob & Tom Show," which airs morning on WFBQ and is syndicated nationally.
"With margins in the radio industry narrowing," he said, "being strategic is more important than ever."
The younger listeners radio can claim spend considerably less time consuming radio than do their older counterparts, which tilts share numbers even further throughout the day.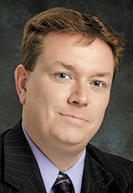 Uecker
"What you find is that the older audience is more stable. They're more consistent radio listeners," Bryant said. "Younger people are much more likely to test new alternatives."
But Mike Killabrew, senior vice president of programming for iHeart Media's Indianapolis station cluster, said there's another reason the gray-bearded stations are doing so well.
"All the stations we're seeing at the top of the ratings in this market play very familiar music," Killabrew said. "And WIBC drives content on a local level. With those [top five] stations, you know what you're going to get—local content, original on-air personalities, news you can use and great songs."
'Sampling tool'
All is not lost for stations seeking younger listeners.
Radio is still the No. 1 destination for young people to find new music, said Scott Uecker, a University of Indianapolis communications instructor and general manager of WICR-FM 88.7.
"Radio is a sampling tool for young people," Uecker said. "They tune in for a time, then they often go to Spotify, Pandora or they go to iTunes to curate their own music."
WZPL-FM 99.5 and WNOU-FM 100.9—both top-40 stations that cater to younger listeners—are among the market leaders in cumulative audience, which represents the total number of listeners that tune in at least once a week, according to Nielsen.
But because those listeners spend less time listening to radio—so are not getting counted as many times as older listeners in the share numbers—the stations rank lower in percentage of listeners tuning in.
But Uecker still sees an opportunity for youthfully programmed stations.
"The young listeners are coming in, so you have a chance to capture them," he said. "What young people want is unique content. If you sequence your music in the right way and give listeners something original and useful between songs, young people will tune in."
At no time in the history of radio, Uecker said, has the quality of on-air talent been more important. That "can be the difference between retaining the listener and losing them to an alternative," he said.
Does that mean all—or even most—stations should be pursuing millennials and Generation Z listeners? Absolutely not, say radio programmers and ad buyers.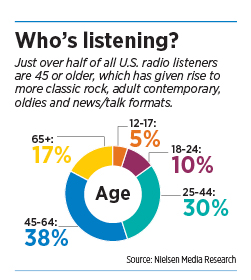 "Everybody pursuing that audience would be a fool's errand," said Robert Unmacht, a partner at RTK Media Inc., a Tennessee-based investment-banking consultancy focused on broadcasting and technology. "There's not enough of that [young] audience to go around and they simply don't have the spending power to make it worthwhile."
Having an older audience isn't a bad thing for stations. In fact, three ad buyers told IBJ they often seek a 45-plus or 55-plus audience.
"I hear a lot of noise about how attractive millennials are. That's hype about where the future is going. But that's not indicative of what pays the bills today," Promotus Advertising's Bryant said. "The 40-plus demographic still drives the market. Advertisers are often more willing to pay for the older audience because statistics show they simply have more disposable income."
'Head trash'
Still, radio programmers admit there is a problem—possibly psychological—in sounding too old.
"It used to be when you turned 55, advertisers didn't care about you," said Bob & Tom's Kesler.
So eager were radio programmers to appear young, he said, they would even turn down some money-toting advertisers.
"I've seen stations turn down ads for funeral homes and senior-living communities simply because they didn't want to seem like their entire audience was ancient," Kesler said. "Having an audience that's 45-plus or 55-plus causes a lot of head trash inside the minds of a lot of [radio] ad sellers."
At one point, many radio programmers "punted 60s oldies even though it does well," Unmacht said. "Now it's one of the top formats on satellite radio."
"Terrestrial radio has this idea that, once you're 60, you're dead, and that's stupid," Unmacht said. "All the demographic data we have available to us shows us that's where so many people are and where so much money is. With people working and living longer, the mindset toward the older audience has to change."
In the last decade, Kesler said, "we've started to see a shift. The ad buyers and ad agencies are starting to place more value on the 35-to-64 demo than they used to."
Radio programmers have been slow to follow.
"For years, radio was in great denial," Unmacht said. "They didn't want to serve the audience they have, and instead wanted to pursue an audience they couldn't get."
Though some are still entrenched in that thinking, radio programmers nationwide have increasingly decided to ride the wave rather than fight the current.
"It's no coincidence that we're seeing more classic-rock and classic-hits stations crop up nationally over the last five years than we've ever seen before," Unmacht said. "And we're seeing formats like adult contemporary, news/talk and even some easy oldies doing really well."
Unmacht pointed out that the No. 1 station in the San Francisco market caters to a 55-plus audience. Miami, Philadelphia and Tampa also have stations in the top three spots catering to a 55-plus demographic, and Unmacht noted that a station in Sacramento just launched an easy oldies format.
"This might be the golden era of radio," he said with a laugh.
Goodbye, Jimi Hendrix
But Killabrew, whose Clear Channel cluster includes WFBQ, WNDE-AM 1260 (a sports and talk station that also skews older) and alternative rocker WOLT-FM 103.3, warned that going old doesn't mean standing pat.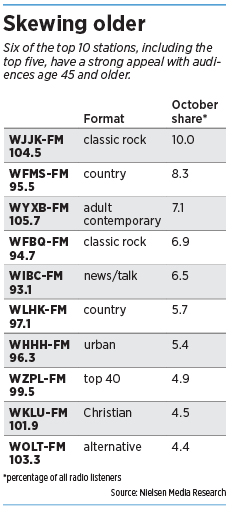 The local iHeart staff is constantly evaluating and adjusting WFBQ's play list.
"If we stayed put and didn't progress, we wouldn't continue at the top," he said. "Over the years, the station has added artists such as the Red Hot Chili Peppers, Pearl Jam and Nirvana. We've moved as our audience has grown."
And that, Killabrew said, has caused some painful choices that risk alienating some of the station's oldest listeners.
"I know it sounds like sacrilege, but at some point artists like Jimi Hendrix come off the air," Killabrew said. "The music starts to sound old contextually, and you have to move on from it. There's a fine balance that you have to maintain to keep the upper and lower part of your demographic satisfied."
To keep that balance, programmers at stations like WFBQ often juxtapose newer rock songs with the true classics.
"When you program radio, you have to come back to center—that music that really appeals to your core," he said. "For instance, you might play a newer song by the Chili Peppers or Nirvana, but you always follow that up with Led Zeppelin."
Kesler said "The Bob & Tom Show" is trying to execute "the Cadillac move"—staying popular with oldsters while attracting a younger crowd, too.
"We know we're popular with adults over the age of 55. We're trying to maximize that and also be entertaining to people in their 20s and 30s," he said.
WFBQ is not alone, Kessler said, pointing to WIBC's 46-year-old morning host, Tony Katz, as well as "Chicks on the Right," a morning show hosted by two women in their 40s with even younger on-air sidekicks to bolster the effort to bring in younger listeners.
Despite all those aging listeners, Killabrew said, WFBQ has no problem selling ads.
"Advertisers love that our listeners are homeowners, have kids in college and are contributing to the marketplace," he said.
Uecker's station—classic- and jazz-formatted WICR—skews even older than the top five stations. And while its audience isn't as large as those, the station has no difficulty finding financial supporters, Uecker said. Since it's a public station, it has underwriters, not advertisers.
"The Palladium, The Jazz Kitchen and Indianapolis Symphony Orchestra are all supporters," he said. "And we also have car dealerships and a number of other companies that seek to be in front of our audience, despite the fact that it's largely people over the age of 50 and in some cases a lot older than that. We like to say they're older, not old. And they certainly have value—to us and our corporate supporters."•
Please enable JavaScript to view this content.