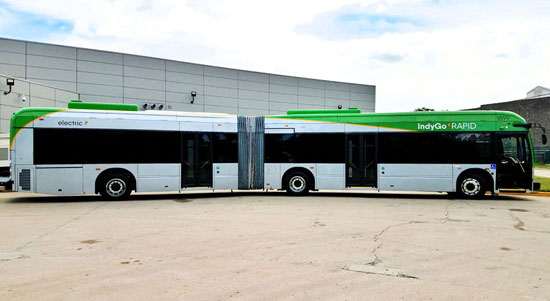 IndyGo and bus maker BYD Ltd. say they're confident the electric buses Indianapolis plans to use for the Red Line will meet the system's needs—even though the city of Albuquerque, New Mexico, says it has discovered serious structural and safety problems with the same model of bus.
Both Indianapolis and Albuquerque ordered 60-foot electric buses from BYD, a China-based manufacturer whose initials stand for Build Your Dreams. The buses are from BYD's factory in Lancaster, California, just north of Los Angeles. The factory began production in 2014.
The 60-foot electric bus is a new product for BYD—Albuquerque, Indianapolis and Lancaster were the first U.S. transit systems to place orders for this model.
IndyGo has ordered 13 BYD buses to service the Red Line, which is under construction and expected to begin operations next fall. IndyGo also has ordered another 18 buses for the Purple Line, which is the second phase of the city's bus rapid-transit project. The buses cost $1.2 million apiece.
The transit system received its first BYD bus Sept. 1, and has been using the vehicle since then for driver and mechanic training. IndyGo expects to receive its second BYD bus in December, with the rest arriving by the third quarter of next year.
"It has been going well," said Bryan Luellen, IndyGo's vice president of public affairs. "When we get the second bus, we're going to step up the testing."
Meanwhile, Albuquerque, which received its first BYD buses in October 2017, says it has had many problems with the vehicles.
Earlier this month, Albuquerque officials announced they are rejecting the buses because inspections revealed numerous problems, including faulty brakes and electrical wiring, substandard welding of frames, unmarked high-voltage contacts, and other structural and safety issues.
Despite Albuquerque's claims, "those vehicles are safe," said Micheal Austin, the Chicago-based vice president of BYD America.
Albuquerque previously had complained about a different set of problems. After bus driver training started in July, the city reported shorter-than-expected battery range, air-conditioning outages and malfunctioning doors that opened unexpectedly.
"These are serious durability and safety issues with these buses, and it is unlikely that these buses would last 12 years, which is the industry standard," Albuquerque's transit director, Bernie Toon, said at a Nov. 13 press conference. "It is our belief that, to keep trying to fix these numerous issues is to go down a dead-end road."
Austin disputed Albuquerque's claims. "BYD either does it right the first time or they make it right," he said. "The [Albuquerque] issues have been misreported. They've been embellished a little bit."
Albuquerque's bus rapid-transit project began under a previous mayoral administration, Austin said, and when the current mayor, Tim Keller, took office, he was eager to find reasons to cancel the BYD contract.
For instance, Austin said, the air brakes in the BYD buses take a short time to pressurize and become functional after the operator starts the vehicle. In Albuquerque, Austin said, the individual violated standard operating procedure by releasing the vehicle's parking brake before the air brakes were fully pressurized.
Regarding Albuquerque's claim that bus doors opened unexpectedly, Austin said BYD's buses typically are not capable of moving if a door is open. But Albuquerque specifically requested that its buses be allowed to move while the front door near the driver is open, he said.
Keller's office denied Austin's claim that Albuquerque's complaints are politically motivated.
"We've laid out the facts since the beginning, and these buses are not safe for the road," said Alicia Manzano, communications director for Mayor Tim Keller. "We refuse to jeopardize the safety of our residents and want BYD to hold up their end of the deal."
IndyGo's experience
For its part, IndyGo says it hasn't experienced similar problems with its BYD bus and hasn't been able to replicate any of the problems Albuquerque reported.
"We've gone through all the mechanical checks," said Justin Stuehrenberg, IndyGo's vice president of planning and capital projects. "The heat and air work fine, brakes working as expected. Everything mechanically that you'd expect to be functioning, is functioning the way you'd expect it to be."
Albuquerque officials also say they're disappointed with the charging range of the BYD batteries. The city had specified that it needed the vehicles to travel at least 275 miles on a single charge.
Albuquerque's transit drivers were able to achieve a charging range of only 177 miles, the city said.
Indianapolis also expects a 275-mile charging range from its BYD buses, and both IndyGo and BYD say this is doable.
In an early road test, IndyGo's BYD bus achieved a charging range of more than 275 miles, Stuehrenberg said, but further testing is needed to validate the result.
Luellen said IndyGo plans to do additional range testing as well as tests in which the bus is loaded with sandbags to simulate passenger weight. The transit system doesn't yet know how the buses will perform in frigid temperatures. Use of heating and air-conditioning reduces the battery's charging range.
"Those are all going to play out over the next couple months," Luellen said.
Driver error?
Austin offered explanations as to why the Albuquerque buses experienced shorter charging ranges. One key factor, he said, was that drivers there were not properly trained on how to drive electric vehicles. Aggressive use of the brake and accelerator pedals can significantly reduce an electric vehicle's range.
Luellen said IndyGo has an advantage because its drivers are already familiar with how to drive electric buses. "We already have 21 electric buses, so it's not new to us."
Because the 60-foot electric bus is a new model for BYD, the Federal Transit Administration requires that it go through special testing before federal dollars can be used to pay for it.
The testing, known as Altoona testing, takes place at Penn State University's testing facility in the Altoona suburb of Duncansville. Tests are meant to assess performance, reliability, safety and structural integrity, among other factors.
Austin said the bus type IndyGo ordered has gone through 1,500 miles of testing, and BYD expects the tests to be complete by the time the Red Line goes into service.
Transit systems are allowed to use buses that have not completed Altoona testing, he said, but they cannot use federal funding to pay for those buses until testing is complete.
IndyGo hasn't yet paid for its buses—and it won't until it receives the vehicles and verifies that they meet all of IndyGo's specifications, Luellen said.
"We're fully testing these vehicles, and we're making sure we're getting what we're paying for—what the taxpayers are paying for—and that is safe and reliable service."
Stuehrenberg said IndyGo has "a range of contingency plans" in case its BYD buses run into problems. If the vehicles can't consistently run for 275 miles between charges, for instance, IndyGo could add in-route charging stations at BYD's expense.
Albuquerque, in the meantime, is moving on.
The city said it plans to order diesel buses from another manufacturer for use on the city's bus rapid-transit routes.
In a Nov. 13 letter to BYD, an attorney representing the city requested that BYD remove and take possession of the buses and charging stations by the end of this month.
"The city is also putting BYD on notice that it will seek all damages, costs, attorney fees and other relief to which it is legally entitled," the letter says.
Austin said BYD will repurpose those vehicles for use by other customers. "The good news is that there's a lot of demand for those buses."
To date, he said, five customers have ordered a total of 90 of BYD's 60-foot electric buses.
Please enable JavaScript to view this content.