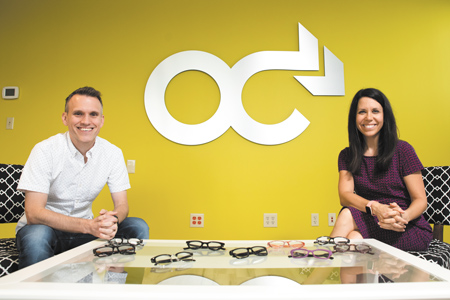 Greenwood-based One Click Ventures, an online retailer that sells prescription and nonprescription glasses, has been acquired by the multinational eyewear company FGX International.
The deal closed during the third quarter, but One Click did not publicly announce the news until Tuesday. Financial terms were not disclosed.
One Click said it will continue to operate as a standalone business and will maintain its existing Greenwood operations, located just east of Emerson Avenue at 1300 Windhorst Way. CEO and cofounder Randy Stocklin will continue to lead the company.
"Our team is thrilled to partner with FGX International," Stocklin said in a prepared statement. "The combination of FGX International's purchasing scale, sourcing capabilities, and resources — together with the team and brands we have built at One Click — will allow us to accelerate the progress of our mission of building the world's most people-focused eyewear company. This partnership is a huge win-win for our dedicated team members and customers, and I couldn't be more grateful to each of them."
One Click — which was a TechPoint Mira Awards winner in 2011 — declined to answer further questions from IBJ about the transaction.
Stocklin and his wife, Angie Stocklin, founded the company in 2005, originally selling a range of products, including eyewear, scarves and purses, through a series of consumer-focused websites. In 2013, the company decided to narrow its focus to eyewear. It now sells reading glasses, sunglasses and prescription glasses through three websites: readers.com, sunglasswarehouse.com and felixandiris.com.
As of August, One Click had 60 full-time and 18 part-time employees, along with a number of seasonal employees. Summertime is the company's busiest season because that's when demand for sunglasses peaks.
The company generates revenues of about $15 million per year and never took on investors.
Now, One Click is part of a huge corporation.
One Click's new owner, FGX, is a designer and marketer of nonprescription sunglasses, optical frames and reading glasses whose brands include Foster Grant and others. FGX's corporate headquarters are in Smithfield, Rhode Island, and the company also has offices in New York City, Toronto and Vancouver, Canada; as well as Italy, England, Mexico, Singapore and China.
FGX's parent company is France-based EssilorLuxottica, a publicly held company that formed Oct. 1 when the French company Essilor International combined with Italy-based Luxottica Group S.p.A.
The combined company would have had annual consolidated revenues of $18.1 billion in 2017.
EssilorLuxottica's stable includes the lens technology brands Varilux and Transitions. It also has more than 30 eyewear brands, including Ray-Ban, Foster Grant and Oakley, and 23 retail brands including EyeMed, Framesdirect.com, LensCrafters, Pearle Vision, Sears Optical, Sunglass Hut and others.
 
Please enable JavaScript to view this content.