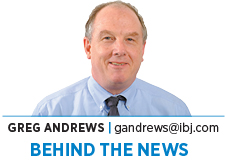 Things are wild in the TV business, as already-giant owners of local stations engineer multibillion-dollar deals to get even bigger. The latest example is Texas-based Nexstar, which this month announced the $4.1 billion purchase of Chicago-based Tribune Media, whose holdings include 42 local TV stations. Assuming pending deals close, just three firms will own more than 400 stations.
Gevers
The frenzy of activity inevitably leads to a flurry of speculation about the future of WTHR-TV Channel 13—which, incredibly, has been under the ownership of the same family—the Wolfes of Columbus, Ohio—since 1975.
The NBC affiliate—and the Wolfes' other TV station, the CBS affiliate in Columbus—don't simply plug along. They are the longtime leaders of their respective markets—even as industry pundits play up the importance of scale to provide cost efficiencies and the clout to negotiate favorable deals with syndicated programmers and with cable and satellite systems that must pay the stations to carry their signals.
"I am hard-pressed to think of any strategic benefit that derives from being a smaller player," said Rick Gevers, an Indianapolis agent representing on-air talent.
Larry Delia—who's general manager of WTHR and also president of the Wolfes' Dispatch Broadcast Group, putting him over both TV stations—isn't biting.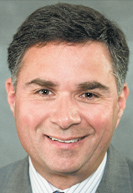 Delia
"We are not for sale," he said flatly. "We are happy to be in this business. It is a good business, and it is a strong business. … We are one of the strongest-performing broadcast operations out there."
Delia added: "There are pros and cons as a small player. But in our case, we have no leverage in terms of debt structure. We have an ability to run our operations independently as each market sees fit and really perform to high standards. We are not linked to a homogenized plan set by a large corporation that would necessarily dictate a model to all of our TV stations."
In fact, rather than selling, Delia said Dispatch might be a buyer as Nexstar casts off stations to comply with Federal Communications Commission ownership limits. Nexstar is expected to sell stations in 13 markets—including Indianapolis.
Nexstar owns WISH-TV Channel 8 and WNDY-TV Channel 23, which operate out of 1950 N. Meridian St., while Tribune owns WXIN-TV Channel 59 and WTTV-TV Channel 4, which operate out of Intech Park on the northwest side.
Nexstar is expected to have to sell two stations to comply with FCC rules, which allow up to two stations per market, though the Texas company hasn't said which ones it would unload.
"We are always interested in good opportunities," Delia said. "This acquisition by Nexstar is going to spawn some activity, and nothing is off the table to look at."
Operating more than one station in Indianapolis would give Dispatch new operating efficiencies, but it still would be a small fry in a field of giants.
A sale would be a more likely path, said Kevin Finch, an assistant professor of journalism and mass communications at Washington and Lee University.
"Industry observers all over have been kind of waiting for what they would consider an anticlimactic announcement it is up for sale," said Finch, a former executive producer at WTHR who later was news director at WISH-TV Channel 8 and WRTV-TV Channel 6.
Here's the thinking of the Dispatch-will-sell crowd. The family previously demonstrated a willingness to unload a prized asset in response to changing market conditions when it unloaded its flagship Columbus Dispatch newspaper three years ago.
And WTHR has taken a number of cost-saving steps in recent years, from discontinuing its pension for new employees to trimming staff, including recently parting ways with sports columnist Bob Kravitz—moves some perceive as buffing the bottom line in order to extract a higher sales price.
Delia dismisses that thinking.
"Our business and industry changes, just like any business changes," he said. "To remain strong and be the leader that we are, we evolve properly."
One move that doesn't square with the Dispatch-will-sell narrative is last year's costly overhaul of its Indianapolis and Columbus newsrooms to refashion them for the digital age. The Indianapolis newsroom includes a wall of 15 55-inch TV screens to allow staff to track what's happening, what's trending and to respond accordingly. Delia said Dispatch spent "many millions of dollars" on the upgrades at each station.•
Please enable JavaScript to view this content.