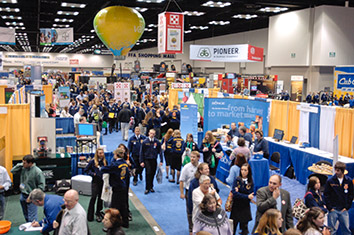 In a big victory for the city's tourism sector, Indianapolis will keep hosting the influential national FFA Convention & Expo for another seven years.
The city was in competition with Atlanta to host the convention from 2025 to 2031.
"We are proud to keep the National FFA Convention & Expo in Indianapolis," National FFA CEO Mark Poeschl said in a post on the group's website. "The city has extended its very best brand of Hoosier hospitality to our members for many years, and we are very pleased that our convention will remain here through 2031."
FFA says the event, which had nearly 70,000 visitors, had an estimated economic impact of $39.8 million when it was hosted here this year in late October. President Donald Trump gave a speech at Bankers Life Fieldhouse as part of the events.
Indianapolis first hosted the FFA convention, which attracts members from across the country to learn about science and agriculture, in 2006 and kept it until 2012. After losing the convention to Louisville for three years, Indianapolis got the convention back in 2016 and locked it in place until 2024 after FFA negotiated with state and city officials.
Please enable JavaScript to view this content.