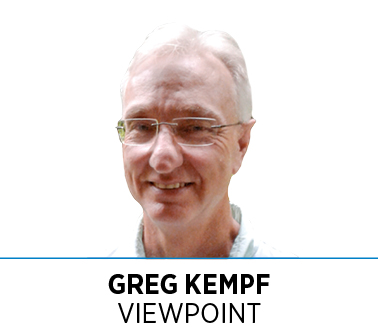 After yet another season of historically intense hurricanes and wildfires invading our shores, we're reminded once again of the ever-growing destruction from climate change.
Nationally, the federal government just released its National Climate Assessment, reiterating many of the dangers already upon us and warning of the many more in store. Locally, Purdue's Climate Change Research Center has reminded us all year that it's not just coastal regions at risk with its year-long series on the effects of climate change on Indiana's weather, agriculture, infrastructure, health and water quality.
Another reminder was recently published by the United Nations' Intergovernmental Panel on Climate Change, the international body that studies the global impact of climate change. It details the worldwide devastation we can expect from a temperature rise of 1.5 degrees Celsius.
Worse storms, drought, flooding, ocean rise and acidification, and extreme temperature events continue their march. But the report concludes we're unlikely to hold the rise to 1.5 degrees, which will trigger the need for unprecedented global reductions of fossil-fuel emissions: almost 50 percent by 2030 with net zero by 2050. A 2-degree rise is more achievable, but the report warns of the added devastation from just this extra half degree.
Unfortunately, the world isn't on track to meet even 2 degrees. Current policies put the likely increase at 3.4 degrees by century's end, with continued rise afterward. The report doesn't document what level of destruction our grandchildren and their kids would face at the dawning of the next century, but it's sure to be a much more perilous existence.
On the bright side, we have the technology to slow down temperature rise through economic means. Burning fossil fuels has produced the rise, but economic alternatives are available to stabilize it at less-hostile levels. Renewable energy instead of coal and natural gas, and the many transportation options to reduce petroleum, are but some of the paths.
There are other ideas worth considering. American economist William Nordhaus recently won the Nobel Prize in economics for his study of reducing climate change by uniformly charging for the carbon that produces it.
And there's another carbon-cost plan, "Carbon Fee and Dividend," a market-based report put forward by the bipartisan Citizens' Climate Lobby, that not only meets, but exceeds, the Paris Climate Agreement and would improve the economy to boot.
The plan recommends charging a fee for every ton of carbon at its source, whether from the ground, below the sea, or imported from abroad. The first year, it's $15 and increases every year by another $10. The fees are returned monthly to households, minus small administrative costs, to pay for the added cost at the pump or on your light bill.
Under this plan, emissions are projected to drop 50 percent in 20 years and employment would grow by nearly 3 million from the added money in the economy. Most households get back at least as much as they pay, with medium- and lower-income levels seeing more benefit since their fossil-fuel consumption is lower than higher-income households.
The best news is that the plan's elements are part of The Energy Innovation and Carbon Dividend Act, which was introduced in the U.S. House of Representatives late last month. Please call your congressperson in support of this legislation. Let's make our grandchildren both safe and proud.•
__________
Kempf is media coordinator for the Indianapolis chapter of the Citizens' Climate Lobby.
Please enable JavaScript to view this content.