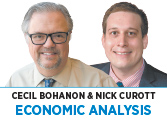 This is the time of year when we are asked to donate to various tax-deductible not-for-profit institutions. A recurring question is whether it is appropriate for such organizations to engage in market-like money-making activities to raise funds. Are church bazaars, veteran-organization chili suppers or light displays at art institutes fair game? Or do they corrupt the mission of the organization?
This issue came to the forefront last year when Newfields—the expanded and rebranded Indianapolis Museum of Art—offered a light show/holiday experience titled Winterlights on its grounds for a fee to the public.
Washington, D.C., based art critic Kriston Capps called the Newfields exhibit the "greatest travesty in the art world in 2017." He went on to opine that, "Somewhere along the way, Indianapolis forgot that museums are meant to be the house of the few, not the house of the many; museums are cultural treasuries, not amusement parks." Nevertheless, in 2017, Winterlights sold around 70,000 tickets and is on track to exceed that number this season.
We are economists, not art critics. We are quite sympathetic to not-for-profits engaging in money-making activities. The first and most obvious reason is that the money garnered from the bazaar, the supper or the light show keeps the institutions and their missions viable. But there is a subtler economic justification in play.
When a not-for-profit offers a good, service or activity for a fee, it must pay attention to the preferences and tastes of those outside the group. If the church crafts are second-rate, the chili noxious or the light show unappealing, we can be pretty sure the activity will not be repeated. A financial failure or success reveals what the larger community values—and this is good for the institution. It can help the organization craft its message and refine its mission. It moves the organization out of its comfort zone. The few anointed ones might just learn something by listening and responding to the desires of the great unwashed masses.
And it is unlikely the flow of information and influence will be one-way. If customers get value for their money, they are likely to form a favorable opinion of the provider and be more open to repeat interactions. This surely makes the customer more receptive to the message or purpose of the not-for-profit. This is a win-win all around.•
__________
Bohanon and Curott are professors of economics at Ball State University. Send comments to ibjedit@ibj.com.
Please enable JavaScript to view this content.