Is it appropriate to raise truck fees on the Indiana Toll Road to pay for projects elsewhere?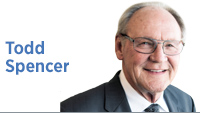 More than 60 years ago, the interstate highway system was envisioned to connect the country from coast to coast. Initially, a modest 3-cents-per-gallon tax on gasoline and diesel fuel was established and wholly dedicated to the construction and maintenance of roads and bridges.
The vision became reality and exceeded expectations, connecting communities, making travel easier, and improving the flow of commerce. A short time later, the gasoline and diesel tax was increased to 4 cents per gallon—where it stayed until 1983, when it was doubled.
Unfortunately, this also marked the point in which highway taxes began to be diverted to non-highway projects, including public transportation systems. It wasn't long before revenue diversion expanded greatly, bringing us to today, when 36 cents of every tax dollar paid by highway users are diverted to non-highway programs.
We continually find ourselves discussing a revenue shortfall for our nation's transportation network for a couple of reasons: Billions of highway dollars are diverted for other uses, and federal and state fuel taxes have not been adjusted to reflect inflation.
Gasoline and diesel taxes are capable of supporting our infrastructure needs, but policymakers at every level of government refuse to address the underlying problems that got us to this point.
As a result, many states continue to explore and enact alternative methods to generate new revenue, to the detriment of all highway users. This is evident in Indiana with the Indiana Toll Road, which is one of the most expensive stretches of highway in the country on a per-mile basis, especially for truckers.
Toll roads are bad public policy. They are inequitable, costly to administer, generally lack public transparency and accountability, and serve only to benefit private investors at the expense of the motoring public.
They are also a means of double-taxation and an impediment to interstate commerce, thus raising legitimate concerns about possible violations of the Commerce Clause of the U.S. Constitution.
While the Owner-Operator Independent Drivers Association opposes tolling public infrastructure as a general rule, it's never appropriate to use toll revenue to pay for projects that have nothing to do with the toll road itself.
Diverting highway tax dollars has undeniably undermined the viability of the Highway Trust Fund, just as diverting toll revenue undermines the viability of a toll road. To make things worse, this practice is exponentially more harmful when public officials (or private third-party toll road operators) raise taxes on a specific segment of the motoring public, such as Indiana's recent 35 percent truck-only toll increase.
Revenue diversion is wrong, whether it's gasoline and diesel taxes or tolls. That's not to say other projects funded by diverted highway dollars aren't worthy of being funded, but they should be funded by another source of revenue.
Until these underlying issues are properly addressed, our roads and bridges will continue to deteriorate and the motoring public will continue to see its transportation costs increase.•
Click here for more Forefront columns.
__________
Spencer is president of the Owner-Operator Independent Drivers Association, the largest national trade association representing small-business trucking professionals and professional truck drivers. Send comments to ibjedit@ibj.com.
Please enable JavaScript to view this content.