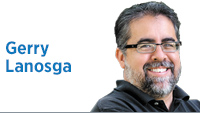 "Pictures, or it didn't happen."
I haven't been fishing for quite some time, but that's what my old fishing buddies used to say about a particularly good fish story in the absence of any corroborating evidence.
The quote popped into my head upon seeing yet another fact-free political meme posted on social media during the final days of the election last year. This one, which apparently has been making the rounds since at least 2014, involved a list of all the taxes that supposedly were included in the Affordable Care Act and the "fact" that not a single Republican voted for them. No references, no sources—no pictures, in other words. No fish.
And ultimately, all of it was demonstrably false. Had the eager poster of the material made a few extra mouse clicks, he quickly and easily would have learned that the taxes in question were in different legislation that passed with substantial support from Republicans.
But there's a reason such memes go viral. Checking them out takes effort, and they're just too good not to share, right? Well, if it's not too late to talk about New Year's resolutions, I'd like to suggest one: Stop spreading the B.S. that comes across your feed.
The problem of misinformation has been around a long time, but it is enjoying a particularly prolific moment given the capacity individuals now have to enlarge its footprint in myriad personal online networks. You might be tempted to call it "fake news," but let's not. Fake news, in fact, isn't news at all.
But the prevalence of misinformation is undeniable. One study indicated an average adult in the United States saw at least one false story in the month before the 2016 election, with such stories favoring Donald Trump garnering 30 million shares on Facebook and those favoring Hillary Clinton garnering 8 million shares in the three months leading up to the election. (By the way, you should look this study up; I'll wait right here.)
The latest research on misinformation on Facebook, published this month in Science Advances, was somewhat encouraging, showing that only 8.5 percent of users studied had shared false stories during the campaign. (The researchers also noted that people over 65 and those who have ultraconservative views were significantly more likely than others to share false information.)
However, that study looked at just one piece of the current news ecosystem. It doesn't account for other social networks, notably Twitter, and it is unclear to what extent the research captured the spread of memes such as the howler about taxes and the ACA.
Clearly, more research is needed to help us understand the full extent of the problem. Meanwhile, though, it's not too soon for all of us to make individual efforts to stamp it out.
It's not hard. When you see an interesting post, ask yourself about the claims being made. On what are they based? Are there citations or links to external evidence? If so, check them out. If not, think about why.
Mainly, don't simply accept claims at face value, especially when they happen to agree with your views. In truth, there is a ton of reliable news and information available today, and the markers of quality are usually easy to spot: supporting documents, links to primary sources and prompt corrections when warranted.
It's never been simpler to check the facts for ourselves. Follow the links. Pull the threads. It's on all of us to demand: Evidence, or it didn't happen.•
Click here for more Forefront columns.
__________
Lanosga, a former reporter, is a journalism professor at Indiana University and president of the Indiana Debate Commission. Send comments to ibjedit@ibj.com.
Please enable JavaScript to view this content.