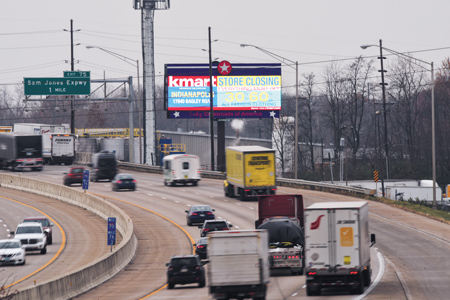 Indianapolis Mayor Joe Hogsett's years-long effort to replace the city's digital billboard ban with a cap-and-trade-like system was quashed Monday evening in a unanimous decision by the City-County Council's Metropolitan and Economic Development Committee.
The committee voted to advance an updated version of the city's existing sign ordinance to the full council—but it amended the measure to strike a section that would have allowed some digital billboards in the city, choosing instead to keep the status quo. The full council still needs to vote on the proposal.
Hogsett had backed a plan that would allow some digital billboards in certain areas as long as a greater number of conventional billboards were removed.
The committee's decision was a big victory for neighborhood leaders who had been fighting to keep in place the city's ban on digital billboards. The city does have two existing digital billboards that were built after favorable court decisions. Those would stay if the proposal is passed, along with two at the Indiana State Fairgrounds that are exempt from the ban because they are on state property.
"We feel keeping our city digital-billboard-free [gives] us the ability to compete with other cities to make us the great city that we are and we need to stay," said Marjorie Keinle, past president of the Historic Urban Neighborhoods of Indianapolis.
Council Vice President Zach Adamson, who authored the amendment that essentially killed the Hogsett administration's plan, said neighborhood leaders "were on the warpath about this."
"We really had to be responsive to what our constituents were demanding," he said.
The main criticism from neighborhood leaders was that the Hogsett administration's approach to the plan was too favorable to billboard companies. In the Hogsett plan, billboard companies would have to take down two conventional billboards for every one billboard that was converted into a digital model. And there would be a 4-to-1 ratio for removing conventional billboards if a company wanted to erect a brand new digital billboard. 
But critics said that other cities had swap-out ratios that were much higher. For instance, St. Paul, Minnesota, has a 6-to-1 swap-out ratio. St. Petersburg, Florida, has a 7-to-1 ratio, and Dallas' ratio is 3-to-1.
The proposal landed in the City-County Council's lap to negotiate after the Metropolitan Development Commission unanimously approved it in December, even though MDC president John Dillon acknowledged the city's compromise wasn't popular.
Some neighborhood leaders and council members including Adamson initially seemed open to making the swap-out ratio higher. But Adamson said the negotiations between the neighborhood and billboard companies got harder "the more we tried to massage this." Council members eventually decided that keeping the status quo would be more favorable for most of the interested parties.
Emily Mack, director of the city's Department of Metropolitan Development, said she and her fellow staffers at the city knew going in that "this was going to be hard." But she said she was proud that the majority of the sign ordinance was moving forward to the full council with a unanimous recommendation because it hasn't been comprehensively updated since the late 1980s.
She said the city "was charged with drafting an ordinance that was constitutional and achieved a policy goal of removing billboards in Indianapolis neighborhoods." 
"We believed we proposed a sensible ordinance," Mack said. "While the proposed amendment does not compromise constitutionality, it does not encourage the removal of billboards in Indianapolis."
But the issue isn't likely to go away.
One billboard company representative from Outfront Media told council members on Monday evening that digital billboards "are what we'd love to have" eventually in Indianapolis.
And Adamson said he wouldn't be surprised to see the effort return in future years.
"I'd be amazed if it didn't," he said.
Please enable JavaScript to view this content.