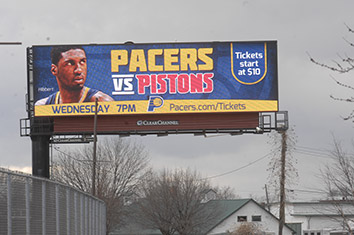 Indianapolis Mayor Joe Hogsett's administration is attempting to resolve a long-running dispute over digital billboards between neighborhood activists and the sign industry by proposing what a top official calls a "cap and trade" system.
Under the proposed system, as many as 65 billboard faces along Interstate 465 and its spokes could eventually be converted to digital billboards. In exchange, traditional billboard faces or signs equal to twice the square footage of the electronic signs must come down in the urban core.
Hogsett Chief of Staff Thomas Cook said the goal is to incentivize the removal of "dozens to hundreds of signs" in the city's neighborhoods, where people are most opposed to them.
"We think you'll see signs coming down pretty much immediately" if the proposed ordinance eventually passes, Cook said.
The city would limit the number of billboard faces converted to digital to 20 per year, and 65 faces total. Assuming each billboard structure has two faces, that could equate to about 33 billboard structures eventually being converted.
The system would be based on square footage, city officials say. That means that for a traditional 672-square-foot billboard face to be converted to a digital billboard, an additional 1,344 square feet of billboard signage within the urban core must come down.
In parts of Marion County that are less dense than the urban core, companies would have to take down signage equal to four times the surface area of the electronic conversion.
Companies would be awarded credits for removing signs, and would be able to redeem those credits for digital billboard conversion once they earn enough.
Companies would also be able to buy credits from other companies that have taken down signs and earned credits–but perhaps wish to get out of the sign business altogether.
Hogsett officials released the "working draft" proposal Friday morning to members of the city's sign ordinance task force. Officials stressed the ordinance could be tweaked before it goes up for votes from the Metropolitan Development Commission and the City-County Council later this year.
Emily Mack, the director of the city's Department of Metropolitan Development, said the city's overall goal is to end up with a sign ordinance that "reflects the 21st century," while it also "promotes elements of good design and eliminates excessive signage."
Corporation counsel Andy Mallon said the proposal encourages removal of signs without the city needing to spend taxpayer money to buy them, which the city can't afford.
Converted billboards would have to follow strict rules. First, they could only be along the Interstate 465 corridor and its spokes, and would be prohibited from being within 600 feet of "protected areas," including historic preservation districts, hospitals, parks, universities, churches and schools.
Also, the city would ban moving objects on the screens and distracting transitions between ads. Electronic ads would have to appear for a minimum of eight seconds before transitioning to another ad.
The Hogsett administration also wants to discourage putting up new billboards of any kind. The proposal would institute a rule that eight signs would have to come down for a new billboard to go up.
Cook said the city also will start to "aggressively" go after illegal signs in the city. For example, it will start requiring companies to register their signs.
"If you're an illegal sign, you wouldn't be able to receive credits for taking it down," Cook said.
Digital billboards are currently banned by the city, but the ban has been the subject of lawsuits.
One lawsuit between GEFT Outdoor LLC and the city led to a federal court settlement reached in Jan. 2017, whereby the company was allowed to convert two billboards near Interstate 70 to digital signs as long as it met certain conditions.
Also, there are two double-sided electronic billboards on Fall Creek Parkway near the Indiana State Fairgrounds, because the state-owned land is exempt from local zoning control.
Mallon said so far cities have been able to ban digital billboards because of concerns about safety, but as technology improves the industry has been able to convince courts that those concerns can be mitigated.
Previous attempts by Indianapolis mayors to forge agreement on the issue have failed, notably in 2014 when the Ballard administration proposed a similar plan that was more generous to the sign industry. It allowed 75 billboards to be converted, but that proposal eventually failed.
Cook said the city wants to be able to decide its own policy on the matter before courts decide for it.
He said if the city's ban on digital billboards is eventually struck down in a lawsuit, "every billboard could be converted overnight."
"We were trying to get ahead of it," Cook said.
Please enable JavaScript to view this content.