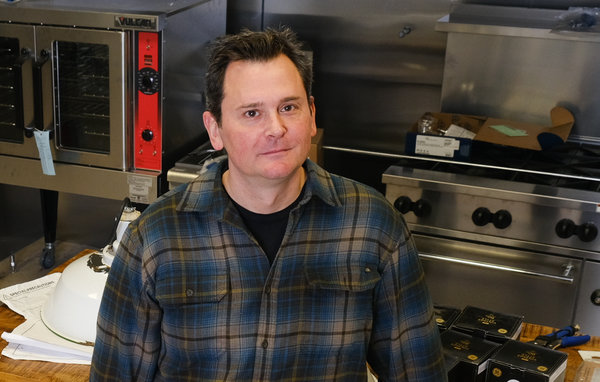 Renown local chef Greg Hardesty is set to open Studio C in in an out-of-the-way space at 1051 E. 54th St., just off the Monon Trail, with plans to offer private dining, a coffee bar, pop-up meals and more—even a service to supply home chefs with hard-to-find ingredients.
In other words, Hardesty plans to try a little of this and a little of that and see what sticks.
He talks with host Mason King about why he closed his last restaurant—the acclaimed Recess—two years ago and why he decided not to open another traditional restaurant. But this is no hobby. Studio C will be Hardesty's livelihood and he hopes to make it work for the long term.
To read more about Hardesty's project, check out reporter Susan Orr's story at IBJ.com.
Click here to find the IBJ Podcast each Monday. You can also subscribe at iTunes, Google Play, Tune In and Spotify. Here are some of our recent podcasts:
IBJ Podcast: Former racer Derek Daly suing WISH-TV for $25M, but can he prove defamation?
IBJ Podcast: Why IoT is something every company needs to be thinking about
IBJ Podcast: Deaths are increasing among Indy's homeless population. What can be done?
IBJ Podcast: Will a $550M, mixed-use development help Indy Eleven win funding for a stadium?
IBJ Podcast: What will The Mind Trust's big infusion of cash mean for Indy schools?
Please enable JavaScript to view this content.