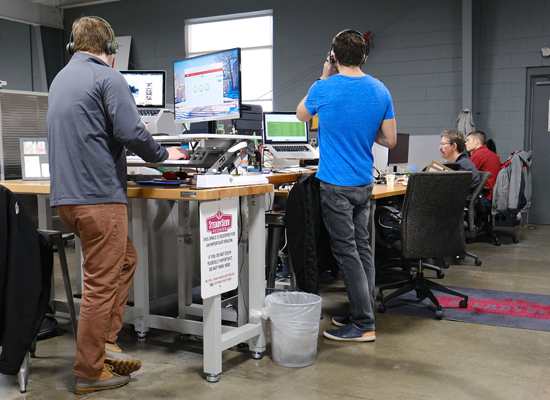 The Indiana IoT Lab in Fishers has been open roughly one year and already its membership roster is almost full. Every day, those members—including big companies, small firms and freelancers—are helping manufacturers, farmers and others connect their products to the web and to each other.
You may know the internet of things because you have a connected thermostat or home security system. But IoT is about far more than home automation. The real magic is the ability of companies to use connected devices to collect data, monitor their systems and take action.
In this week's podcast, host Mason King interviews IoT Lab CEO John Wechsler and Clear Object CEO John McDonald about why Indiana companies must start thinking about how to integrate IoT into their production or processes or risk becoming obsolete. And they explain the role the Indiana IoT Lab is playing in helping Indiana and Hoosier businesses through the transition.
Read more about the Indiana IoT Lab in Fishers in this story by IBJ reporter Anthony Schoettle.
Click here to find the IBJ Podcast each Monday. You can also subscribe at iTunes, Google Play, Tune In and Spotify. Here are some of our recent podcasts:
IBJ Podcast: Deaths are increasing among Indy's homeless population. What can be done?
IBJ Podcast: Will a $550M, mixed-use development help Indy Eleven win funding for a stadium?
IBJ Podcast: What will The Mind Trust's big infusion of cash mean for Indy schools?
IBJ Podcast: Will Indiana lawmakers bet big on sports gambling?
IBJ Podcast: Two Indy execs talk losing weight — and the harder part, keeping it off
IBJ Podcast: Salesforce's Bob Stutz is Indy's most important tech exec you don't know
Please enable JavaScript to view this content.