Advancements in Health Care
Pediatric WalkAide System, Peyton Manning Children's Hospital, St. Vincent
For almost a decade, Dr. Denise Carpenter and Jennifer Buckingham have been fighting to give young patients at Peyton Manning Children's Hospital a chance for improved mobility that can last a lifetime.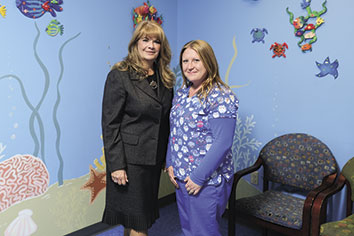 Dr. Denise Carpenter, left, and nurse Jennifer Buckingham are advocates for Pediatric WalkAide. 
Carpenter, a pediatric physiatrist, and Buckingham, a registered nurse, count among their patients children and young adults with a condition known as drop foot, in which the muscles in the lower part of the leg don't develop properly. 
Children with drop foot can't lift their feet and toes properly. As a result they trip, and its common for their feet to get stuck in a downward position, forcing them to walk on their toes. The condition can cause pain, impair bone growth, cause hip and knee problems and lead to unnatural walking patterns that can have detrimental, life-long effects.
Traditionally such patients have been fitted with braces that aid walking in the short run but have downsides. The braces actually restrict movement, contributing to ongoing muscle weakness, Carpenter said. For a variety of reasons "most people end up rejecting braces at some point," Carpenter said.
That's just one of the reasons Carpenter and Buckingham are on a crusade to help patients take advantage of the pediatric WalkAide System, a Food and Drug Administration-approved alternative that became available nearly a decade ago but isn't fully embraced by health insurers.
WalkAide, commercialized by Maryland-based Innovative Neurotronics, is a programmable battery-powered device worn in a cuff that sends electronic impulses over nerves and muscles to stimulate normal movement. Since rolling out the product at Manning nearly two years ago, Carpenter and Buckingham have seen it help 15 patients with better range of motion, muscle strength and gait. 
They're so passionate about the device that they've committed to educating insurance companies, repeatedly, about why the cost of the device should be covered.
"I feel so strongly that this helps the kids that I'm willing to fight for it," Carpenter said. Kids who can't use the WalkAide are in danger of becoming increasingly isolated, she said, as their physical disabilities related to drop foot multiply.
Carpenter said the system ends up being less costly than braces over time. Braces cost about $1,200 per brace and, depending on the child's stage of growth, must sometimes be replaced every six months. WalkAide is more expensive, but still less than $10,000, and it lasts about seven years. 
But the system isn't for everyone. There must be enough support at home to care for the device, including keeping the battery in good condition and assessing the condition and placement of electrodes. 
Once that hurdle is cleared, the doctor/nurse team brings in an orthotist who they work with over several weeks to adjust electrode placement and make sure the device is performing properly. Buckingham, meanwhile, begins an involved process of gathering feedback from patients and communicating with the insurance company to seek coverage.
Families of some patients, upon getting a rejection from insurance, have taken out a loan to pay for WalkAide.
Among those who've benefitted are Jack Wilkening, an 11-year-old whose cerebral palsy-induced drop foot had limited his movement until he got fitted with WalkAide. "Now I can even climb on trees," Wilkening said.
Carpenter said it's frustrating to know how much good WalkAide can do but get pushback from insurance companies. 
She and Buckingham appreciate the support they've received from both St. Vincent and from Advanced Orthopro, the practice that supplies their orthotist. All have donated uncompensated time to the cause. Ultimately, Carpenter said, you have to take a step back and remember why you're practicing medicine.•
Please enable JavaScript to view this content.