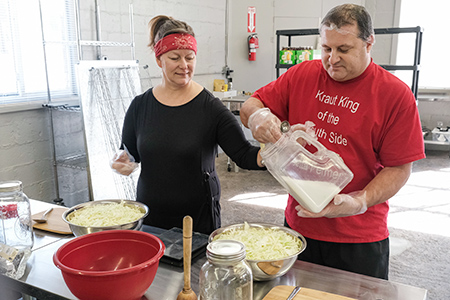 Michael and Kathy Shrum have been making sauerkraut and kimchi in their home in the Garfield Park neighborhood since 2012 and selling it at farmer's markets and roadside stands.
They've been seeking to expand those options. But producers who want to sell wholesale—the step to moving into stores—must use a licensed commercial kitchen to prepare and pack their products.

Enter the Food Beauty Center, a new food-focused makerspace in Garfield Park that aims to serve entrepreneurs two ingredients for success—collaboration and commercial kitchen space.
The 2,400-square-foot facility, at 2628 Shelby St., is owned and operated by Riley Area Development Corp. It went into operation in December and already has signed up nine startups that make everything from wine to dips.
The center offers food-based startups affordable access to commercial kitchen space—something that is hard to find, yet necessary for growth.
The Shrums hope it's just what their company, Metta Gardens, needs to move to the next level.
The couple considered renting space at another local kitchen, but it was a shared space that would have offered them only limited hours of access.
In the Food Beauty Center, the Shrums found what they needed to produce their goods. They have access to shared kitchen equipment, and they also have a dedicated workstation all their own.
"This commercial kitchen will allow us to put products in local restaurants, local grocery stores," Michael Shrum said. "We can work here five days a week, anytime we want."
Riley established the Food Beauty Center to help entrepreneurs succeed in a burgeoning industry—and in a neighborhood it believes is primed for this type of development.
The coming Red Line bus service and the art-focused redevelopment activity spearheaded by the Big Car Collaborative convinced Riley that Garfield Park was the right place to nurture food entrepreneurs.
Big Car launched an affordable-housing program for artists in Garfield Park two years ago, and its Tube Factory and Listen Hear arts spaces are both close to the Food Beauty Center.
"We know the area's going to get a lot of restaurants—but how would the neighborhood get involved?" said Eric Strickland, Riley's immediate past executive director. Terri Skipper is Riley's new executive director, but Strickland was in charge during development of the Food Beauty Center.
Riley purchased the Shelby Street building, a former auto shop called Car Beauty Center, in 2016. The cost to purchase and redevelop the site was about $325,000, funded by both Riley and a $224,000 federal housing grant administered by the city of Indianapolis.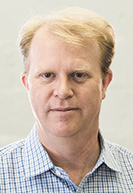 Strickland
Food Beauty Center participants pay user fees of $180 to $300 per month, which helps Riley cover operational costs. Riley envisions entrepreneurs using the Food Beauty Center for two years or so while they scale up their businesses.
Riley sees the food coworking space as a complement to its other small-business offerings.
Riley also operates two facilities along Massachusetts Avenue's industrial corridor: the Ruckus makerspace in the Circle City Industrial Complex at 1125 Brookside Ave. and Micro-Mfg, a business incubator/accelerator and small-scale production facility at 1417 Commerce Ave. Riley also operates the Riverwest Works coworking space at 2226 W. Michigan St. in the Haughville neighborhood.
Food Beauty Center users have access to Riley's other three facilities and their programs at no additional charge. They could, for instance, use equipment at Ruckus to print T-shirts that advertise their company. They can also attend free monthly workshops on topics such as selling to retailers and understanding business contracts.
The concept is to put entrepreneurs in touch with resources and people that can help them grow their businesses.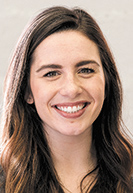 Klein
The networking aspect of the Food Beauty Center appeals to Rachel Klein, owner and president of Revival Food Co. Before moving to the Garfield Park facility, Klein produced her almond butters at a catering kitchen inside a downtown apartment building her father owns.
That facility was a certified commercial kitchen, and Klein already has a number of wholesale customers, including more than 75 Kroger and Fresh Thyme stores.
But Klein was looking for ways to connect with other food-based businesses, which is what she's found at the Food Beauty Center.
Working alongside other entrepreneurs, Klein said, could open the door to creative collaborations and networking. "I think there's just so many opportunities on that."
Outsiders also see merit in what the Food Beauty Center has to offer.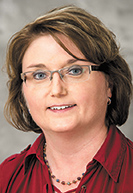 Deering
Amanda Deering, clinical assistant professor of food science at Purdue University, said she's aware of only a handful of commercial kitchens around the state. This, she said, poses a challenge to startups that want to grow beyond the farmer's-market circuit.
"There's not many resources for people to go to," Deering said. "It seems to be the bottleneck, that people can't make that leap."
Local entrepreneur Carrie Abbott said she sees great value in the connections entrepreneurs can make through the Food Beauty Center.
Abbot is majority owner of candy company Newfangled Confections, which she founded eight years ago.
"I see a lot of potential in that space. I would have died for somewhere like that when I started in 2011," Abbott said.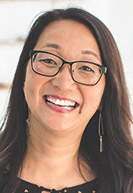 Abbott
Having people who will offer opinions about your ideas and provide unbiased taste-testing for your creations is important, she said. "You don't want to ask your friends and family because they're going to support you no matter what."
Abbott's company has grown beyond the startup phase. She has five full-time employees and her products are carried in more than 100 area boutique shops; regionally at Fresh Thyme, Kroger, Target and Bed Bath & Beyond; and nationally in The Fresh Market, Books-A-Million and discount department chain Bealls.
The Food Beauty Center, she said, is giving the next generation of entrepreneurs a chance to achieve similar success. "I guarantee you, there's probably one [business] there right now with enough energy and hustle that they could totally be in the same place."•
Please enable JavaScript to view this content.