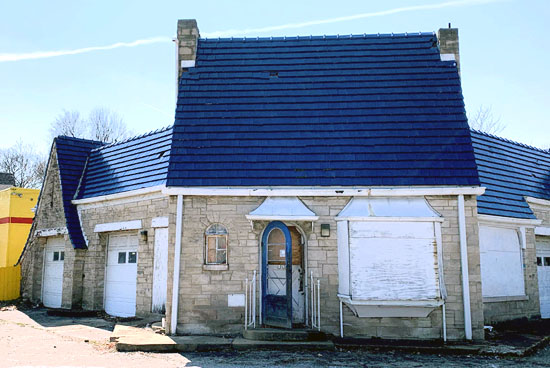 The shell of a former service station on the cusp of the Meridian-Kessler neighborhood is slated for a major renovation as a cozy office building for a local real estate agent and other business professionals.
The property at 451 E. 38th St. was purchased in March for $175,000 by Kelly Lavengood, an agent with Plat Collective—formerly Nottingham Realty Group. She told IBJ she plans to spend as much as $500,000 total on the property, including the purchase price.
Lavengood envisions outfitting the 2,331-square-foot building with offices for her two-person real estate team, co-working space, shared amenities and rentable private offices. She plans to spend upward of $325,000 to update the façade and build out the interior over the next several months.
The building, constructed in the 1930s, was formerly a Pure Oil gas station before several iterations as other businesses. It has retained the iconic blue terra cotta tile roof from its first use. The building's been vacant the better part of the past 15 years.
Lavengood acknowledged that the building on the northern boundary of the Mapleton/Fall Creek neighborhood has "seen better days," but that the site's underground fuel tanks had been remediated. She's eager to redevelop an old building that is passed by thousands of cars each day on busy 38th Street and Central Avenue.
"I believe in the value of owning real estate, so it made sense to me to buy a building and to renovate something old and beautiful and give it a new purpose, rather than to start from scratch," Lavengood said. "I have loved this building for years, I've always loved the architecture of it."
She has not yet hired an architect for the interior design, but hopes to start working on the building's exterior in coming weeks.
This includes ensuring the roof is water-tight, along with replacing windows, trims, doors and other egresses and cleaning and patching the façade. She  plans to keep the building's blue roof, which will be restored by Indianapolis-based Two Brothers Roofing.
Lavengood said she hopes to secure façade grants to defray costs, but noted she anticipates "extensive work will be needed" across the board. Her husband, Scott Schenkel, has his own business as a general contractor—Scott Schenkel Renovations. Lavengood said he would be involved with the renovation project.
On the inside, the original tin ceilings will be restored, and the service doors for the former gas station will be replaced with glass with a vintage garage door look.
Lavengood, who mostly focuses on residential real estate in north-side neighborhoods, said she has rented office space near 54th Street and College Avenue for the past two years.
She said living in the area and watching other redevelopments that have occurred in recent years contributed to her desire to buy and renovate a property in her own neighborhood.
Nearby rehab efforts have included the former Chase bank building at 251 E. 38th St., which was bought in August 2017 by former Angie's List CEO Bill Oesterle and business partner Ed Sherman. It was announced last year that a restaurant would move into the space.
"This is a great place to invest. It's where I live," Lavengood said. "It's a building that I love that I can really make into something fantastic."
Please enable JavaScript to view this content.