The Indiana Dunes—the national park, state park and surrounding areas—offer a variety of outdoor experiences, including swimming, bird watching, biking, hiking, fishing and camping. Outside the Dunes, Porter County also offers unique experiences.
Curious what you should do when you get there? The experts at Indiana Dunes Tourism weigh in.
Inside the national and state parks
The 3 Dune Challenge
Looking to test your endurance? The 3 Dune Challenge encourages visitors to climb the three tallest sand dunes—Mount Tom, Mount Holden and Mount Jackson—in Indiana Dunes State Park. The 1.5-mile trail takes participants up and down 552 vertical feet. The rewards for conquering the challenge? Beautiful views and a sticker from the visitors center.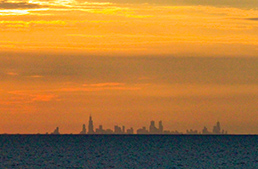 (Photo courtesy of Indiana Dunes Tourism)
The beaches
Indiana Dunes offers 15 miles of beaches with views of the Chicago skyline in the distance. Indiana Dunes Tourism recommends West Beach, which was ranked in 2011 as one of the 10 Best Family Beaches in the nation by Parents Magazine.
(Photo courtesy of Indiana Dunes Tourism)
Hiking
The Dunes area offers more than 70 miles of trails, from improved paths to sand trails, and is an ideal way to experience the Dunes' diverse environment. Trail 9 in the state park was once named one of the best scenic hiking trails in Indiana by USA Today.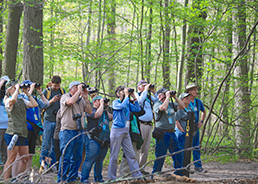 (Photo courtesy of Indiana Dunes Tourism)
Bird watching or fishing
More than 350 bird species live or migrate through the area. "Enthusiasts who bird the world call the Indiana Dunes the creme de la creme," according to Indiana Dunes Tourism. You can fish at Indiana Dunes year-round. The area hosts sports fishing, stream and river fishing, and small-lake fishing. "It's one of the few places in the world where you can fish for steelhead year-round; catch salmon in the spring and fall; and still land a perch, trout or sunfish for dinner," Indiana Dunes Tourism says.
Outside the Dunes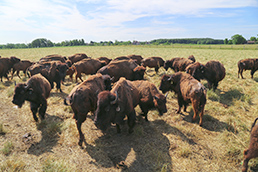 (Photo courtesy of Indiana Dunes Tourism)
Broken Wagon Bison Farm
In Hobart, about 20 minutes southwest of the Dunes, the Broken Wagon Bison Farm gives families a chance to interact with the country's largest native land mammal. The family-owned farm offers wagon tours and more than 100 American bison. The farm also sells bison meat products and gifts.
(Photo courtesy of Indiana Dunes Tourism)
Downtown Valparaiso
Just 20 minutes south of the Indiana Dunes, downtown Valparaiso is a culinary hot spot, Indiana Dunes Tourism says. "Valparaiso really is the mecca for art entertainment and culinary stops." Recommendations for once you get there? Valpo's Velvet Shoppe is a favorite among locals and visitors. The mom-and-pop ice cream shop has been owned by the Brown family since 1947 and is ranked among the top 10 places to eat on Trip Advisor.
Chesterton's European Market
Just two miles south of the Dunes, at Broadway and Third streets in Chesterton, the market is held every Saturday from the beginning of May through the end of October. It features artists, chefs and farmers from Michigan, Illinois and Indiana. The merchants sell artisan breads and pastries, boutique creamery cheeses, ethnic foods, meats, spices and oils. They also sell clothing, accessories and jewelry.•
Please enable JavaScript to view this content.