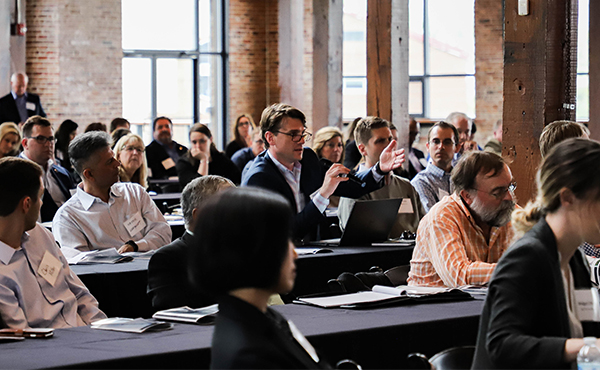 AgriNovus Indiana's Ag+Bio+Science Startup Showcase is growing faster than a corn stalk in June.
In its third year, the showcase attracted a record crowd of 230 attendees—up from 150 the first year—and sponsorship grew from a handful last year to 30 this year, including Elevate Ventures, Purdue Ventures, Elanco Animal Health, Clabber Girl, Ice Miller and Innovatemap.
The event, which was Tuesday, moved from Launch Fishers to the Biltwell Event Center southwest of downtown Indianapolis to accommodate the larger crowd. Because applications for the pitch competition have increased, reaching nine this year, organizers bumped the number of finalists this year from five to six.
"We're pretty excited about how this event has developed," said Dan Dawes, senior director of innovation and strategy for AgriNovus Indiana, an initiative of the Central Indiana Corporate Partnership. "There's a lot of traction right now in the startup and entrepreneurial space in agbiosciences, and I think we're tapping into that."
AgriNovus' mission is to support programs to meet the education, talent and entrepreneurship needs of the growing agbiosciences sector in Indiana. AgriNovus, one of six economic development initiatives of CICP, builds public awareness, expanding the industry's workforce, researching growth opportunities to support entrepreneurship and developing partnerships.
The Startup Showcase has been part of AgriNovus' plan since the initiative launched in late 2015. 
"Our North Star is to make Indiana unparalleled in innovation in agbiosciences, so the showcase emanates from that," Dawes said.
AgriNovus wants to continue expanding the event, possibly adding an innovation challenge in which startups try to solve problems presented by other agbioscience companies and industry groups. 
For the first time this year, the event featured a People's Choice Award—which was sponsored by Sikich, a Naperville, Illinois-based professional services firm. Attendees voted for their favorites electronically in real time. 
"If we do our part, I think there's a really good potential for growth of this event, including expansion of events," Dawes said.
The startup showcase, Dawes said, has been critical in giving fledgling companies an opportunity to hone their pitches, make business contacts and tap into resources, including startup capital.
"A lot of people realize agriculture is a major contributor to our economy," Dawes said. "What's often missed is that there's this convergence between agriculture, life biosciences and biology and various forms of technology. A big part of what we do at the showcase is raising the profile of that and the companies working in this space."
Separately, AgriNovus is planning to "launch initiatives in the talent sector space" later this year, Dawes said. "We're dedicated to building the talent pipeline."
Dawes was impressed by the quality of the startups making pitches Tuesday. They included companies in food science, robotics in food production and drone operations.
The following were awarded Tuesday.
People's Choice Awards:
First place: Evan Rocheford, NutraMaize
Cash prize: $2,000
Founded by a father-son duo, NutraMaize is a consumer-focused agbioscience company commercializing more nutritious, non-GMO orange corn that was developed by its cofounder, Torbert Rocheford, a Purdue University professor, as part of an effort to help alleviate micronutrient deficiencies in Africa. NutraMaize operates as an R&D and marketing company, with production done on contract by commercial partners. NutraMaize is marketing its first product, Professor Torbert's Orange Corn Grits, to chefs and consumers, with plans to gradually expand into broader grocery segments.
Second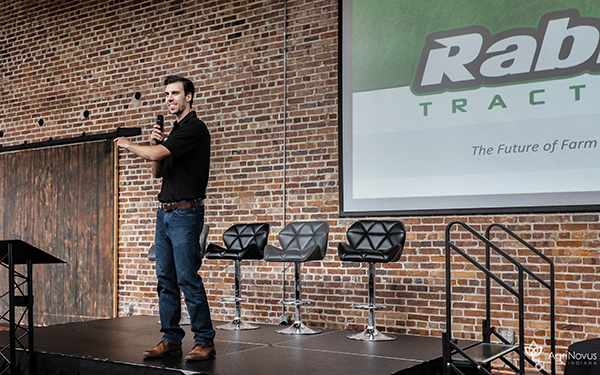 place: Zack James, Rabbit Tractors (see photo at right)
Cash prize: $1,000
While studying securities and corporate law at the University of Michigan Law School, Zack James looked for a way to transition from corporate lawyer back to his roots in Cedar Lake, Indiana. James decided to launch a company that builds autonomous, swarm-enabled (can control more than one tractor as a unit) multi-purpose farm tractors that optimize farm productivity while minimizing environmental impact. 
Best in Showcase Award: Anthony Hearst, Progeny Drone
Prize: The winner receives a 90-minute product review session with Innovatemap, a digital products development agency. 
Progeny Drone Inc. is a Purdue University-based student-faculty startup that aims to make it easy for public and private plant breeders, seed-treatment researchers, crop-protection researchers and crop consultants with no programming expertise to use low-cost drones for outdoor plot research.
Please enable JavaScript to view this content.