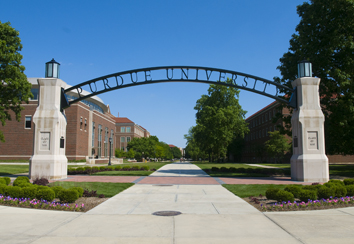 Indiana has been named on the short list of states to host two research agencies within the U.S. Department of Agriculture, but it's unclear where the offices would actually be located.
Indiana's short-listed proposal—submitted by Purdue University, the Indiana Economic Development Corp. and Gov. Eric Holcomb's administration—was one of 136 received by the USDA last year from 35 states.
Hahn Kiefer Real Estate Services also submitted a proposal for Evansville, but that application is not a finalist. 
The USDA plans to relocate its Economic Research Service and the National Institute of Food and Agriculture from Washington, D.C., by the end of the year. The offices would bring nearly 570 jobs to the winning location. 
On Friday, U.S. Secretary of Agriculture Sonny Perdue announced the three finalists: Indiana, the Greater Kansas City Region in Kansas and Missouri and the Research Triangle in North Carolina. 
According to the USDA, Indiana's proposal includes "multiple" locations. The IEDC declined to provide any details on the state's proposal, saying its negotiations are confidential. Purdue referred questions to the IEDC.
The finalists were selected based on quality of life, capital and operating costs, workforce and logistics and IT infrastructure. 
While not in the top three, St. Louis and Madison, Wisconsin, are also still being considered.
The proposal to relocate the ERS and NIFA has sparked criticism since Perdue announced the plan in August 2018, with some lawmakers, former USDA and government officials, and agricultural and research organizations opposing the idea. They argue that Perdue has not provided adequate justification for the move. 
Perdue says relocating the research divisions will bring federal government resources closer to the communities impacted by these offices and would save money because of cheaper employment costs and rent outside of D.C.
"Relocation will help ensure USDA is the most effective, most efficient, and most customer-focused agency in the federal government, allowing us to be closer to our stakeholders and move our resources closer to our customers," Perdue said in a prepared statement released Friday. "Our commitment to the public and our employees is to continue to be transparent as we proceed with our analysis."
Perdue told lawmakers last month that the agency would release a cost-benefit analysis after a final location has been selected—something some Democrats have argued should happen prior to a site being chosen.
Indiana's top lawmakers, including its congressional Democrats, are encouraging the move.
After Perdue visited Purdue University in April, the state's congressional delegation sent him a letter the next day urging him to select Indiana. The letter was signed by Indiana's two senators and all nine representatives. 
"Relocating ERS and NIFA to Indiana would give USDA a greater presence in the agriculture heartland of our country, ensuring that resources are never far from the farmers, growers, farm supply, and university researchers who can provide real-time feedback and assist in the policymaking process," the letter read.
On Friday, U.S. Sen. Todd Young, R-Indiana, sent a letter to President Donald Trump encouraging the idea of relocating multiple federal agencies—not just two of the USDA's research divisions—from Washington, D.C., to better serve communities across the country. 
"By relocating federal agencies to smaller and more cost-effective cities, struggling communities will finally be given the opportunity to compete economically and develop as rapidly as experienced in Washington, D.C.," Young said in the letter.
Holcomb is also supporting the relocation effort.
"The Hoosier state has a rich tradition of agriculture and is well-positioned for continued growth and momentum," Holcomb said in a prepared statement. "We're training tomorrow's workforce and developing new solutions to solve critical challenges. Indiana would be the perfect place for USDA to call home, and we look forward to working with them as they continue to narrow their list of potential sites."
Please enable JavaScript to view this content.