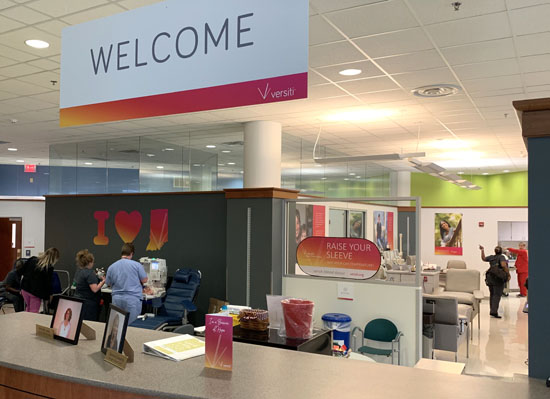 After 67 years, the Indiana Blood Center is getting a new name and a new look.
The operation, which serves more than 50 hospitals throughout the state, is changing its name to Versiti Blood Center of Indiana, officials said Monday.
A new sign will go up in coming weeks above the main location at 3450 North Meridian St., along with other locations in Carmel, Fishers, Greenwood, Lafayette and Terre Haute.
Although the name is changing, the blood donations and other services at the centers will not change, the organization said.
Versiti, based in Milwaukee, is a not-for-profit alliance of independent blood providers, of which the Indiana Blood Center has been a member for five years.
The rebranding is meant to tie together five blood centers in the Midwest (Indiana, Michigan, Ohio, Wisconsin and Illinois) under one name, to give it a stronger identity to hospitals and other health care centers. The blood centers in all five states under the Versiti umbrella are also changing their names. Together, the five states under the Versiti umbrella make up the fifth-largest blood provider in the U.S.
The name Versiti is a combination of "ver," the Latin word for "truth," and "iti," which is meant to suggest "university" and "diversity."
"Bringing our five local communities under the Versiti brand is a crucial step in advancing our mission to save and enhance lives through discovery, diagnosis and treatment," said Versiti CEO and President Chris Miskel.
The organization is also rolling out a "community awareness campaign" with a mix of billboards and broadcast spots. One 60-second TV spot features ballet dancers practicing their steps, high school students in a classroom, and blood donors in a Versiti donation center.
"Together, with you, our pulse is stronger," the announcer says.
The Indiana operation collects more than 140,000 blood products annually at its 16 donor centers and 3,700 mobile blood drives. It also does all the infectious-disease testing for every donation in the Versiti network.
In addition, the Indiana operation does medical research into blood transfusions and transplantations, and conducts clinical trials.
The Blood Center of Wisconsin spearheaded the creation of Versiti in 2014 by bringing in partner blood centers "to create a stronger organization to save more lives, improve patient outcomes, provide higher quality services and reduce cost of care for its hospitals," the organization said.
The rebranding is just the latest step in the identity of the Indiana Blood Center. About seven years ago, when it joined the alliance, the Midwest group was called the Centers for Transfusion and Transplantation Medicine.
"As you can tell, that was a mouthful, so we rebranded as Versiti not long thereafter," said Dr. Charles Miraglia, president of the Indiana operation and a transfusion medical specialist.
And now, the members in each state are taking the Versiti name.
Please enable JavaScript to view this content.