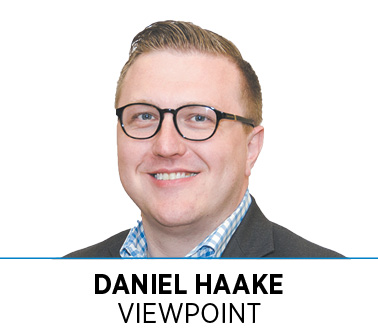 Indianapolis averages one vehicle versus pedestrian crash each day. Even more telling, pedestrian fatalities have increased 50% citywide over the past decade.
In response, the City-County Council early this year considered a two-part proposal that could improve safety for downtown residents, workers and convention visitors. The council approved reducing the speed limit downtown to 25 miles per hour. A proposed restriction on right-hand turns on red was put on hold for further consideration until later this summer.
The proposal stemmed from the recently completed Indianapolis/Marion County Pedestrian Plan. While the plan focused on improving walkability citywide, what city planners learned about downtown was especially concerning.
Of the city's 50 corridors most prone to pedestrian crashes, almost half are downtown. In particular, Meridian Street through downtown has the highest pedestrian crash rate in the city. Also, according to a recent WTTV-TV Channel 4 report, Indianapolis Emergency Medical Services responded to more than 80 vehicle versus pedestrian/bicyclist crashes within the Mile Square in 2018.
It's no surprise that the majority of downtown pedestrian crashes take place when users cross the street.
The Pedestrian Plan identified aging intersection design and traffic-signal operations as a contributor to the problem, and the council's proposal directly addresses this issue.
The speed limit change should reduce the overall number of pedestrian crashes and improve the survivability for pedestrians in crashes that do occur. Walkers struck at 20 miles per hour stand a 90% chance of survival. At 30 miles per hour, survivability drops to 50%—at 40 mph, down to 10%.
The proposal to restrict turning on red is focused on reducing the overall risk of vehicles striking pedestrians—and therefore reducing the overall number of crashes. According to safety experts, restricting turns could reduce pedestrian crashes 50%. These two policy changes—taken together or individually—have the potential to dramatically improve citywide pedestrian safety figures simply because of the significant level of crashes downtown that could be eliminated.
While the proposed restrictions will have impacts—real or perceived—on vehicular movement downtown, such restrictions are not new to Indianapolis. The skewed intersections at the corners of the Mile Square (i.e. Massachusetts and Indiana avenues) have long restricted turning on red.
Prohibitions also exist along the Cultural Trail, a nationally recognized landmark attracting both visitors and young professionals. When the trail was completed, several intersections along the route were modified to restrict right (and left) turns on red. While at first these changes might have seemed like an inconvenience to drivers, they are now largely unnoticed while driving downtown.
Based on other communities' experiences, these changes must be paired with a traffic enforcement strategy to be successful. Current IMPD efforts appear to focus on corridors where drivers have historically ignored traffic laws—like North Keystone Avenue. The Mile Square would make a logical addition to this strategy.
Today, more people live, work and visit downtown than ever before. Continuing to transform a city's transportation system to meet evolving user needs has the potential to dramatically improve safety and quality of life. While not entirely visible, policy changes like restricting turns on red can dramatically improve downtown safety.•
__________
Haake is a senior transportation planner at HDR in Indianapolis.
Please enable JavaScript to view this content.