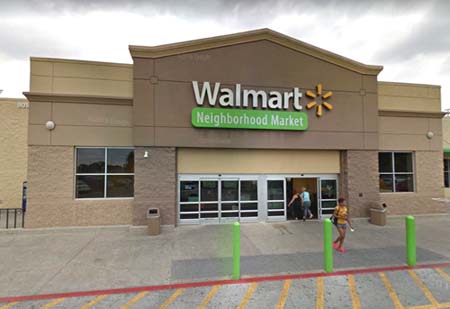 City of Indianapolis officials on Wednesday decided to expand a yet-to-be-launched food-insecurity program after learning that a Walmart Neighborhood Market on the far-east side was preparing to close.
The store at 8010 E. 38th St. is scheduled to close July 12, leaving an area that's already considered a food desert even more limited when it comes to grocery options.
The area was a primary target of a plan to address food insecurity announced by Mayor Joe Hogsett during his State of the City address May 29.
A week later, the Public Safety and Criminal Justice Committee backed the mayor by unanimously passing a proposal to spend $580,000 on four short-term programs designed to increase access to fresh groceries for people in disinvested areas.
One program is a $140,000, six-month pilot program with Lyft to help shuttle Indianapolis residents in food deserts to grocery stores. The program will provide subsidized Lyft rides to grocery stores for up to 500 families in the area bordered by North Franklin Road on the west, East 46th Street on the north, German Church Road on the east and 38th Street on the south.
The city, the Central Indiana Community Foundation, Mt. Carmel Church and Lyft are partners in the program, with Lyft pledging about $20,000 in funding.
Shellye Suttles, the city's food policy & program coordinator, said the program is expected to provide participants subsidies of up to $7 per one-way trip to approved grocery stores in the area.
The Lyft Project was initially expected to start with two participating grocers—Sunnyside Kroger at 11101 Pendleton Pike and Carniceria Guanajuato at 3110 Shadeland Ave.
On Wednesday, after learning about the Walmart closure, the city announced two more grocery participants —Tienda Moralos at 8989 Pendleton Pike and A&I Variety Meats and Produce at 8939 E. 38th St.
"We're proud to provide even more options for our neighbors in areas of limited food access through the Lyft Project," said Mayor Joe Hogsett in written remarks. "Closures of brick-and-mortar grocery stores like the one announced today are why it is critical that we continue to develop innovative ways for residents to access nutritious, affordable food."
If the program is approved by the full council as expected, the Lyft Project will get started with about 75 residents in the area and grow to about 500, Suttles said.
Participants in the designated area will be need to apply for the program and will be selected through a lottery conducted by IUPUI faculty members.
Residents in the far-east side neighborhood often struggle to obtain fresh groceries because of financial troubles, but the lack of transportation options might be the bigger problem. The area lacks "robust IndyGo routes," meaning many residents must walk to get their groceries, Suttles said.
Multiple grocery stores have closed in the area in recent years, including two Kroger stores and two Marsh Supermarkets. Walmart closed another Neighborhood Market in the area, near 30th Street and Mitthoeffer Road, several years ago.
Walmart, which cited financial performance as a factor in its decision to close the Neighborhood Market on East 38th Street, pointed out that there were three other Walmart stores within five miles of the location. But that's of little help to those in the area who lack transportation.
The federal government says that about 175,000 people in Indianapolis—or about 20% of the population—face food insecurity, meaning that they have limited or uncertain access to adequate food.
Please enable JavaScript to view this content.