Gov. Eric Holcomb appears poised to announce his re-election bid next month.
On Wednesday morning, his campaign's Twitter account urged followers to save the date of July 13.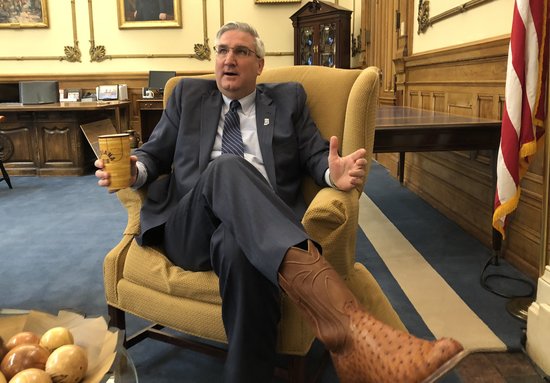 "Gov. Holcomb is delivering results for Hoosiers: Record road investments. Opportunities to skill-up. Record job growth. Expanded recovery options," the tweet said. "RSVP now & join us on July 13 to be part of the momentum."
The RSVP webpage says "more details will come soon" about the event. A location was not shared.
Holcomb, 51, was elected governor in 2016 over Democrat John Gregg. 
He was tapped to serve as then-Gov. Mike Pence's lieutenant governor in March 2016 after Pence's 2012 running mate, Sue Ellspermann, resigned from office. After Pence became now-President Donald Trump's running mate in 2016, party leaders selected Holcomb to fill Pence's spot on the ballot in Indiana.
Holcomb was the 2008 campaign manager and top aide for former Gov. Mitch Daniels, who made him the state Republican Party chairman in 2011. He left that position in mid-2013 to become U.S. Sen. Dan Coats' state chief of staff.
During his time in office, Holcomb has put a strong focus on workforce development and created the Governor's Workforce Cabinet to address employment and business issues throughout the state. He maintains high approval ratings, even among some Democrats, and has mostly avoided controversy during his first term. According to data from Morning Consult, 49% of voters approve of Holcomb, but 29% say they have never heard of him.
Several Democrats are considering running against Holcomb, including state Rep. Karlee Macer, state Sen. Eddie Melton and former Anthem Inc. Chief Medical Officer Woody Myers.
Please enable JavaScript to view this content.