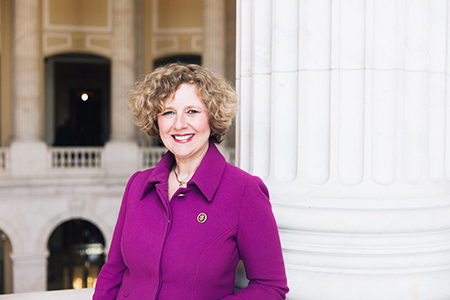 U.S. Rep. Susan Brooks' decision not to seek re-election means the battle to represent Indiana's 5th District will be a spirited one come 2020, with Democrats targeting what has long been a Republican stronghold.
But regardless of who wins the race, the district will lose seniority in the U.S. House, where a lawmaker's years of service have at least traditionally dictated his or her power.
Is that a problem? Maybe not.
"The turnover we're seeing in the House is not just limited to Indiana," said Trevor Foughty, who operates Capitol & Washington, an Indiana political database. "So, in general, seniority doesn't matter as much as it did 25 years ago."
Brooks was elected in 2013. That puts her right in the middle of Indiana's delegation in terms of seniority. Rep. Pete Visclosky, who represents Indiana's 1st District, has been in Congress a whopping 35 years. That's seventh longest among current House members.
However, recent turnover means Indiana has two House members—Reps. Jim Baird and Greg Pence—and one senator—Sen. Mike Braun—in their first terms.
Currently, the average years of service is 8.6 years for Indiana's House members and 2 years for its senators. That's right on par with the average overall tenure in the House, according to the Congressional Research Service. But significantly lower than the average tenure of 10 years for U.S. senators.
When Brooks leaves, Indiana's combined seniority level in the House and Senate will fall to less than 7 years. That's compared with a combined seniority of 8.75 years a decade ago and 14 years a quarter century ago.
But former Rep. Luke Messer, who represented Indiana's 6th District until last year, said that's not a big concern.
"Historically, seniority has meant a lot in Congress," he told IBJ in an email. "Typically, folks had to serve for a decade-plus to have any chance of serving in leadership or even as a subcommittee chair on a committee. However, with all the turnover in the past decade, that has changed a little in recent years."
It used to be common for lawmakers to serve for decades. But that's increasingly rare.
"Less than a third of the House has served for more than 10 years and only a little more than a third of the Senate has served more than two terms," Messer said. "So, newer members have a shot at leading much more quickly than in the past."
And influence has as much to do with party as it does years of service. So with Republicans—the majority of Indiana's delegation—out of power, the positions of its Democratic lawmakers become more important.
Earlier this year, Rep. Andre Carson, who has represented the congressional district in Indianapolis since 2008, was named chairman of the Subcommittee on Counterterrorism, Counterintelligence, and Counterproliferation. And Visclosky is a member of the powerful House Appropriations Committee and serves as the chairman of the Defense Appropriations Subcommittee.
Foughty doesn't completely discount seniority. He said Visclosky's long tenure meant that even when Republicans were in control of the chamber, the Democrat was influential on the Appropriations Committee, despite serving in the minority.
But Foughty said seniority concerns are often overblown. He said the issue cropped up in the not-so-distant past when former Reps. Steve Buyer, Dan Burton, Mark Souder, Brad Ellsworth and Baron Hill all left within a few years of each other.
But quickly, the state's newest lawmakers moved into leadership roles, he said. Then-Rep. Todd Young gained a spot on the powerful House Ways and Means Committee and then-Rep. Marlin Stutzman sat on the Finance Committee. In her third term, Brooks was named the House Ethics Committee chairwoman, and in Messer's second term, he became chairman of the Republican's policy committee.
"We got some pretty plum positions pretty quick, despite the turnover," Foughty said.
Of course, Brooks, Messer and Stutzman have all left or are leaving and Young moved to the Senate. But Foughty said the state's newer lawmakers are already making their mark, and Young is chairman of the National Republican Senate Committee, which recruits candidates for the GOP.
"Often, that's a prelude to serving in other leadership positions," Foughty said. "Not only was he chosen by his peers, but also if there are new members coming in, he's been for a lot of them, their first point of contact with the Senate. And if he helps senators keep their seats, he builds up credibility.
Plus, Foughty said, Indiana still has the vice president in office.
"I think our influence is still on the rise," he said.
Please enable JavaScript to view this content.