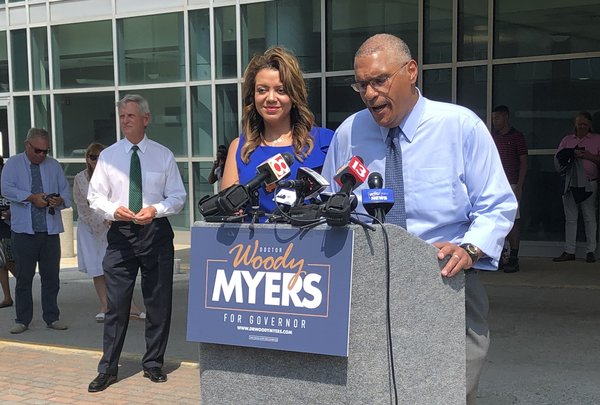 The first Democrat has jumped into the 2020 Indiana gubernatorial race. 
Dr. Woody Myers, a former state health commissioner and former Anthem Inc. chief medical officer, announced his campaign for governor Wednesday morning in front of the former Wishard Hospital emergency room in Indianapolis.
"I'm running for governor because Indiana has too many pre-existing conditions that typical politicians just can't treat," Myers said. "And treating tough problems is what I do."
He pledged to focus on education, health care and job creation during the campaign.
"We'll stop cutting education and start paying our teachers what they deserve," Myers said.
Myers, 65, has been building his campaign for months and many had speculated that he would run. He told IBJ recently that he thinks the state can improve in public education, jobs and health care.
"For too long as a state we have been satisfied with good enough," Myers said. "Well, in Indiana today, good enough is no longer good enough. As a state we need to stop falling behind so our children can get ahead."
Myers' lengthy resume also includes time as director of health care management for Ford Motor Co. and New York City health commissioner.
He already has the support of one well-known Democrat—former congressman Baron Hill, who introduced Myers at the announcement Wednesday morning. Hill will serve as Myers' campaign chairman.
Hill said Indiana has gotten used to being a Republican state, but it's time for Hoosiers to hear a different perspective.
"The people of Indiana are only hearing one set of values, one set of issues, and we need desperately to hear an alternative way," Hill said. "I think Woody Myers is that candidate that can deliver a new message to Indiana Hoosiers."
Some political observers had wondered whether Hill would run for governor. he had told IBJ last month that he was keeping the door open, but he suggested that he liked Myers.
State Sen. Eddie Melton from Gary and state Rep. Karlee Macer from Indianapolis are also considering bids for the Democratic nomination, but neither have scheduled formal announcements.
If Myers or Melton received the Democratic nomination, they would be the first person of color from a major party to run for governor in Indiana.
The race is not the first time Myers has run for office. In 2008, he unsuccessfully ran for Indiana's 7th congressional district seat in a crowded primary. 
Myers said he doesn't think his limited political experience will be an issue.
"I have zero doubt that I have the experience not only to launch a great campaign but to be a great governor of our state," Myers said. "That is not an issue for me at all."
Republican Gov. Eric Holcomb is expected to announce his re-election campaign Saturday at the historic Hoosier Gym in Knightstown, a filming location for the iconic Indiana basketball movie "Hoosiers."
Please enable JavaScript to view this content.