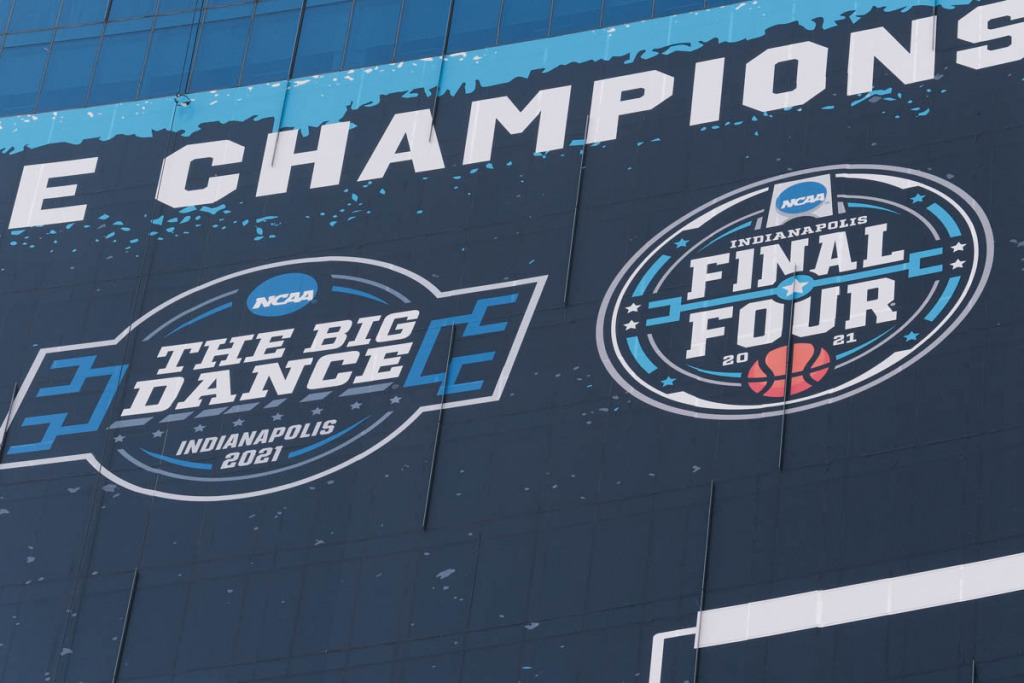 Indianapolis International Airport is preparing for dozens of teams to fly into the city later this month for the NCAA tournament, but it remains to be seen whether air traffic will get a significant bump from the addition of spectators.
The NCAA has already laid out protocols for teams that are selected to participate in the tournament, which tips off March 18. Automatic qualifiers—teams that win their respective conference tournaments—will begin arriving Saturday, March 13, with remaining teams arriving Sunday and Monday.
The Indianapolis-based organization said last month that each of the six host venues will be permitted to welcome spectators at up to 25% of capacity (Indiana University is limiting its capacity to 500 people), but the number of people that come to the city for the tournament is likely contingent on what teams make the field and how the bracket shakes out.
"With the expansion of fan participation, it still remains to be seen how many of those fans are going to fly," said Megan Carrico, the airport's manager of communications.
Fans of teams located more closely to a host city tend to drive to tournament games rather than fly, experts say, but those fans also are more apt travel to Indy than fans who live farther away.
For example, the Big Ten has a handful of teams in the Associated Press Top 25, making them likely contenders for tournament spots. The conference is also hosting its men's and women's tournaments in Indianapolis starting next Tuesday and Wednesday, respectively.
Even so, the airport will be ready for visitors in town for the tournament with new March Madness signage and NCAA-sanctioned pop-up retail shops, Carrico said.
Specific locations for where the pop-up shops will be located and what signage will be in place has not yet been finalized.
Tourism officials are so far staying mum on how much of an economic impact the tournament is likely to have, other than to say it's expected to exceed $100 million. Bringing fans into the mix has only cemented that expectation.
"It's unlikely that the economic impact, when we're done with all this, will be as large as it could have been if we had full capacity, but it's still going to be significant," said Ken McGill, managing director of Rockport Analytics, which is conducting the economic impact study. "That significance is a breath of fresh air relative to what we've seen with [the loss of] the normal day-to-day activity associated with events and tourism in general."
Spectator tallies are likely to be swayed by how the NCAA handles tournament game sessions. That will in turn affect how many fans and media personnel catch flights to Indianapolis.
Carrico said it's possible some of the airport's ancillary properties like the regional airport near Greenfield could provide relief, as needed. But most of the teams and all fans will travel through the main facility.
"Our general aviation and reliever airports are open and operating," she said. "Certainly, there's a chance that they have some aircraft there, but IND will be the main facility."
A preliminary estimate by IBJ found as many as 100,000 people could attend the first round of the tournament—if every game is sold out and each is its own session. The spectator total could reach 250,000 by the end of the tournament, depending on how many people stay or return to Indianapolis for later rounds.
Local officials have also said they expect about 2,000 media members to descend on Indianapolis throughout March and early April for the NCAA tournament and the Big Ten tournaments.
Additionally, each of the tournament's 67 teams can include up to 34 people in the school's travel party, totaling nearly 2,280 people. In years past, the NCAA has allowed up to 75 people in a team's travel party for early round games and up to 100 for the Final Four.
Each participant will be allocated tickets for up to six family members—about 204 additional fans per team, or 13,670 people in total—who will be included in the capacity tally for each venue.
The teams that fly in will do so through the airport's charter area and will socially distance throughout their flights. Teams will not go through the terminal to reach buses that will take them to their designated hotels. 
The plan adds a layer of security, while also limiting participants' contact with others as they prepare to enter a controlled environment for their stay in the city. In fact, each team is expected to utilize two to three charter buses throughout their tournament run, rather than a typical single bus arrangement that was used before the pandemic.
Upon arriving at their hotel, participants are expected to be outfitted with Kinexon movement devices to monitor their potential exposure to COVID-19.
Per NCAA protocols, members of participating teams will have to complete seven consecutive negative COVID-19 tests prior to arriving in Indianapolis. If an individual does test positive prior to arrival, they won't be able to travel until they complete a 10-day isolation period, as mandated by the Centers for Disease Control and Prevention.
Participants will also be tested daily throughout the tournament (they'll have to quarantine in their hotel rooms until completing two consecutive negative tests), with the NCAA requiring teams to provide daily assessment of symptom screenings. All on-site testing—done through the PCR method—is expected to be conducted by IU Health.
Teams are not permitted to interact with anyone in-person outside their travel party, and can only begin practicing at the Indiana Convention Center once they complete a second negative test.
Plans for team family members have not yet been finalized, nor have plans for when losing teams will depart Indianapolis; in years past, teams have often had to leave the same night as their loss, sometimes taking red-eye flights back home.
Please enable JavaScript to view this content.