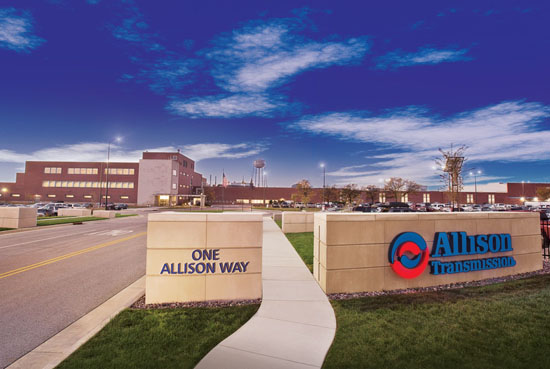 Indianapolis-based Allison Transmission Holdings Inc. has raised its revenue outlook for the year as the company continues to recover from the impact of the pandemic.
The manufacturer also exceeded analysts' quarterly sales and profitability expectations.
In its first quarter earnings report, released Wednesday afternoon, the manufacturer said it now expects 2021 net sales to range from $2.33 billion to $2.48 billion. That's an improvement from the guidance the company issued in February, when it was predicting net annual sales ranging from $2.27 billion to $2.42 billion.
Allison said it expects its 2021 annual profit to range from $395 million and $465 million, up from $375 million to $445 million it had expected previously.
In comparison: Allison's full-year profit in 2020 was $299 million, down dramatically from $604 million in 2019.
"Despite the severe disruptions to global supply chains that are currently impacting our end markets, customer demand is improving and the Allison team continues its tireless efforts to fulfill the Allison promise," President and CEO David Graziosi said in a written statement.
Allison said it earned a profit of $120 million, or $1.07 per share, in the first quarter, a 13.7% drop from the same period of 2020, when the company earned $139 million, or $1.20 per share.
Net sales for the quarter totaled $588 million, down 7.7% from a year earlier.
A consensus of analysts had expected Allison to report a quarterly profit of 93 cents per share and quarterly revenue of $581.1 million.
Allison released its financial results after the stock market closed Wednesday. Company shares closed at $42.96 each, down 1.3% from Tuesday's close.
Please enable JavaScript to view this content.