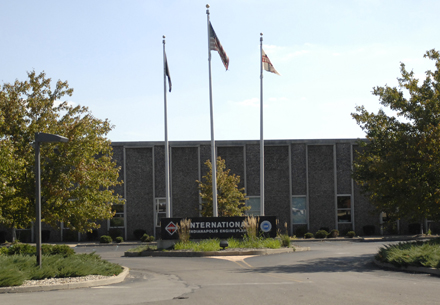 Ambrose Property Group plans to spend about $75 million to redevelop the former Navistar property on the east side of Indianapolis into a new industrial park.
The Indianapolis-based developer acquired the 90-acre property at 5655 S. Brookville Road, just south of Irvington, in mid-July for $8.2 million—more than five years after Illinois-based Navistar International Corp. closed its foundry operations there.
Preliminary plans for the new industrial campus, called Indianapolis Central Logistics Park, include 1.2 million square feet of leasable space, with buildings ranging from 200,000 square feet to 600,000 square feet.
Construction is expected to occur over the next four years, starting as early as the end of 2020.
The site is bordered by Brookville Road to the north, South Irvington Avenue to the west, South Arlington Avenue to the east, and several sets of CSX railroad lines to the south.
Jason Sturman, president and chief investment officer for Ambrose, said the firm believes the development will complement its other nearby industrial parks already under construction, including the Mount Comfort Logistics Center, where Amazon is establishing a new distribution facility.
The company also is developing an industrial park in Plainfield.
Ambrose, which has developed properties of all types since its founding in 2008, has been focusing on industrial properties since late 2019, around the same time its effort to redevelop the former 103-acre General Motors stamping plant site hit roadblocks with city officials.
"Generally we feel like Indianapolis is a little bit behind some of its peer cities on infill industrial, and as more and more product gets delivered through e-commerce channels, being within a city—in this case, Indianapolis—is critically important to certain users," Sturman said. "We feel like it's complementary to what we're doing in surrounding counties, rather than cannibalizing" those projects.
He said having the property-adjacent railroad lines might attract users that rely heavily on rail lines to transport product. Ambrose has not reached terms with any tenants so far.
Formerly International Harvester Co., Navistar employed as many as 1,650 workers in 2005. The company made a range of products, from farm implements to refrigerators to diesel engines. The property formerly housed an engine plant and foundry. The engine plant ceased operations in 2009 after more than seven decades of production at the site, and the foundry shut down in June 2015.
Former owner Cleveland-based Park Corp., which acquired the property from Navistar in 2016, demolished the plant in 2018 after efforts to lease the property were unsuccessful.
The property was included in the Brookville Road and Irvington Plaza Economic Development Area that the city created in May 2019, along with other major parts of the east-side corridor, such as the former Ford Visteon site and Irvington Plaza.
The redevelopment area, which aims to create jobs and enhance development opportunities, provides a variety of tax credit and incentive programs to developers.
Sturman said he expects there to be "really good demand" for the industrial park in the months ahead. Even without leases in place, the project will move forward on a speculative basis. He added the east side has a "really high-quality labor pool" that could be advantageous for companies considering the site.
The firm has already responded to five requests for proposals from companies interested in the site, although he declined to identify them.
Ambrose plans to ask for city and state tax incentives to bolster the development, but Sturman said a specific request has not yet been determined. He said incentives are "important" for the success of industrial projects in Indiana.
"We're not expecting any special treatment," he said. "We would just expect to be treated fairly, like other developers have been."
Ambrose has retained the Indianapolis office of Colliers International to market the property.
Please enable JavaScript to view this content.