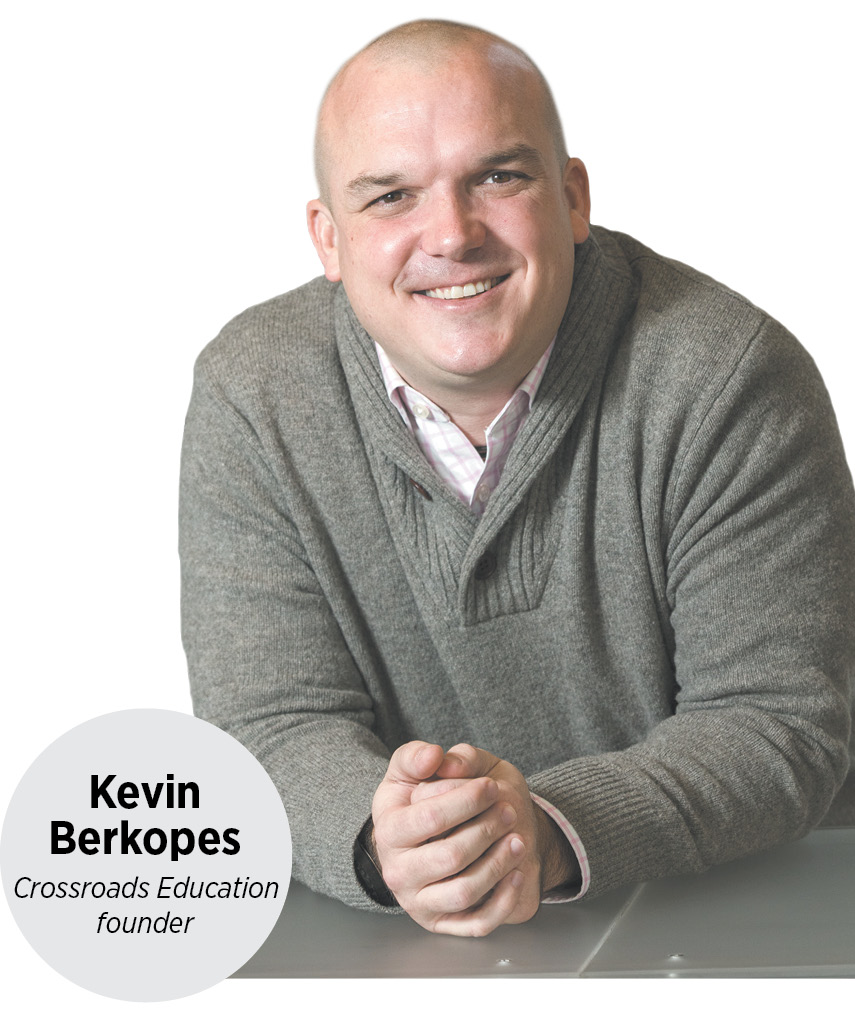 Kevin Berkopes had an idea that students might be the best tutors for other students.
So, while directing learning centers at IUPUI, he developed what he called the Learning Commons model of peer-to-peer educators, or students who are paid to help other students learn.
That turned into a company, Crossroads Education—which is his full-time job today—that puts his tutoring program into schools. Now, the company has received an anonymous $500,000 donation that it will spend to expand that Learning Commons tutoring program to 10 more schools in Indiana.
Why peer-to-peer tutoring?
Young people, kids—that's the scalable workforce that's in education. … They're the best at connecting with each other and working with each other.
What is the Learning Commons model and how does it work?
We take a classroom in a K-12 space and we build what we call high-impact learning environments—so, whiteboard tables, whiteboard walls, 75-inch Dell touchscreens, high-tech but also high fun. So it's a space where you walk into it and you go, "OK, I could hang out here."
So the idea [is]: How do you make what attracts people to coffeeshops and other gathering places, how do you build that into school?
And then the workforce behind it is the peer tutor. So the 25 young people that we hire usually at a school are anywhere from freshmen to seniors in high school or down to 8-year-olds. And throughout the day, they tutor their peers alongside our full-time professional that runs that site.
Crossroads recently received two donations totaling $500,000. How will that money be used?
So, 10 $50,000 grants means that we get to offer $50,000 to [10] schools. We say, "We'll underwrite you, we'll take care of you over the next three years and make sure [the program] is affordable and viable moving forward." This grant will allow that burden of cost to push out some of the worry that the schools have.
We wanted a long-term strategy for how to approach what's happening in the education system through this idea of funding these peer-tutoring centers.
What do you view as the role Crossroads can play in education during this unprecedented time?
It's a cultural shift that I didn't think I would see in my lifetime.
I've always pushed this idea of blended learning from my whole experience where you have you and a device, you and a peer, you and a teacher.
And Crossroads has always been positioned to basically say, we underestimate the capacity of young people daily. We think that they're the most powerful force in a school for good because they listen to each other, they connect. When they're teaching, all they're doing is passionately serving each other and that is a really strong workforce that happens to be in every school and is highly scalable because of that and highly affordable.
So, we've always pushed the idea of peer learning and blended learning, but we now are rising to this opportunity to lead, and I think people are paying attention and this donation has solidified some of that.•
Please enable JavaScript to view this content.