The way companies and their employees communicate is changing fast. And Indianapolis-based staffing firm LGC Hospitality intends to keep pace.
In 2019, LGC acquired Chicago-based ShiftGig's staffing business, and signed a multi-year deal to license its proprietary app designed to connect employers with short-term workers, often needed on short notice.
Already, about half of LGC's temporary worker candidates use the app to find gig jobs, and the traffic has picked up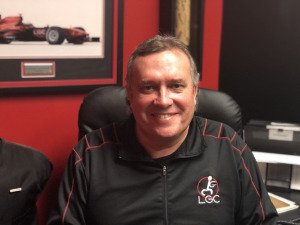 significantly over this holiday season, said LGC CEO George Lessmeister.
Now when job candidates sign on with LGC, they can download the app, which uses artificial intelligence to match companies seeking short-term workers and the pool of workers in LGC's database. When a job comes available for which candidates are qualified, they are notified—and can accept the job—through the app.
"We think this app is unique," Lessmeister said. "While other staffing agencies have apps, we think Shiftgig is the most robust and efficient. It's very user friendly for employees to accept a shift and it's very easy for clients to put in a last-minute order. In our industry, filling jobs fast is always critical, but even more so in the hospitality industry around the holidays."
LGC, a 17-year-old privately owned company with 100 full-time employees, places temporary workers in the hospitality and health care sectors, schools, convention centers, sports facilities, retailers, product demonstration kiosks as well as promotional, food and beverage, janitorial and housekeeping industries.
The Shiftgig app is leaps and bounds ahead of the traditional system of manually matching requests from companies for temporary workers with either paper applications or voluminous digital databases.
"This app has eliminated a lot of wasted time, searching for candidates, placing phone calls, emails or text messages and waiting for those messages to be returned," Lessmeister said. "Without the app, it often takes 30 to 40 phone calls to fill a shift. It's a pretty labor intensive job if you get an order for five bartenders in the last minute. With this app, the job can be filled within seconds."
LGC's adoption of the app doesn't mean the company has lost its personal touch, Lessmeister said.
"I do think the staffing industry is a relationship business and you can't lose sight of that," he said. "The technology comes into play in the event businesses need shorter-term assignments."
LGC meets with all its corporate clients and job candidates to train them on the use of the Shiftgig app.
"There's a lot of training on the front end to make sure our clients know how to use the app," Lessmeister said. "But it's a pretty easy app to use. I haven't had any complaints."
Lessmeister thinks the Shiftgig app will help LGC, which works in 36 metropolitan markets across the U.S., enter into and expand in smaller markets across the country.
"I believe this is an excellent tool, especially to get into smaller markets like Boise [Idaho] that you wouldn't think of as hospitality meccas," Lessmeister said. "It allows us to go into a market and then staff it remotely. This app could allow the company move into dozens of smaller markets. It will allow us to move into markets like Fort Wayne, Lafayette, Terre Haute and Bloomington.
"For our standpoint, hospitality is everywhere, and sometimes those markets are underserved by staffing companies who understand the industry and the workers needed. This app allows us to get established even before we get our LGC point person established in those markets."
LGC is just getting started with the Shiftgig app, company officials said.
"There are ways you can use this technology that we haven't fully developed because COVID interfered with our plans," Lessmeister said.
Please enable JavaScript to view this content.