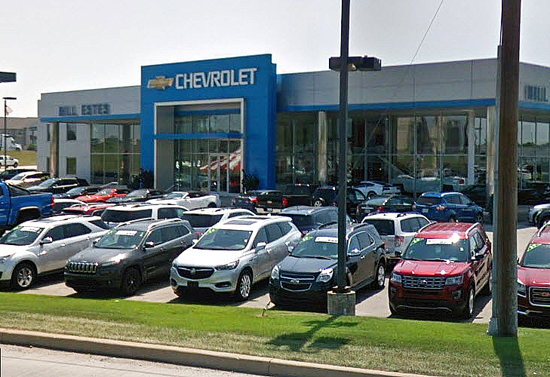 Asbury Automotive Group Inc. has furloughed 215 employees at seven of its eight Indianapolis-area dealerships as part of a company-wide campaign to reduce costs amidst a coronavirus-related drop in auto sales.
Asbury, which is based in Georgia and owns the local Bill Estes and Hare dealerships, entered the Indianapolis market in 2017. That year, it bought the Noblesville dealerships Hare Chevrolet as well as Hare Isuzu, which now operates as Hare Truck Center. Asbury acquired Terry Lee Honda in Avon in 2018, which now operates under the name of Hare Honda.
In 2019 Asbury acquired four Bill Estes dealerships and Butler Toyota, which now operates as Bill Estes Toyota.
In a series of letters received Tuesday by the Indiana Department of Workforce Development, Asbury said the furloughs took effect Friday and are expected to be temporary. The number of affected employees at each location is as follows:
— Bill Estes Chevrolet in Indianapolis: 34 employees
— Bill Estes Chevrolet Buick GMC in Lebanon: 10 employees
— Bill Estes Chrysler Dodge Jeep Ram in Brownsburg: 17 employees
— Bill Estes Ford in Brownsburg: 37 employees
— Bill Estes Toyota in Indianapolis: 37 employees
— Hare Chevrolet: 46 employees
— Hare Honda in Avon: 34 employees
The letters do not specify the job titles held by the furloughed employees, and a corporate Asbury spokeswoman did not immediately respond to an email query from IBJ on Wednesday morning.
But Asbury said in a public filing posted on Friday, "As a result of the COVID-19 pandemic and related measures and guidelines, the company has experienced a sudden and significant decline in its sales and service business operations."
The company said it has furloughed about 2,300 employees and taken numerous other cost-cutting measures including reducing hours of operation at dealerships, suspending its matching 401(k) contributions and reducing pay for executives, board members and senior leadership by between 10% and 50%.
In the filing, Asbury also said it has "significantly reduced its marketing expenses, deferred most capital expenditures, and negotiated significant discounts with certain vendors through the end of the second quarter of 2020."
Asbury is among the nation's largest auto retailers, with 88 dealerships representing 31 automotive brands and 107 franchises in 10 states. The company also owns 25 collision centers.
In 2019, Asbury reported $7.2 billion in revenue and $184.4 million in profits, or $9.55 per diluted share.
Please enable JavaScript to view this content.