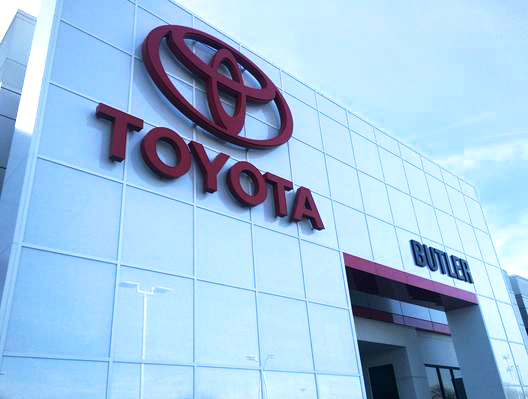 Asbury Automotive Group Inc. continued its quick escalation into becoming dominant player in Indianapolis on Monday by acquiring Butler Toyota—one of the city's leading auto dealerships since its founding more than four decades ago.
Terms of the deal were not immediately disclosed, but the price was likely in the tens of millions of dollars, based on Asbury's other recent dealership purchases in Indianapolis, which total close to a quarter-billion dollars.
Asbury, which acquired Bill Estes Auto Group earlier this year for $121 million, is renaming Butler with the Bill Estes name.
The acquisition was the fourth in the Indianapolis area for Duluth, Georgia-based Asbury, a public company that entered the market in January 2017 with an $80 million purchase of Hare Chevrolet in Noblesville.
Butler Toyota was the last dealership operated by Butler Auto Group, which sold its other operations to Chicago-based Ed Napleton Automotive Group in October 2017. Napleton bought Butler's Hyundai, Fiat, Maserati and Alfa Romeo dealerships in Indianapolis, along with its Kia dealerships in Fishers and Carmel.
At the time, Robert G. Butler, who has been operating car dealerships in Indianapolis under the Butler name since 1966, said he intended to hang on to the Toyota dealership at 3232 Harper Road, near Interstate 465 and North Keystone Avenue.
Butler said his son, Robert A. Butler, was the one who decided to sell the other dealerships to Napleton. Robert A. Butler declined to comment on the acquisition Tuesday morning.
Asbury, the nation's seventh-largest auto retailer, followed its purchase of Hare in the first quarter of 2018 by acquiring Terry Lee Honda of Avon for $46.5 million and then buying Bill Estes earlier this year.
The four acquisitions allow Asbury to cover the bases when it comes to automobile brands in central Indiana. It now has area dealerships under the Toyota, Chevrolet, Ford, Chrysler, Dodge, Jeep, Ram, Buick, GMC, Isuzu and Honda imprints.
Asbury CEO and President David Hult indicated in a conference call July 26 that the company might have reached its saturation point in Indianapolis.,
"As far as Indianapolis, we spent a lot of time a few years back researching that market, and we felt like we would be a good fit and good steward for that market," Hult said. "We wanted to start there with an anchor store—and we did that with the Hare Chevrolet store—and we've built that market out nicely. We've probably filled out the market there as much as we want to."
Asbury reported $6.9 billion in revenue in 2018. It operates 86 dealerships in 18 markets, consisting of 105 franchises and 30 domestic and foreign brands of vehicles. The company also operates 24 collision repair centers, including one it acquired from Hare in Noblesville.
Asbury said Butler and an unnamed import dealer it acquired in a new market are expected to generate $175 million in annual revenue.
Toyota "is an import brand we do very well with, and we're excited" about the acquisition, Hult said.
Asbury reported second-quarter earnings of $54.9 million, exceeding analyst estimates.
Please enable JavaScript to view this content.