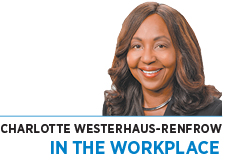 "If you build it, they will come" is a popular quote from the iconic, well-loved movie "Field of Dreams." Today, this catchphrase often symbolizes the thought that, if a business invests in or builds something, people will come and use it.
An excellent and relevant example of just how well this mantra works was witnessed just over a year ago when market data indicated that the demand, development and subsequent growth of office space in the greater Indianapolis area was on the rise—and, as a result, more companies brought highly motivated and qualified employees to work in bustling office buildings both downtown and throughout central Indiana.
However, COVID-19 shutdowns have temporarily slowed the once-booming physical office-space market. While companies continued to operate, displaced employees settled into the reality of working at home.
The good news is that many workers have taken advantage of widely distributed vaccines, and the long-term trend indicates that vaccination numbers are improving—slowly. As a result, businesses large and small are calling their workers to return to the office this summer and fall, perhaps with the anticipatory sense that, since "we built it, they will come."
And while some people are looking forward to getting back to the office, a daily routine, and to seeing their colleagues in person, some surveys show not all employees are looking forward to that return to face-to-face work environments.
For example, a recent Glassdoor survey asked its own employees how they felt about returning to the office. Seventy percent said they'd prefer at least a hybrid approach of both remote and in-person work, while 26% said they'd like only remote work and 3% said they'd like strictly a return to the office. Similarly, a survey conducted by Harvard Business School Online (released in March) found that, of 1,500 professionals who worked from home during the pandemic, 81% "either do not want to go back to the office or prefer a hybrid schedule." Sixty-one percent would like to work from home two to three days a week, and parents with children at home want to go back more than those without children. The survey also found more married people want to go back full time than people who are single.
Why the strong desire by most to continue working from home? In surveys, employees cited several advantages of working at home, including not wasting time in traffic for the work commute. Others believed they are much more focused and, thus, more productive working at home because they aren't distracted by other workers.
The following are some best practices for companies looking to bring employees back to the office in some way, so they can plan and execute an effective and engaging return strategy.
First, ease possible fears of returning employees by developing a comprehensive return-to-work plan, with protective measures that help employees know organizations care about them. Like checking to see if they'd prefer rearranged workstations to maintain a safe distance between co-workers or deciding on maintaining face mask requirements. Vaccines are changing this conversation quite a bit, as well.
In addition, business might want to consider the mindset of returning workers. For many employees, the transition back to working in the office will not be easy. A 2020 Harvard Business Review article written by Ron Carucci, called, "How to Prepare Yourself for a Return to the Office," advises businesses to patiently listen to apprehensive returning workers, provide honest answers and inform workers of current and future changes. Proactive actions of this nature will reinforce that an organization not only focuses on productivity but also cares about keeping its workers safe and comfortable.
Moreover, findings from TINYpulse, a company that produces weekly employee engagement surveys, revealed that management transparency motivates employees and generally enhances commitment to an organization. If there was ever a time for transparency, the time is now. The pandemic brought stress and fear of uncertainty to everyone.
Thus, to motivate workers to come back to what might be a rather new work environment, business may be well served to enhance transparency about more than just the office return date. Reasonable topics that might be top-of-mind for workers could range from the company's financial position to a leader's thought process in bringing employees back to in-person work (or not, depending on what you choose).
Keeping employees in the know, getting them involved if you can in the decision-making process and explaining the rationale behind it will retain employees—and hopefully, make the transition less stressful for all involved.•
__________
Westerhaus-Renfrow is a clinical assistant professor of business law and management at the Indiana University Kelley School of Business at IUPUI.
Please enable JavaScript to view this content.