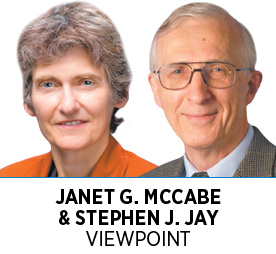 Our bitterly divided federal government has produced little bipartisan legislation recently, so it's encouraging to see the "Growing Climate Solutions Act" by a bipartisan group of senators, including Indiana Sen. Mike Braun. A bipartisan House version (five Republicans and five Democrats) was recently introduced. These are very important steps in America's response to the public health and economic threats of our changing climate.
Agriculture contributes about 10% of U.S. greenhouse gas emissions, according to the U.S. Environmental Protection Agency, and forestry adds more. Many opportunities exist for farmers and foresters to reduce carbon through cost-effective actions such as healthy soil management, decreased use of fossil-fuel-based fertilizers, increased use of clean renewable fuels, reforestation, and livestock management. Some farmers and foresters are already adopting these smart climate practices, but not nearly enough if we are to decrease carbon at the rate necessary to keep global warming below the level needed to avoid major public health and economic harms.
The Senate bill would encourage farmers to adopt climate-friendly practices by increasing their ability to turn climate action into cash. It provides transparency, legitimacy and informal endorsement of third-party carbon credit verifiers and technical service providers with agriculture and forestry expertise to help farmers and foresters generate carbon credits they can sell on the market. A "one-stop shop" website for those interested in participating in carbon markets will get them easily in the door. As Lafayette farmer Brent Bible said in a recent blog post, "ongoing and diversified revenue streams … would help smooth the ups and downs of the commodity markets and keep [farmers] in business."
Are there other benefits? You bet. These practices improve soil health, reduce ground and surface water contamination, restore rangelands and riparian zones, reduce erosion, enhance biodiversity, and create local jobs. What's not to like?
On the surface, nothing. But if carbon pricing and credit systems are to be successful, they must be credible and transparent so we can all be confident that a ton of CO2 sold on the market really is a ton of CO2 reduced. Especially where there is money to be made, strong compliance elements are needed to prevent fraud, with penalties that are more expensive than following the rules.
And while carbon markets might be a powerful first step, it is just one of many steps that are needed. While carbon markets can encourage economically efficient carbon reductions, they operate by allowing other businesses to buy their way out of reducing emissions themselves. Well-organized carbon markets will move us toward our goal only if clear national and state policies require overall reductions.
The social, technical, economic, environmental and health benefits of this legislation are potentially transformative. The agriculture and forestry industries are poised to benefit twofold. Their decisions to significantly reduce carbon emissions will put extra money in their pockets and will also enrich the land we all depend on for economic well-being and health.
The pandemic and economic downturn need not slow adoption of this legislation. Indeed, now is the time to "recover forward" with transformational changes to how we do business in this country, including how we grow our food and fiber.•
__________
McCabe is director of the Environmental Resilience Institute and a professor at the Indiana University McKinney School of Law. Jay is professor emeritus at the Richard M. Fairbanks School of Public Health and IU School of Medicine.
Please enable JavaScript to view this content.