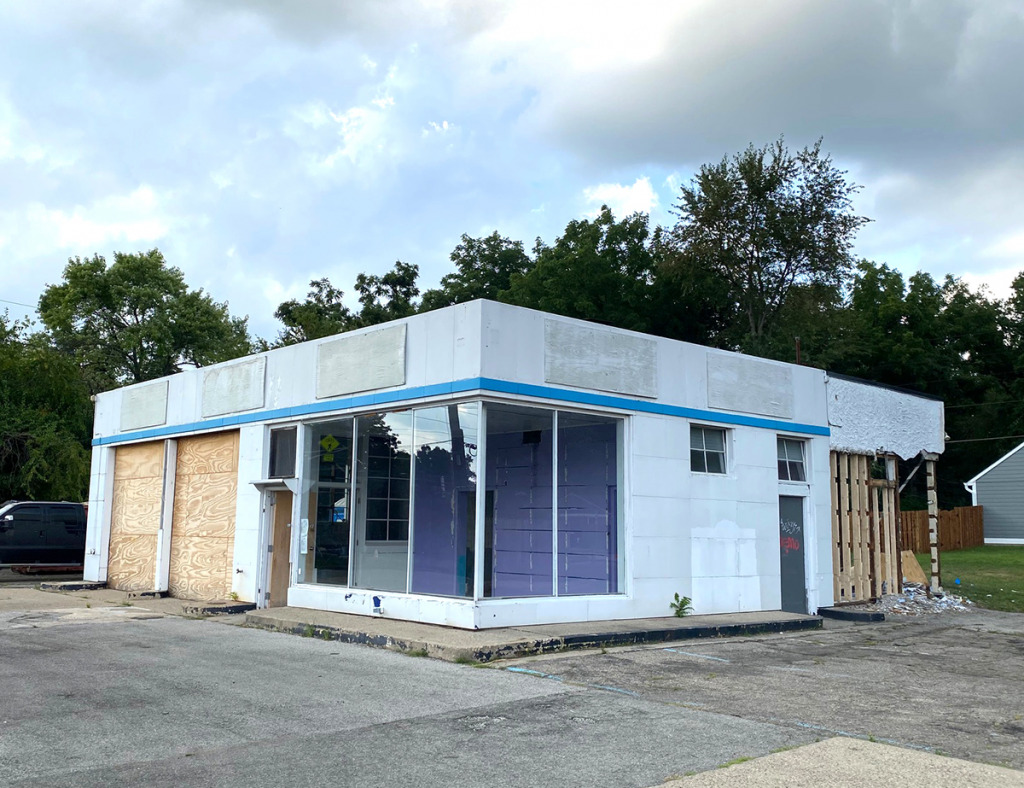 Breadworks, a Greencastle-based bakery and restaurant, is opening a market and bistro this fall at the former home of Locally Grown Gardens at 54th Street and the Monon Trail, thanks in large part to a strong connection with late Indianapolis chef Greg Hardesty.
The establishment, to be called Breadworks at Broad Ripple, is set to open in mid-October at 1050 E. 54th St., according to General Manager Nic Kobrehel.
Locally Grown Gardens, an eclectic market and pie shop which offered a limited menu for dining, closed this past spring.
Breadworks at Broad Ripple will offer a selection of pastries, breads, donuts, and bagels delivered daily from Breadworks' Greencastle site, along with coffee. Other features will include a counter-service bistro with packaged sandwiches, salads and soups to take home or eat on-site; an extensive wine selection; and occasional dinners and private dining.
The business will offer indoor seating for 30, patio seating for 40, a handful of beers and wines on draft and about 150 wines for sale by the bottle. The likely hours of operation, Kobrehel said, will be 7 a.m. to 7 p.m. Tuesdays through Fridays, and 8 a.m. to 8 p.m. Saturdays and Sundays.
The wide-ranging nature of the offerings is reminiscent of Studio C, a business that Hardesty opened in early 2019 right across 54th Street in the Monon Station development.
Hardesty intended Studio C to be a flexible culinary business that at various times had elements of a market, coffee bar, pop-up meal venue and private dining facility, among other things.
"It's a really beautiful way to encapsulate everything that Greg and I did at Studio C," said Kobrehel, who was Hardesty's general manager.
After being diagnosed with leukemia last summer, Hardesty stepped back from Studio C and put Kobrehel in charge of daily operations there.
Kobrehel said Hardesty later closed Studio C and had intended for the two of them to move across the street and work for Breadworks.
Hardesty died in June after a yearlong battle with acute lymphoblastic leukemia.
Kobrehel said his late boss had a couple of connections with Breadworks. He said Hardesty helped Breadworks establish its production bakery, allowing it to pick up wholesale customers like restaurants and universities and clients in the Indianapolis culinary scene.
Hardesty also helped the Greencastle business develop a menu for The Bistro at Breadworks, a restaurant that operates above Breadworks' bakery.
Kobrehel said Hardesty also connected Breadworks with the owner of 1050 E. 54th St., which is why Breadworks selected that particular location. (Breadworks is leasing the space.)
Breadworks is part of The Green Fields Group, a Greencastle company founded by Joyce Green and her late husband, Judson Green. The company operates several food-based businesses in downtown Greencastle: the Breadworks bistro and retail and production bakeries, along with Bridges Craft Pizza and Wine Bar and TapHouse Burgers. There's also Umami, a dinner-only sushi and sashimi spot that operates out of the same space as The Bistro at Breadworks.
Sal Fernandez is the executive chef at Bridges Craft Pizza and Wine Bar. He'll also be the one doing the private dining and pop-up meals at the 54th Street location.
Over the course of his career, Hardesty became one of the most renowned chefs in Indianapolis and was widely credited for helping develop the city's culinary landscape.
A five-time James Beard Foundation Great Lakes region semifinalist, Hardesty built his reputation at a series of well-regarded restaurants including Recess in Meridian-Kessler, Elements on Mass Ave and H20 Sushi near Broad Ripple.
Several of Hardesty's former restaurant employees went on to become well-known chefs in their own right, including Jonathan Brooks of Beholder and Milktooth; Neal Brown of Pizzology, Ukiyo and The Libertine; and Abbi Merriss of Bluebeard.
Breadworks, Kobrehel said, is just another example of how widespread Hardesty's reach has been. "It's really amazing, his influence."
Please enable JavaScript to view this content.