Few, if any, Indiana leaders and politicians disagree that providing every Hoosier with a high-speed broadband connection is a worthy goal, if not an outright high priority.
But there are disagreements about how to accomplish and pay for it.
The $3 billion headed to Indiana from the American Rescue Plan could make a big dent. But first, policymakers would have to decide what exactly broadband connectivity means.
The Federal Communications Commission defines broadband as download speeds of 25 megabits per second—a speed so slow it makes most techies snort with derision.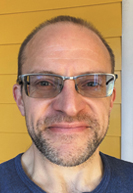 "In my mind, broadband is fiber to the house with a half a gigabyte minimum connection," said Joe Cudby, managing entrepreneur for local venture studio Next Studios.
Cudby, a tech veteran who served as the state's chief technology officer before departing that post last April, has a definition of broadband that is 160 times faster than the FCC's.
"My concern with some of the projects is that, you'll get something in place but with inadequate speed, and then people will think the problem is fixed, when it isn't," Cudby said.
High-speed connectivity allows information to be downloaded and uploaded quickly and is critical for streaming video. It also allows multiple people in the same building to use the internet simultaneously.
Most tech experts agree the FCC's definition of broadband is simply inadequate for a family of four with a child or two trying to do schoolwork and one adult even occasionally working from home. Things like videoconferencing and streaming movies become a serious challenge with speeds in lower ranges.
And if you consider the increasing number of household items connected to the internet—HVAC units, security systems, kitchen appliances, etc.—25 megabits per second is not a long-term solution, local tech experts said.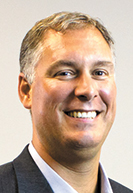 Sean Hendrix, director of emerging technology partnerships at Purdue Research Foundation, said his family of six has 40 devices connected to the internet. "A security system alone can account for six WiFi-connected devices," Hendrix said. "When you count cell phones, tablets, cable TV, Netflix, Ring doorbells, and things like garage-door sensors and refrigerators, it adds up fast."
Hendrix said his family can get by with an internet speed of 200 megabits per second. That's eight times the federal definition of broadband.
"With the federal definition of broadband, it would be unworkable," he said.
Expanding broadband is about more than keeping households operational—and entertaining, he said. "This is an imperative for our professional and educational lives, which makes it critical for economic development."
The expansion of 5G—a faster wireless network—has led to increasing debate about whether wired or wireless technology is best to tackle statewide broadband coverage. In rural areas, the short-range capabilities of wireless technology have proven problematic.
In some corners of the state, questions remain about the feasibility of connecting every Hoosier to high-speed broadband. If it is possible, at what cost? Hundreds of millions of dollars already have been spent on the effort—and more is planned. Yet, connectivity problems persist.
"If a problem has existed for a long time, and it hasn't been solved, there's a reason it hasn't been solved," said Jim Turner, CEO of Intelligent Fiber Network, which installs and operates—primarily in Indiana—so-called middle-mile fiber lines, which essentially bring high-speed internet and phone service to rural and underserved areas. "This is a complicated issue. … Everyone wants the same thing, but man, when you talk about a situation where the devil is in the details, this is it."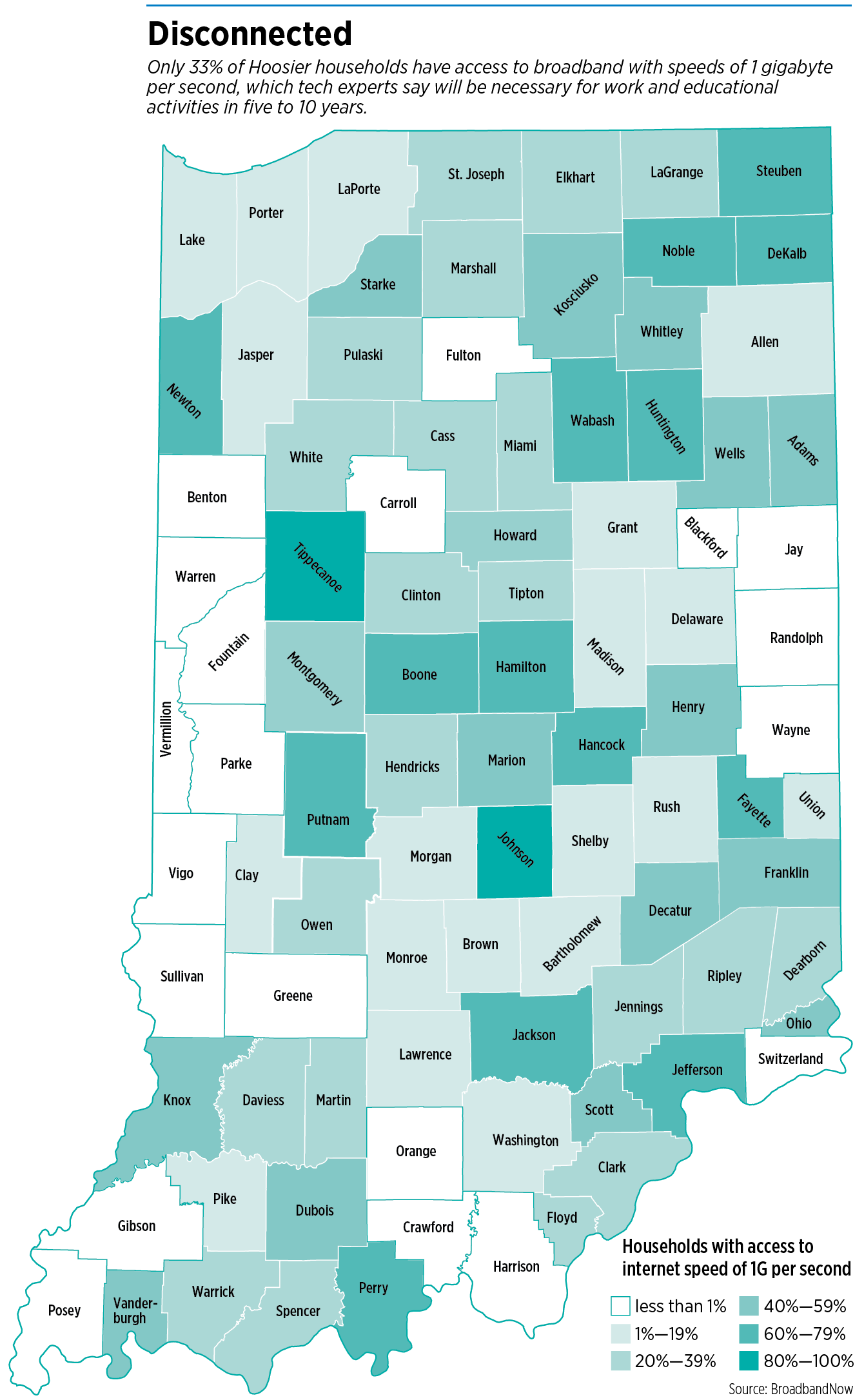 IFN generally sells access to its network to local internet providers and cell phone firms, who then sell it to homeowners and businesses. IFN also sells to some businesses directly.
In terms of the cost of statewide broadband connection, Turner said "that number starts with a 'B' not an 'M.'"
Cudby, who has worked on this issue with several elected officials over the years, said the best approach is to get the needed fiber-optic lines laid in the ground.
He estimates that would cost $3,500 per household. Only 39% of Indiana's 2.6 million households have access to fiber-optic service, so it would cost about $5.5 billion to lay lines for the rest.
But many households are already connected through cellular phone firms, cable television companies, internet service providers and even electric companies.
According to industry group BroadbandNow, 88% of Hoosier households have access to broadband with speeds of at least 100 megabits per second. Tech experts think it ideal to have at least twice that but said 100 is sufficient now—but not for long. Only one in three Indiana residents has access to service of one gigabyte or more—which tech experts agree will certainly be needed in five to 10 years.
So, the price tag on such an ambitious project is a moving target.
"The nice thing about fiber is that it is almost infinitely upgradable," Cudby said. "You don't have to replace the medium in the ground; you just update the technology on the ends."
One thing is certain, Indiana counties will need help with this issue from state or federal officials.
"Only six or eight of Indiana's 92 counties have the wherewithal to tackle countywide broadband," Cudby said. "That could be a hyperbolic number, but I guarantee it's nowhere near all 92 counties."
Most counties, he said, struggle with technical and financial problems related to broadband.
"There is some money available if you know how to apply for it," Cudby said. "But a lot of counties struggle with that, and no one has laid out step-by-step instructions how to do this."
And the broadband shortage is not limited to rural, isolated areas. All the existing infrastructure in urban areas makes it more difficult to install the needed hardware, which drives the cost up—way up—for providers. Also, many urban residents are poor. Since they are less apt to be able to pay for broadband, that makes a hefty infrastructure investment less attractive to private companies.
"If we're not careful, this broadband situation could become a racist issue," Cudby said. "If you look at the emphasis being put on and the money being made available for getting rural areas broadband access, redlined urban neighborhoods aren't getting as much deployment assistance. This needs to be addressed."•
To return to the main story, click here.
Please enable JavaScript to view this content.