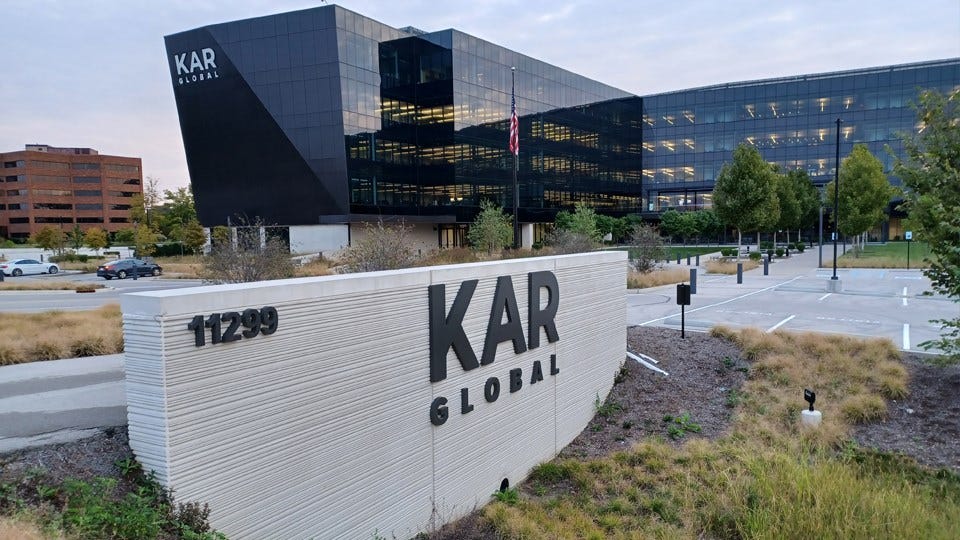 Carmel-based KAR Auction Services Inc. said Tuesday that it expects the planned $2.2 billion sale of its U.S. physical auto auction business, ADESA, to Tempe, Arizona-based Carvana to be completed within the next week.
The divestiture, which KAR first announced in February, includes all of ADESA's auction sales, operations and staff at 56 ADESA logistics centers in the United States, including one in Plainfield.
The sale represents a major advancement of KAR's move away from physical auctions and toward becoming a digital marketplace for wholesale used vehicles.
About 4,500 employees of ADESA and KAR, or just less than half of the company's total head count, are expected to move to Carvana as part of the deal.
KAR, which has about 1,000 Indiana employees, has not specified how many people will be affected by the transaction, but a spokeswoman said in February that the "vast majority" of employees who will be moving to Carvana do not work at the company's Carmel headquarters.
The divestiture represents "a significant, even historic, milestone in KAR's history, and a transaction that will be transformative for our company, our customers, our employees and our stockholders," CEO Peter Kelly told analysts on a Wednesday morning call to discuss the company's first-quarter financial results.
Kelly said the divestiture will simplify KAR's business and "enable us to focus our strategy, energy and investments on expanding our capabilities, growing our volumes and increasing our market share."
The company intends to use proceeds from the sale to pay down its existing debt.
For the first quarter, the company reported a net loss from continuing operations of $8.4 million, or 16 cents per share, compared with a profit from continuing operations of $26.2 million, or 10 cents per share, a year ago. The numbers do not include results from ADESA, since that part of the business is soon to be sold.
Revenue for the quarter was $369.4 million, down less than 1 percent from a year ago.
Supply-chain issues in the auto industry pose a continuing difficulty, Kelly said, and are reducing the availability of off-lease vehicles—a key source of vehicles for KAR.
The shortage of new cars has driven up prices for used cars, Kelly said, which in turn means that drivers are more likely to hold onto their leased vehicles rather than turn them in when the lease expires.
Kelly said KAR saw a 61% reduction in off-lease vehicles returned last quarter compared with a year earlier.
"The first quarter was challenging, no doubt about that," he said.
Shares of KAR were trading at $14.45 each Wednesday morning, down 1% from Tuesday's close.
Correction: A previous version of this story misstated KAR's per-share financial loss in the first quarter. The company posted a loss of 16 cents per share.
Please enable JavaScript to view this content.