The Indy Chamber is in the early stages of a $6.1 million, five-year, online effort whose goal is easy to understand but tricky to achieve: Persuade people to move here.
Project Amplify, which is being partially funded by a $2.8 million grant from Indianapolis-based Lilly Endowment Inc., is aiming to elevate the city's online presence in order to create a favorable impression among people who might not otherwise know much about the area.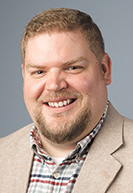 The project's centerpiece will be a website set to launch in February, lifeinindy.com, which will feature information on the region's neighborhoods, major employers, schools, entertainment and cultural offerings, and other things of relevance to potential residents.
A few months after that, the chamber will launch an online marketing library—a repository for local photos, videos and other digital resources that businesses and organizations can use to showcase the Indianapolis area on their own websites.
"Right now, our main focus is, we're building a foundation that right now doesn't exist, which is a singular place online that delves into the life experiences in our region," said Joe Pellman, the chamber's executive director of regional image marketing. Pellman, who formerly served as the chamber's director of marketing and communications, recently shifted to this role to lead Project Amplify.
The effort is important for several reasons, Pellman and others say. It could help Indianapolis compete with other cities for talent, boost the area's admittedly low profile among outsiders, and capitalize on the pandemic-fueled work-from-home trend that might have professionals rethinking where they want to live.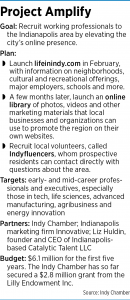 The project will target early- and mid-career professionals, as well as executives, with a focus on some key industries such as tech, life sciences, advanced manufacturing, agribusiness and energy innovation.
Groups like Visit Indy do a great job of generating tourism and convention traffic, Pellman said, but the chamber's effort will complement that by providing resources relevant to prospective residents. "We're thinking about this for just a different audience perspective."
As part of the effort, the chamber will connect with local employers and recruiters, encouraging them to use the website and the digital library. The chamber will also work with various community groups, colleges and health care systems to promote the project.
"There has to be community buy-in on what we're doing," Pellman said. "Ultimately, the community is going to be the ambassadors that drive this thing forward."
The Lilly Endowment, which announced the Project Amplify grant Dec. 1, said it sees the effort as filling an important gap.
"For some time, we have been concerned about the lack of a high-profile, easily accessible source of information about what life is like in our community that can be used by people who are considering moving here," Lilly Endowment spokeswoman Judy Cebula said in an email to IBJ.
Chasing new residents
In launching Project Amplify, Indianapolis is stepping onto a playing field already occupied by several U.S. cities.
Nashville, Tennessee; Tampa, Florida; Louisville; Atlanta; and Pittsburgh are among those with websites aimed at luring people to move to their cities.
"I think, for Indianapolis, this is a really big and important step to take," said Larry Gigerich, executive managing director at Fishers-based economic development firm Ginovus LLC. "Other places have developed brand images."
Tampa's site, for instance, makeittampabay.com, showcases the city's neighborhoods, compares its cost of living to that of other U.S. cities and features profiles of residents.
Pittsburghregion.org includes information on the city's key industries, the counties and neighborhoods that make up its metro area, and demographic data.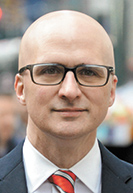 "We need to be in the game with that sort of thing," said Aaron Renn, an Indianapolis-based urban policy consultant.
Renn is doing consulting work for the Indy Chamber through the end of the year but said he is not involved with Project Amplify.
Lifeinindy.com will feature a regularly updated selection of local photos, videos and written pieces. The chamber will seek to obtain some of this from existing sources but will also pay local contributors to create content. Indianapolis-based marketing firm Innovative will manage content development.
The site also will feature profiles of so-called Indyfluencers—people who live here and are willing to connect with site users who have questions about the area.
In launching its effort now, the Indy Chamber hopes to capitalize on the work-from-home trend that's been supercharged this year.
If people can work from home, Pellman reasons, they might be open to relocating. And Indianapolis could be an attractive option for people who now live in much larger cities and are looking for an affordable metro area.
"For us, Indianapolis just needs to be in that conversation," Pellman said. "It needs to be part of that mental Rolodex of places you're thinking about when deciding where you want to live."
Personal touch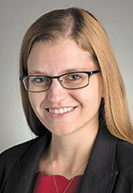 Beth Fossen, assistant professor of marketing at Indiana University's Kelley School of Business in Bloomington, said the Indyfluencer aspect of Project Amplify is a smart strategy because it adds a personal touch to the campaign.
"We know in marketing that word-of-mouth is super important in the success of any marketing campaign," Fossen said. "We tend to trust information that comes from people more than we trust information that comes from companies."
However, she said, it's too soon to say how many employers will make permanent shifts in their work-from-home policies, and how many of their employees might move to a new city as a result. "It's hard to estimate how big that pool of people will be."
Gigerich, though, said Indianapolis has a real chance to capitalize on the work-from-home trend.
"There's an opportunity, I think, to have more people work remotely and choose where they want to live from a lifestyle perspective," he said. "The timing of this, what the Indianapolis region is doing, is really important."
Nobody, including Pellman, is predicting that Project Amplify's goals will be accomplished easily or quickly.
Some success metrics are measurable: how many people visit lifeinindy.com, how much traction the campaign gets on social media, and how many connections Indyfluencers make with website users.
To do well on these metrics, site managers will need to create a site that Google's algorithms will rank highly, landing it higher in search results. Because algorithmic rankings consider factors like a site's content quality and the frequency of its updates, achieving a favorable ranking takes time.
"This is not a short game. This is a long-game strategy," Pellman said. "The long game is, can we continue this, can we sustain this, and can we move the needle on Google search or things of that nature?"
The success of the project will depend on more than just the website, Renn said.
"This is one component of a lot of things that need to happen over a long period of time to change the perception of the city," he said. "We have to create sustained momentum."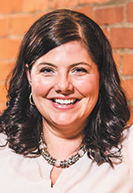 Renn compared the effort to Indianapolis' long-standing strategy of hosting sporting events as a means of economic development. The Indiana Sports Corp. launched in 1979 to pursue this strategy, but the city didn't land the Pan Am Games until 1987 and one of its biggest successes, hosting the Super Bowl, didn't happen until 2012.
Ultimately, it might be difficult to pin down how many people end up moving here partly because of the campaign, said Katie Culp, president of Indianapolis-based KSM Location Advisors.
"With any of this marketing stuff, you can't always get a direct return on investment," she said. "It's a hard thing to show a direct causal effect of people moving here."
Still, Culp said she sees the effort as worthwhile.
"It's an interesting challenge," she said. "I'm proud of [the Indy Chamber] for attempting it. I'm sure it's not going to be the easiest thing we've ever undertaken."•
Please enable JavaScript to view this content.