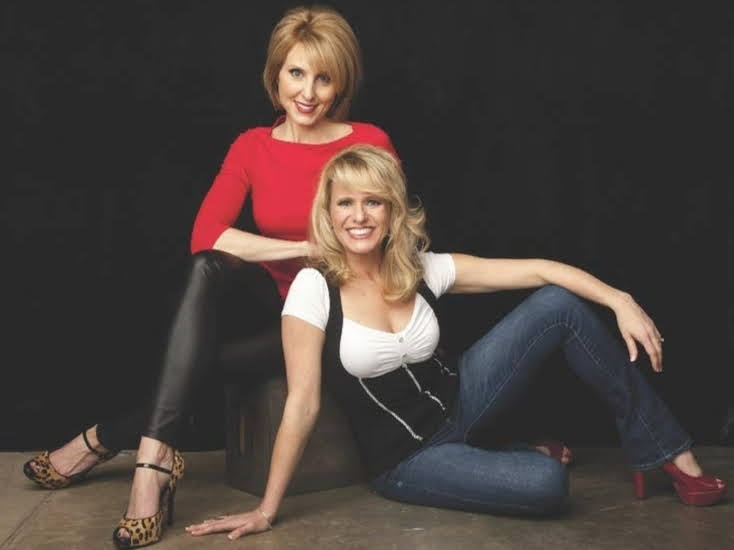 Miriam Weaver, co-founder of conservative media duo "Chicks on the Right," announced Monday her plans to leave WIBC-FM 93.1 morning radio program "The Mock 'N Rob Show" later this month.
Weaver, known as "Mock," told listeners she intends to devote her full-time energy to "Chicks on the Right" work with co-founder Amy Jo Clark after the final "Mock 'N Rob" episode airs on Jan. 28.
Clark, known as "Daisy," and Weaver co-hosted a radio edition of "Chicks on the Right" from 2013 to 2020 on WIBC, a station owned by Indianapolis-based Emmis Communications. Clark left the show to work for an undisclosed technology firm in Texas, and Weaver launched "The Mock 'N Rob Show" with Rob Kendall on Nov. 2, 2020.
David Wood, vice president of programming for Emmis stations in Indianapolis, applauded Weaver's tenure in an email to staff members that Emmis provided to the IBJ.
"Mock has been an incredibly hard worker, talented commentator and witty observer of politics and life," Wood wrote. "We are sad to see her go, but excited to see her continue to build the Chicks on the Right enterprise with Amy Jo on Facebook, podcasts and other platforms. She will always have a home at  WIBC."
During a 10-minute segment on Monday's "Mock 'N Rob" episode, Weaver mentioned that Clark recently left the job she started after her time at WIBC. The second half of Weaver's on-air announcement focused on companies that require COVID-19 vaccinations for employees.
"I need to say one more thing about what led me to make this decision," Weaver said. "Because it's not just about 'Chicks on the Right.' It's also about Amy Jo and I having a chance to report to no one—except each other, I should say. So, that's a big deal right now, especially in light of all of the employer mandates. And we're working for a company right now that has those, and is actually looking at potentially having more of those, when it comes to the booster. And I just am not interested in sticking around to see whether or not I have to deal with that. I would rather be in a position where I know I don't have to worry about it."
Since Dec. 1, Emmis has required employees to be fully vaccinated, barring an approved medical or religious exemption.
In a statement provided to IBJ, Emmis CEO Jeff Smulyan said proof of a booster vaccination is a likely upcoming step for the company. 
"Emmis is committed to creating and maintaining a healthy work environment," Smulyan said. "As part of that commitment to our employees, and as most leading employers in central Indiana did, we mandated COVID vaccinations as a condition of employment, and will likely do the same with the booster shot. This corporate approach is not met with universal acceptance, and that is OK—we are doing the right thing overall to keep our employees healthy."
Weaver, who appears with Clark on "Mock & Daisy's Common Sense Cast" on the Radio America podcast network, told the IBJ that vaccination mandates were a secondary reason for her departure.
"The primary motivation is definitely our chance to be full-time 'Chicks,'" Weaver said. "It's the first time in 13 years we are both in a position to be able to do that, thanks to the success we've had with our podcast and social media. It's fantastic timing, in that we will no longer have to worry about being subject to mandates from any employer. And we are excited about that."
On Monday's WIBC broadcast, Weaver characterized herself as a proxy for people who comply with vaccination mandates but disagree with employers. 
"I am in this really lucky, fortunate position right now where I don't have to stick around to find out if I have to deal with more mandates," she said. "And so I'm going to represent, I guess, the people who can't stand up and take a stand. I will be the representative for all those people. Now, will that make a change? Will that result in Emmis, for example, doing away with mandates? I don't know, probably not. Will it result in other employees leaving? I don't know, probably not. But I will feel good about my decision."
On Monday, the Indiana State Department of Health reported that 3.58 million Hoosiers had been fully vaccinated against COVID-19. 
Please enable JavaScript to view this content.