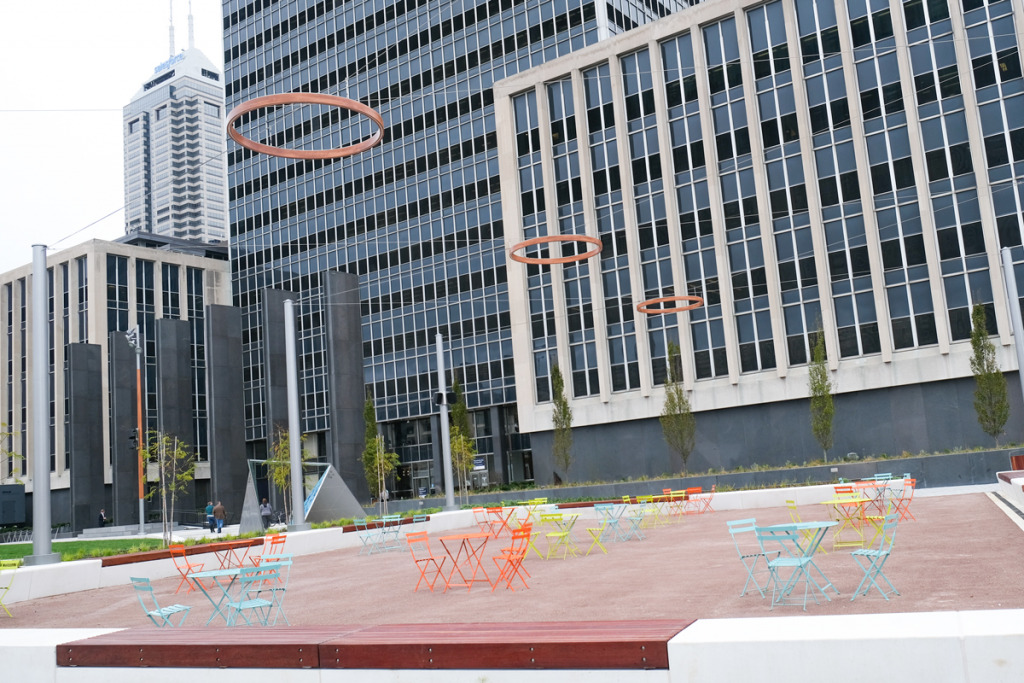 Indianapolis city-county government has work to do recruiting and retaining more minority employees—particularly Hispanic workers—if its staff is going to reflect the population it works for.
As part of this year's budgeting process, the City-County Council has asked departments for specific information pertaining to equity in staffing, programming, initiatives and more as the city's fiscal body works to dismantle racism and make the city a more equitable and inclusive place to live and work.
And for the first time in at least recent history, the public is getting a look at how diverse the city-county staff really is.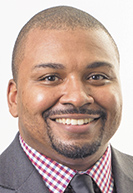 According to city records, 63% of the 7,600 city-county employees are white, 23% are Black, 3% are Hispanic or Latino and 1% are Asian. The ethnicity of about 10% of employees is unknown, most likely because those workers were hired years ago, before that data was tracked.
Meanwhile, the city's population is about 61% white, 28% Black, 10% Hispanic or Latino and 3% Asian, indicating city employees aren't fully representative of the population—but in some cases, they aren't far off.
Human resources leaders for city-county government warn that the demographics presented aren't a statistical analysis, but they do give a visual representation of department diversity.
Diversity executives say the numbers aren't surprising—but they could be worse, and in some cities, they are. Still, the employees working for the residents of Indianapolis should be representative of those residents, they say.
"When you look at data nationally just for government employees, you find underrepresentation of Black and Latinx folks in particular, both on the employee side and managers," said Marshawn Wolley, a certified diversity executive and owner of Black Onyx Management Inc., a management consulting company that specializes in diversity and inclusion.
"It's not surprising, but it's disappointing, nonetheless," he said. "Government has a higher responsibility to be inclusive because it's not like a private company; it's the people's business."
'A starting point'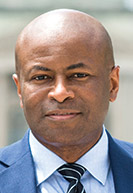 Worse are the disparities among managers and pay. Management at the City-County Building is disproportionately white, at 67%.
And white employees, on average, make $11,000 and $12,000 more annually than Black and Latino employees, respectively.
This year, the City-County Council is considering department budgets through an equity lens, requiring department heads to answer a slew of questions about how equitable and inclusive their offices are, while making recommendations for how they can improve.
"Racial inequities are sort of baked into almost every factor for success in our government," City-County Council President Vop Osili, a Democrat, told IBJ.
To change that, those disparities need to be unveiled and talked about, he said.
"That's what we're doing right now in our budget discussions. We can put these on the table and everyone can see where our local government is," he said. "And in terms of representation of members of our community, are we there? Do we need to make more conscious efforts to be there? And then, how do we consciously implement those changes so that government is a real representation of the people it represents?"
The staffing data provides the council with a baseline that will help it measure, going forward, whether strides being taken to improve representation are actually working, Osili said.
"We now have a starting point that is not anecdotal but grounded in fact," he said.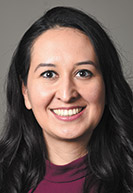 Departments have been asked to consider ways they could increase diversity within their ranks and have been presenting ideas during budget presentations. They include new internship and apprenticeship programs specifically for underrepresented minorities, reimbursing tuition for needed certifications and degrees, and implementing implicit bias and cultural competency training.
More representation
Leslie Ashburn-Nardo, an associate professor of psychology at IUPUI whose research focuses on workplace bias, diversity and more, told IBJ that representation in organizations matters.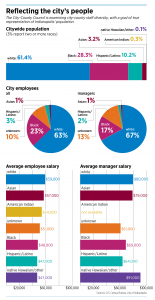 "When people see others on an organization website who look like them, they'll feel a greater sense of trust and comfort in an organization," she said.
Diversity within city-county departments varies wildly. The Department of Metropolitan Development, for example, is 75% white. But the Marion County Surveyor's Office is just 50% white.
Marion County Surveyor Debra Jenkins told a council committee on Aug. 31 that, at all times under her administration, at least 40% of her employees have been minorities. She credits that to several initiatives she's taken, including reimbursing a portion of entry-level workers' surveying education and finding advancement opportunities for them.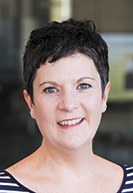 Two of the city's largest departments—Indianapolis Metropolitan Police Department and Indianapolis Fire Department—are  disproportionately male and white.
Black representation among all city-county staff is decent at 23%, Wolley told IBJ, even if the number is short of city demographics. But he wants to see more data about what positions these employees are in and how much they're paid. If a large percentage of the workers are in low-paying jobs with few advancement opportunities, that doesn't do much for the Black community, he said.
Worse than Black representation in city-county staff is Hispanic and Latino representation, at just 3%.
Yecenia Tostado, executive director of Project Azul—a not-for-profit that focuses on providing people from underserved communities with job training to find better employment opportunities—said Latinos are underrepresented across many professional fields, and it's a population both the private and public sectors need to work to include more, she said.
"As a city, one of the things we need to recognize is that there has been tremendous growth in the Latino community, especially over the last 20 years," she said.
"We know, of course, that increasing Latino representation in these positions would help build a more inclusive government that would consider the unique needs of the community it represents."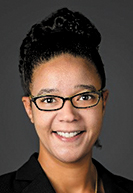 The Latino community often feels like an afterthought when community policies are made, but more Latino representation on the city's staff could help prevent that, Tostado said.
Everyone IBJ spoke with agreed that the number of minority department managers can have a big impact on how many minority workers are interested in a position and then hired.
But city-county data shows about 67% of managers identify as white. Just 17% are Black and only 2% are Hispanic or Latino, with the rest unidentified. The data does not include directors, which include appointed positions, senior officers and chief operating officers.
Wolley said he's been impressed that Mayor Joe Hogsett has elevated minorities to appointed positions during his term, including Angela Smith Jones as deputy mayor of economic development and Fady Qaddoura as the former controller. But it's also important that, as people leave those positions, Hogsett makes an effort to find minorities to replace them, Wolley said.
Qaddoura left the administration at the end of 2019, and Jones announced last week that she's moving on.
Recruitment, retention
If the city is going to make an effort to hire more minority candidates, it needs to be a place where those employees feel they belong, diversity experts told IBJ.
"The effort has to be authentic. It can't just be, 'Oh, I need a Latino to check a box," Tostado said.
Ashburn-Nardo said job candidates look for a place where they feel valued, accepted and respected. They also want to feel safe from discrimination.
Minorities working in high-level leadership can help with that. If an organization doesn't currently have good representation at the top but is hoping to attract more minorities, management should send a message that's honest, admitting it's something leaders are serious about changing.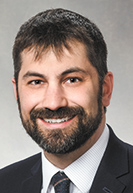 And when trying to increase diversity, organizations should consider ways they can be flexible with employees (i.e. teleworking) to make it easier to find a variety of qualified candidates, she said.
Tostado said one way the city could increase the number of Hispanic and Latino employees is by creating pipeline opportunities through internships and then reaching out to multicultural centers and Latino groups to ensure students are aware of those opportunities.
Creating advertisements that are targeted to the populations the city is trying to reach is also important. Many Latinos tend to be engaged on social media, so advertising job openings there could increase the likelihood they'll see it, she said.
But Ashburn-Nardo said it's not enough to just post a job and hope it attracts a diverse candidate pool.
"Organizations can do a much better job using their networks to build a diverse pool," she said.
Developing internship programs, building pipelines and tapping resources within a community to find diverse candidates will have huge payoffs, Ashburn-Nardo said.
"As more and more people see interns getting opportunities and moving up in an organization, that by itself is going to attract more diverse applicants because people are going to think, 'Oh, I can have an opportunity there, too,'" she said.
Renee Madison, director of the city-county human resources department, said the city is already considering creative ways to advertise job openings, including on social media because that's where young people tend to get their information.
The city is also working on an apprenticeship program for three departments that have historically seen underrepresentation—information technology, metropolitan development, and business and neighborhood services—that could create the pipeline Tostado and Nardo mentioned.
Such a program would allow the city to bring young people on right after they've finished their education and help them envision a career that might be surprising, Madison said.
And the human resources department is ready to work alongside other departments to review job descriptions and interview questions to tailor them to attracting minority candidates and people who are serious about promoting equity and inclusion within city-county government.
Pay disparities
Wolley said city and county officials must also consider how Black and brown people are paid.
Already, city data shows disparities. White employees, on average, make $59,000 annually, while Black employees earn $48,000 and Hispanics earn $47,000.
At management level, the numbers are worse for Hispanics and Latinos, who earn on average $16,000 less than white managers.
You can't increase equity if the city isn't paying good, equitable wages, Wolley said.
"Personally, I'm not going to be encouraged to send Black people to go work for the city if they're not going to receive a living wage," he said. "That doesn't help the Black community."
Madison said pay is a problem across all ethnicities. Turnover among city-county employees is high, at 10% to 20%. During exit interviews, employees often cite wages and a lack of promotional opportunities as the biggest factors in their decision to leave.
It's a concern the city needs to address to help retain all employees, but especially if it wants to increase the number of minority managers. Better retention of minority employees will mean experienced minorities are available to assume leadership positions when they open.
When asked during committee hearings what it would cost to address inequities in pay, Madison said the city-county needs to be "an employer of choice that attracts and retain talent." Shoring up pay would cost an estimated $50 million, she said.
Thomas Cook, the mayor's chief of staff, said the city knows it needs to address upward mobility for employees as well as increase pay, both of which might lead to better retention.
But the city expects revenue shortfalls next year because of the economic impact of the coronavirus pandemic. This year, in anticipation of those shortfalls, the administration proposed no cost-of-living raises for employees.
Also, many employees' wages and benefits are governed by union contracts, making it difficult to make changes across the board.
Cook said increasing diversity in management will require retaining minority candidates in other positions. That will require investments in the workforce, something taxpayers might find unpalatable during an economic crisis, he said, but the city's high turnover rate is more expensive.
"That's not good for the taxpayers," he said. "And so we're taking the approach that investments like this ultimately are cost savings for Marion County taxpayers, even though on a ledger it may not look like that."•
This story has been updated to correct an error. Less than 50% of employees with the Department of Public Works identify as white. 
Please enable JavaScript to view this content.