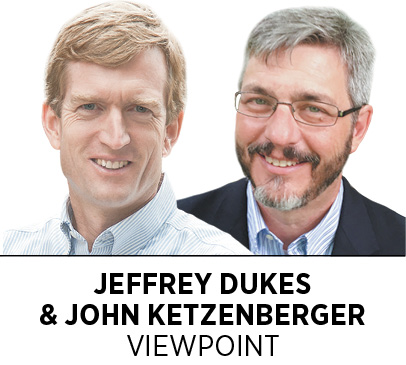 Indiana's agricultural producers and forest owners have long understood they hold the power to slow climate change. Now, our political culture is catching up, creating even more opportunities to unlock their potential.
From the Biden administration's ambitious proposal to invest in clean energy infrastructure to the efforts of the bipartisan Climate Solutions Caucus, led by Sen. Mike Braun, there is momentum in Washington, D.C., to identify and enact climate policies that appeal to both sides of the political aisle.
The groundswell of support for climate action can also be felt here in Indiana: More than half of Hoosiers now understand that human activity is a major cause of climate change, and nearly two in three registered voters say the state should play a major role in fighting it, according to recent polling conducted by The Nature Conservancy in Indiana.
Answering the call for Hoosier climate leadership are our farmers and foresters, who steward more than 60% of our state's land area and contribute an estimated $31.2 billion to Indiana's economy. Their livelihoods depend on the successful management and care of our natural resources, and they're among the first to feel the disastrous effects of climate change, including drought, flooding and extreme temperatures that impact crop yields.
In the face of these climate challenges, Hoosier producers have developed smart strategies to adapt. By reducing tilling, strategically rotating crops and planting cover crops that capture carbon, farmers are doing their part to protect nature and reduce their greenhouse gas emissions. But these practices come with trade-offs. Cover crops, for example, defend against soil erosion and nutrient loss, but they are not sold at market and require additional maintenance.
Fortunately, there is active legislation in Congress that would help incentivize Indiana's agriculture leaders to adopt climate-friendly practices that protect our soil, water and air. The Growing Climate Solutions Act, introduced by Braun and sponsored by Rep. Trey Hollingsworth in the House, demonstrates how farmers can be part of the climate solution. If passed, the bill would create a voluntary carbon market, allowing Hoosier farmers to get paid for their efforts to reduce their greenhouse gas emissions, and increase their access to technical support for the adoption of sustainable land management practices.
The Growing Climate Solutions Act represents an increasingly rare moment of bipartisanship in Washington—one that's echoed at home in Indiana. The Nature Conservancy's public opinion poll, conducted on the heels of the last presidential election, found that 74% of Hoosiers support the creation of a national, voluntary carbon market, including two-thirds of Hoosiers who voted for President Trump in 2020.
This broad support is striking, though not surprising. Indiana's farmers and foresters have been on the front lines of conservation for decades, implementing the strategies that have only recently gained traction on the national stage while boosting our state's economy in the process.
We applaud Sens. Braun and Young and Rep. Hollingsworth for speaking with members of Indiana's agriculture community at a recent policy event hosted by The Nature Conservancy, which focused on how Congress can help farmers be part of the climate solution through legislation such as the Growing Climate Solutions Act, Conservation and Innovative Climate Partnership Act, and more.
Climate change is still an issue on which we don't agree about everything, and no individual bill, or individual sector, can solve the problem. But there is broad and bipartisan consensus that our agriculture industries have an important role to play—and that it will take all of us working together to develop solutions that benefit our environment, our economy, and all Hoosiers.•
__________
Ketzenberger is the director of government relations for The Nature Conservancy in Indiana. Dukes is the director of the Purdue Climate Change Research Center.
Please enable JavaScript to view this content.