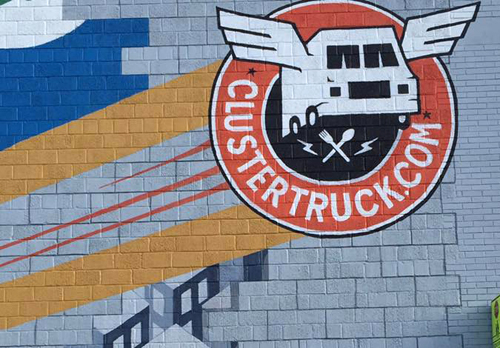 Indianapolis-based ClusterTruck is raising $2 million in its latest fundraising round to open new locations in Indianapolis, Kansas City and Columbus.
The company in mid-July disclosed to the Securities and Exchange Commission that it is seeking to raise the funds. Chris Baggott, ClusterTruck co-founder and CEO, told IBJ on Friday that the company will use the money to expand and add new locations in its home city, Kansas City and Columbus, Ohio.
Baggott declined to share further details of the expansion, saying the company will have announcements in a couple of weeks.
Food-delivery company ClusterTruck was founded in Indianapolis in 2015. It uses its own kitchens and drivers to deliver meals, and tries to get customers their orders within six minutes after the food is prepared. The company uses proprietary software and technology to manage the process.
In addition to its Indianapolis location, it also has kitchens in Kansas City, Missouri, and in Columbus, Ohio. This winter, ClusterTruck opened a location in Carmel through a partnership with Kroger.
ClusterTruck previously had operations in Minneapolis, Cleveland and Bloomington, Indiana, that have closed.
In Indianapolis, ClusterTruck serves the office crowd. In March, as the COVID-19 pandemic closed indoor dining, Baggott told customers the company was anxious. Sixty percent of the company's sales typically happen at lunch and are delivered to offices. About 40% of sales come from groups.
To weather the pandemic, ClusterTruck for the first time began delivering another company's food. ClusterTruck integrated Cunningham Restaurant Group's Stone Creek Dining Company into ClusterTruck's deliver service operations. Mike Cunningham, founder and CEO of Cunningham Restaurant Group, has been a partner in ClusterTruck since it launched.
In April, Baggott told IBJ that business was lagging but the reductions hadn't been drastic. At that time, the company was hiring couriers and offering contract workers paid sick leave.
Please enable JavaScript to view this content.