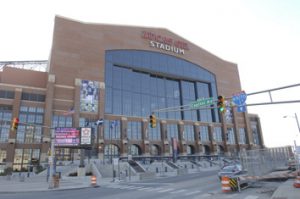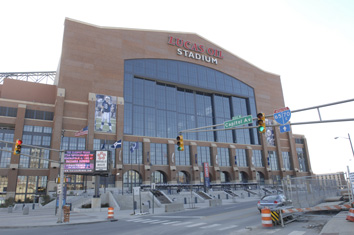 An existing partnership between the Indianapolis Colts and Las Vegas-based airline Allegiant Travel Co. is getting an upgrade.
The pair announced Wednesday that Allegiant will become the "official airline" of the team as part of a multi-year deal. The partnership gives the company naming rights for the upper terrace level of Lucas Oil Stadium and is expected to bring with it a fresh slate of game-day promotions.
Colts officials declined to say how much the deal is worth or specify the exact length of the contract.
The upper terrace level of Lucas Oil consists of the 600-level areas at the top of the stadium–the furthest seats from the field and typically the least expensive.
The deal will not affect how the team travels—it will continue taking chartered flights to away games.
"This is something we've been working toward for several years," said Roger VanDerSnick, chief sales and marketing officer for the Colts. "We felt this was the next, natural evolution in our relationship and we think it will really benefit our fans."
Allegiant has been a Colts promotional partner since 2015, when it first entered the Indianapolis market. Colts fans are familiar with the Allegiant Non-Stop Football Toss, in which Colts mascot Blue throws football from the upper terrace level onto the field to win plane tickets for a fan.
In addition to continuing that promotion, the Colts plan to utilize the partnership at Touchdown Town, advertising at the Indianapolis International Airport and throughout Lucas Oil Stadium.
The upper terrace level will be renamed the Allegiant Terrace Level. The airline will run promotions and contests on the terrace level on game days, including a competition where fans can vie for spots on the 133 banners hung in that part of the stadium.
Allegiant also is the naming rights partner for the newly-minted Las Vegas Raiders' stadium.
Scott DeAngelo, Allegiant's chief marketing officer, said the airline is exploring offering fans special chartered flights to Las Vegas when the Colts plays the Raiders next season.
He said while the company does not have immediate plans to expand its operations in Indianapolis, the partnership with the Colts could eventually lead to opportunities for new routes or additional flights.
Allegiant offers nonstop service to 17 cities in the United States through Indianapolis. The city serves as one of the airline's 20 permanent bases, with the company investing $40 million in a new local operations hub in 2017. About 80 Allegiant employees are permanently stationed in Indianapolis.
The Colts last week announced a new merchandising partner in Fanatics Inc.
Please enable JavaScript to view this content.