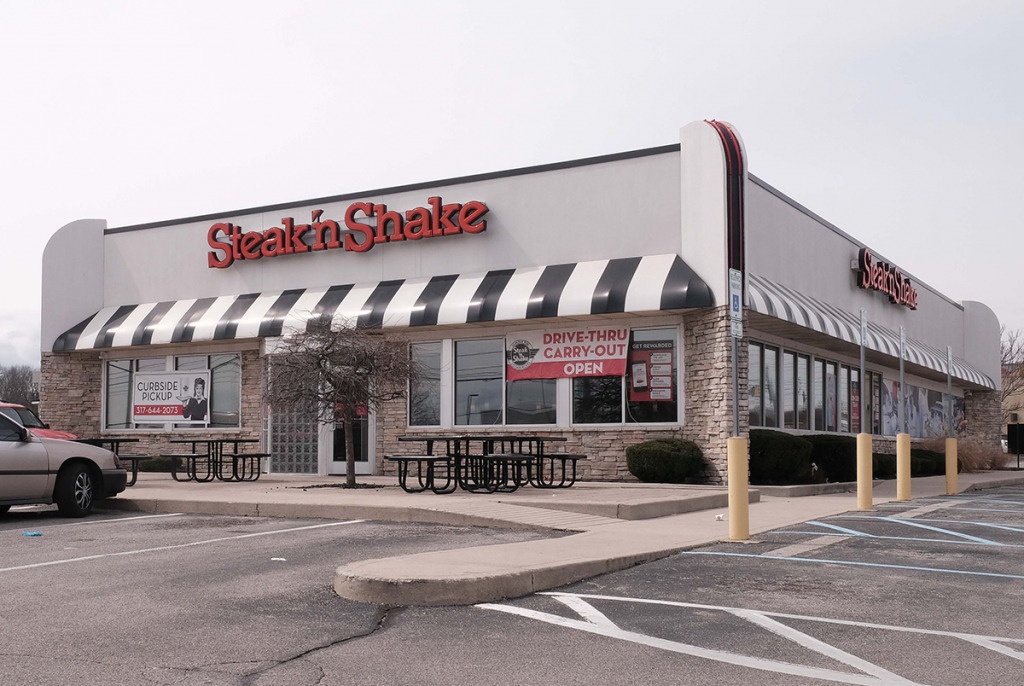 Indianapolis-based companies Crew Carwash and Steak n Shake are wrangling over the restaurant chain's Nora location, with Crew filing a lawsuit in an attempt to force Steak n Shake to vacate the site.
Crew purchased the corner property at 1501 E. 86th St. in January. In its complaint, filed March 9 in Marion Superior Court, Crew says Steak n Shake's lease for the location ended on Dec. 31. Therefore, Crew has the right to take immediate possession of the site. But, Crew says, Steak n Shake has refused requests to vacate.
As of Tuesday, the restaurant was still open for drive-thru and carry-out service.
The dispute traces back to last year, when Milwaukee, Wisconsin-based Garber Properties, through the Garber Family 1985 Convertible Trust, still owned the real estate.
As the property's owner, Garber was Steak n Shake's landlord at the 86th Street location. Under the terms of a 10-year lease agreement which was to run through April 2023, Steak n Shake was to pay $9,583 each month in rent, according to a copy of the lease agreement that was filed as part of Crew's lawsuit.
But Steak n Shake fell behind on its rent in 2020 and hadn't caught up by the end of the year, which put it in default of the terms of the lease, Crew's lawsuit alleges.
Garber terminated Steak n Shake's lease effective Dec. 31, at which time Steak n Shake still owed $15,381 in rent, according to a letter from Garber to Steak n Shake that is included in legal filings for the case. In that letter, Garber asked Steak n Shake to vacate the property immediately but offered to let the restaurant remain until Jan. 31 if it paid its back rent and fulfilled certain other obligations.
Although Steak n Shake did subsequently pay Garber for the past-due rent, the lawsuit says, this act did not reinstate the lease, and the restaurant was still obligated to vacate the site.
Crew purchased 1501 E. 86th St. from Garber in January. According to Marion County Assessor records, Crew purchased the 1.7-acre property on Jan. 21 for $2 million through an affiliated limited liability corporation, Dahm No. 58 LLC.
As the new owner of the property, Crew is moving forward with the previous owner's efforts to get Steak n Shake to vacate.
Katherine Rayner, Crew's marketing supervisor, said the company was aware of the situation with Steak n Shake when it purchased the property and intends to build a carwash on the site. "Nora is a great area," she said.
Rayner could not predict when Crew would begin construction at the site but said it won't likely be until next year.
In its suit, Crew is asking the court to declare that Steak n Shake's lease termination was valid; to order that the restaurant must pay Crew's attorney fees and other expenses, as well as damages in an unspecified amount; and to grant Crew immediate possession of the property.
Steak n Shake has not yet filed a legal response to Crew's complaint. Steak n Shake is represented by Scott Morrisson, a Carmel attorney who is a partner at the firm Krieg DeVault LLP. Morrisson told IBJ the company was not interested in commenting. A Steak n Shake marketing executive did not immediately respond to IBJ's request for comment on Tuesday.
Crew is represented in the case by Indianapolis attorney Michael Wukmer, a partner at Ice Miller Strategies LLC. Wukmer also declined to comment on the case.
Crew operates 37 carwashes around Indiana, 25 of which are in the Indianapolis metro area.
Indianapolis-based Steak n Shake, which is owned by San Antonio, Texas-based Biglari Holdings, counts 556 franchised and company-owned locations.
Please enable JavaScript to view this content.