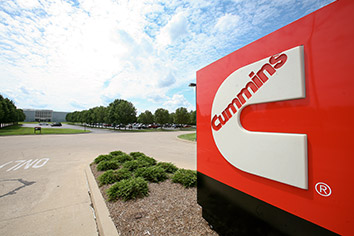 Indiana-based engine manufacturer Cummins Inc. said it incurred $158 million in costs in the first quarter associated with its mid-March decision to suspend operations in Russia indefinitely over Russia's invasion of Ukraine.
Those costs, which included inventory write-downs, reserves on accounts receivable, the impairment of a joint venture investments, among other things, reduced profit by $1.03 per diluted share, the company said Tuesday in its quarterly financial report.
Cummins had done business in Russia for decades and manufactured products in that country through a joint venture with Russian vehicle-maker Kamaz Inc. Cummins first announced it was pausing some of its Russian operations in early March, and on March 18 the company announced that it was indefinitely suspending its operations in that country.
Cummins reported a first-quarter profit of $418 million, or $2.92 per share, compared with $603 million, or $4.07 per share, during the same period a year ago. Profit was also affected by $17 million in costs related to Cummins' planned separation of its filtration business. The company announced late last month that it had taken preliminary steps toward spinning off that business into a separate publicly held company.
First-quarter revenue was $6.4 billion, up 5% from a year earlier and a new quarterly record. Customer demand remained strong among all products and all markets, "with the notable exception of China," Chairman and CEO Tom Linebarger said during a call with investors.
The company said its North American sales increased 12%, while international sales dropped 3%, mostly because of a slowdown in China.
Linebarger said supply-chain disruptions are lasting longer than expected, especially those related to computer chips and electronics components as well as COVID-19-related shutdowns in China.
But Cummins said market demand is strong enough that it's upgrading its full-year sales guidance. The company now says it expects full-year revenue to increase 8%, up from its previous guidance of a 6% increase.
The company's performance beat analysts' revenue expectations but fell short on profitability estimates. A consensus of analysts had predicted revenue of $6 billion and a profit of $3.56 per share.
Cummins spent part of Tuesday's analyst call to provide an update on its hydrogen business. In February, the company announced it would supply a 25-megawatt electrolyzer system to Florida Power & Light—the nation's largest electric utility—for a solar-powered hydrogen plant. The plant will use solar energy to power the electrolyzer, which will turn water into hydrogen that FPL can use as a power source.
Linebarger said the FPL project is Cummins' largest electrolyzer project yet, surpassing a 20 megawatt project in Canada. He called the Florida project "a great demonstration project" that shows the electrolyzer technology is feasible for large-scale use.
Cummins has invested hundreds of millions into hydrogen technology since 2019, but as recently as November 2020 the company also said it could not predict when, or whether, its bet on the emerging technology would pay off.
Linebarger said Cummins is seeing accelerating interest in hydrogen electrolyzers, adding that the company has a few large-scale electrolyzer projects and other smaller projects in its pipeline. "We've built faster in the last quarter than we've built ever before," he said.
Shares of Cummins were trading at $204.55 each at noon Tuesday, up 5% from Monday's closing price.
Please enable JavaScript to view this content.